Woman Who Says She Was Victim of a Priest Asks Other Victims to Come Forward

By Susan Weich
St. Louis Post-Dispatch
October 23, 2009

http://www.stltoday.com/stltoday/news/stories.nsf/stcharles/story/98386945C0C3091B8625765800016480?OpenDocument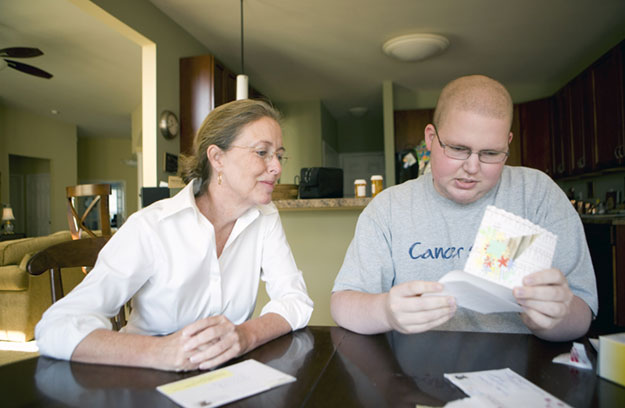 Aug. 6, 2009 - Pat Bond and her son, Nathan Halbach, reads letters from members of support groups at their home in O'Fallon, Mo. Both Bond and Halbach are suffering from cancer.
Photo by Dilip Vishwanat/The New York Times


An O'Fallon, Mo., woman who had a five-year affair with a Roman Catholic priest, pleaded Thursday for other women who had sexual liaisons with the Rev. Henry Willenborg to step forward.

Pat Bond said that without them, she feared that Willenborg, a Franciscan who is currently under investigation by the order, will be reinstated soon to another church. She said others, including a teenager and a nun, told her about affairs with Willenborg.

Bond, whose story was detailed in a New York Times article last week, said that during their relationship in the 1980s, Willenborg impregnated her twice. The first time, Willenborg suggested she abort the child; she later had a miscarriage.The second time, Bond bore a son: Nathan Halbach, now 22, who has brain cancer and is gravely ill. Bond claims that St. Louis officials with the Franciscan order have acted callously toward her, and that Willenborg has shunned their son.

Even though Bond said the order has paid between $100,000 and $150,000 to support Halbach, he still has many outstanding medical bills, including $13,000 for an experimental treatment.

"I am begging church officials to do the right thing and help with Nathan's needs — financial and otherwise — in preparing for my son's final days," she said through tears.

Willenborg, who recently headed Our Lady of the Lake parish in Ashland, Wis., was suspended by the diocese of Superior, Wis., after the article appeared. Willenborg has not denied the relationship.

A representative of the diocese said Thursday the investigation is ongoing.

Bond, 53, made the statements as she stood outside the St. Louis archdiocesan headquarters in the Central West End with David Clohessy, national director for SNAP, the Survivors Network of those Abused by Priests.

Clohessy said church officials should warn others about Willenborg, who worked for several years at the south St. Louis Franciscan regional headquarters.

The Archdiocese of St. Louis could not be reached for comment.