Local Priest Dismissed over Sexual Abuse Accusation

By Marie Luby
WTEN
October 26, 2009

http://www.wten.com/Global/story.asp?S=11383401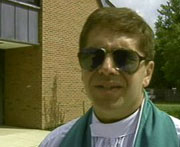 Father Rodino in 1990



WYNANTSKILL, N.Y. -- A longtime priest is thrown out of the ministry amid accusations of sexual abuse. Saturday the Albany Roman Catholic Diocese put out a notice to the media explaining that Father Salvatore "Sam" Rodino is now on administrative leave.

58-year-old Rodino currently presides over St. Jude the Apostle in Wynantskill.

NEWS10's Marie Luby has details on the decades-old allegations.

Father Rodino has been pastor at St. Jude since 2005, but not anymore. The Albany Diocese believes he sexually abused a teenager 27 years ago.

NEWS10 file video shows Father Rodino in an interview from 1990. Rodino says he's innocent. The alleged abuse happened in Albany's Blessed Sacrament Parish back in the 1980s. The statute of limitations has long since passed.

"They'll refer this out for a criminal investigation but there will never be an arrest here, even if the police know that he did this, because it happened so long ago," says attorney John Aretakis, who has been pushing for years to have Rodino removed from the ministry.

Aretakis says, "Rodino had allegations against him for years from other people that I've been helping."

Over the years the veteran priest served at Catholic schools in Albany and Troy. His removal marks two dozen priests plucked from the Albany Diocese over similar allegations.

"This does tar and tarnish a lot of good priests," says Aretakis. He continues, "These victims, whether they're 30 or 40 years old or older, are still very traumatized by these types of events."

Father Rodino's removal is being announced at weekend Masses at St. Jude, and three other parishes where he served: St. Bonaventure in Speigletown, St. Pius X in Loudonville, and St. Margaret Mary's in Albany.