Parishioners Praise Father Sam

By Tom Caprood
The Record
October 28, 2009

http://www.troyrecord.com/articles/2009/10/28/news/doc4ae7abfaf27af771899182.txt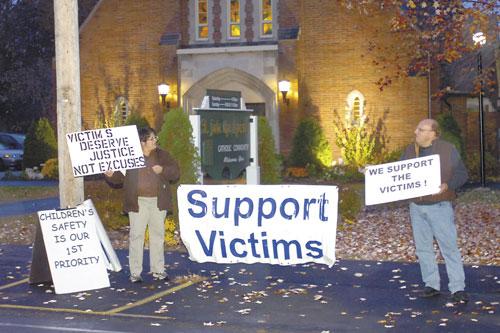 Supporters of sexual abuse victims demonstrate outside St. Jude the Apostle Church in Wynantskill Tuesday
Photo by J.S. Carras


WYNANTSKILL — The former parishioners of the Rev. Salvatore "Sam" Rodino continued to show strong support for him Tuesday after his suspension from ministry following allegations that he sexually abused a minor 27 years ago.

Parishioners of St. Jude the Apostle Church met together both on their own and with Rev. Ronald Menty, who handled weekend services, throughout the evening to discuss their questions and concerns about Rodino's absence.

A separate vigil was held outside of the church by member of the Survivors Network of those Abused by Priests, SNAP, in an effort to encourage other survivors of sexual abuse to come forward.

Rodino was placed on administrative leave last week after charges emerged that he had engaged in sexual misconduct with a teenager in the 1980s at the Blessed Sacrament Parish in Albany.

Over the weekend, a letter from Bishop Howard Hubbard, of the Roman Catholic Diocese of Albany, was read to parishioners and explained that Rodino had been removed after the diocese found "reasonable grounds" to believe the allegations against him.

Winnie Lutz, a parishioner from Poestenkill, described Rodino as a wonderful man who had worked tirelessly for the parish since he first arrived there in 2005.

"He's made such wonderful changes throughout the parish – we have so many parishioners now because of his work and his energy – and I'm just so upset about the defamation of his character," said Lutz. "He says he didn't do it and I believe him."

Marguerite McMillen, a Wynantskill resident, said she supported Rodino 110 percent.

"He's the best thing that ever happened to this parish," said McMillen, who noted that she had been a parishioner at St. Jude the Apostle all her life.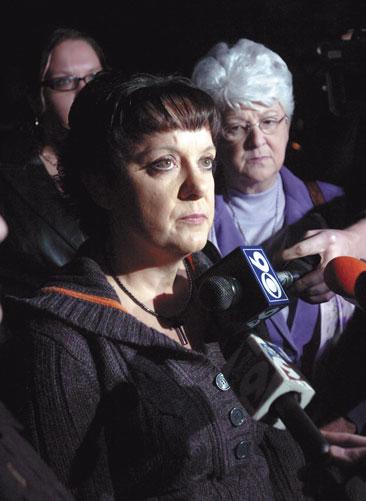 Denise Ryan of Troy speaks out in support of Rev. Savatore "Sam" Rodion as Betty Livingston of North Greenbush looks on
Photo by J.S. Carras


"If anybody supports children, it's him," said another woman in passing.

Rodino has denied any inappropriate conduct, according to the diocese, and has the opportunity to appeal the decision to the Vatican in Rome if he so chooses.

According to diocese spokesman Ken Goldfarb and the letter which was previously read to parishioners, the diocese has a zero-tolerance policy for sexual abuse of minors by the clergy.

"He is removed from ministry," said Goldfarb. "As with the ongoing police of the diocese, when those decisions are made, they (priests) are no longer allowed to present themselves as a priest in public or to perform any of the sacraments."

"After each mass here over the weekend, we gave parishioners the opportunity to stick around, to raise questions and concerns, and we're doing the same tonight because there are some people who may not have been at mass on Sunday," he continued.

Over the past six decades, 23 priests have been removed by the diocese for similar actions.

Mark Lyman, the upstate coordinator for SNAP, was joined by a handful of others in a quiet display in front of the church to support the victim who came forward in Rodino's case and to encourage others to do the same.

"This is a vigil - a show of support for the individual who was brave enough back in June to come forward and to speak out," said Lyman. "We are asking survivors or anyone who may know of or have been sexually abuse by Rev. Sal Rodino, we are asking them to come forward.

Lyman, of Stillwater, was among a group of men abused by the Rev. Frank Genevive between 1978 and 1987, when they were teens. Genevive, 53, pleaded guilty in Boston in July of 2008 to raping Lyman and the other boys. He and another victim of filed a $10 million lawsuit against Genevive in Manhattan earlier this year.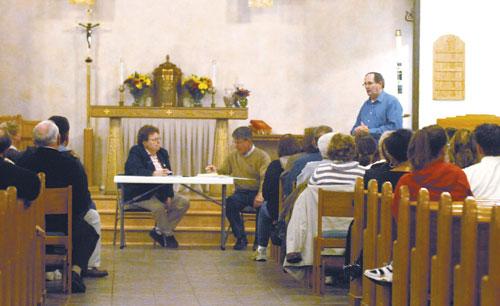 Parishioners of St. Jude the Apostle Church in Wynantskill gather Tuesday in support of their dismissed pastor, Rev. Salvatore "Sam" Rodino.
Photo by J.S. Carras


As for questions the parishioners had, many of them wanted to know who would be taking over for Rodino — a decision which Goldfarb noted had not yet been made by the diocese. For now, Menty and other area priests are expected to fill in during church services.

"The kids loved him because he always walked through the school," said Sandra Miorin, referring to the nearby St. Jude the Apostle School. "They loved him and they'll miss him. He did a lot for the school and he'll be hard to replace."Denise Ryan, of Troy, said that Rodino turned the parish around and made it more of a community.

"He's a hero, an amazing human being. He's done so much for the church — with every single thing he does he brings people together," said Ryan. "Our hearts are broke and the kids are crushed. But he wasn't even given a chance. There was no mercy. What kind of Christian thing is that? Practice what you preach."

The recommendation to Hubbard was made after an investigation by the Diocesan Sexual Misconduct Review Board. That investigation did not begin until local prosecutors confirmed the alleged crime had surpassed its statute of limitations, Goldfarb said. As a result, neither criminal nor civil proceedings can be brought against Rodino by prosecutors or the alleged victim.

Rodino also served at St. Bonaventure in Speigletown, St. Pius X in Loudonville and St. Margaret Mary in Albany, all of which were notified by the diocese by way of Hubbard's letter. He also served Catholic Central High School, LaSalle Institute, Bishop Maginn High School and St. Patrick's Academy in Catskill.

Lyman asked that other individuals who have been abused in similar situations contact SNAP at www.snapnetwork.org, or local law enforcement.

Tom Caprood can be reached at 270-1278 or by e-mail at tcaprood@troyrecord.com