Five Arrested in Shooting of Home Gardens Bishop

By John Asbury, Richard Brooks and Sandra Stokley
The Press-Enterprise
September 17, 2009

http://www.pe.com/localnews/inland/stories/PE_News_Local_W_shooting17.414ab3c.html

[with video]

HOME GARDENS - Five men were arrested Wednesday after a two-county crime spree that included the shooting of a church bishop in Home Gardens and the robbery of five restaurants.

Bishop Antonio Garduno, 51, of the Our Lady of Tepeyac church, underwent surgery Wednesday at Riverside County Regional Medical Center in Moreno Valley after being shot late Tuesday night. He is expected to survive, authorities said.

Authorities say the robbers started their crime spree Tuesday at an International House of Pancakes in Industry at 2:45 p.m. and robbed two Denny's restaurants in Rowland Heights and Pomona within 45 minutes, Riverside County sheriff's Sgt. Dennis Gutierrez said.

The men passed a Denny's shortly before 10 p.m. on McKinley Street near Magnolia Avenue in Corona, Gutierrez said. The five men then stopped at the church around the corner, Gutierrez said.

The bishop was shot in the stomach after coming to investigate a commotion in the courtyard. The five men then sped away as the bishop called 911.


Nothing was taken even though robbery may have been the motive.

"It appears, based on this crime spree, they saw an easy target and an opportunity when they saw the light on in the bishop's office," Gutierrez said.

Police believe the five men proceeded to rob another Denny's in Norco about an hour later. At that restaurant, one of the suspects, Willis Bagely, 38, of Perris, was arrested.

Police said the remaining four suspects arrived at a Denny's in Corona shortly before midnight, committing their fifth and final holdup of the night.

After police were given a description of the suspects' car from the church shooting, Corona police stopped a car matching the description on Interstate 15 near Limonite Avenue, Gutierrez said.

The driver stepped out of the car and was arrested, but one of the remaining three passengers jumped into the driver's seat and sped away.

California Highway Patrol officers pursued the car until it crashed in Ontario at 7th Street and Haven Avenue, where the three men were arrested, Gutierrez said. Handguns and long guns were recovered from the car.

Police arrested Bagely, Anthony Coleman, 21, of Chino; and Timothy Jacquemain, 18, Andrew Swindle, 23, and Jaccob Buschow, 19, all of Pomona, on suspicion of attempted murder and robbery.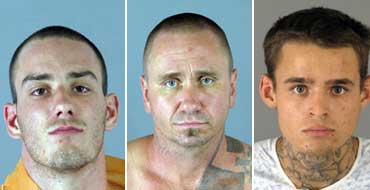 Left to right: Andrew Swindle, 23, of Pomona, Willis Bagely, 38, of Perris, and Anthony Coleman, 21, of Chino.



Wednesday, Corona resident Vera Cooke, who said she and her husband, Peter, have known Garduno for at least 10 years, called Garduno "a gift to the community."

"He's such a wonderful priest," she said. "I can't say enough good things about him."

Gates leading to the church in the 13400 block of Magnolia Avenue were chained Wednesday morning. A young man checking one of the doors waved off a reporter's questions, walked into the office and shut the door. The church's telephone was continually busy.

Garduno, a defrocked Roman Catholic priest, has a controversial past.

In 1993, while associate pastor of St. Edward's Church in Corona, he was accused of asking a man to strip during a pre-marriage counseling session. Garduno left that church in late 1993.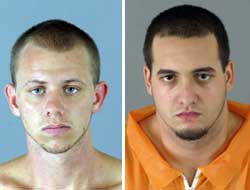 Jaccob Buschow, 19, left, and Timothy Jacquemain, 18, both of Pomona.



John Andrews, director of communications for the Roman Catholic Diocese of San Bernardino, said Garduno was put on trial for schism and heresy for forming his own church and was dismissed from the clerical state.

Garduno, who has repeatedly denied any sexual misconduct, did not attend the trial.

Andrews said Our Lady of Tepeyac is now associated with the Old Catholic Church -- a movement that began in 1870 when some European Roman Catholic parishes split from the Roman Catholic Church and rejected the First Vatican Council's declaration that the pope is infallible in matters of faith.

Vera Cooke said she was aware of Garduno's past difficulties.

"There are issues, but that doesn't take away from the godliness and goodness of the man," she said.

Reach John Asbury at 951-763-3451 or jasbury@PE.com

Reach Sandra Stokley at 951-368-9647 or sstokley@PE.com