York's Planned Parenthood Protests a Protestor

By Melissa Nann Burke
York Daily Record
November 1, 2009

http://ydr.inyork.com/ci_13679014?source=email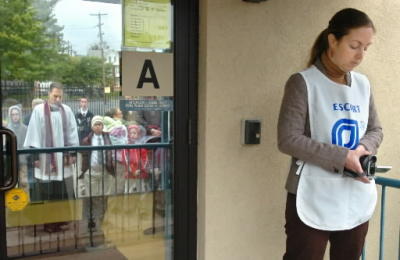 In this Oct. 2 photo, Abby Sherwood, at right, director of public affairs for Planned Parenthood of Central Pennsylvania Inc., videotapes members of Sts. Peter and Paul Roman Catholic Mission, who are reflected in the clinic s front door. The Rev. Gabriel Tetherow is wearing the stole and surplice at center left.



Center cites priest's behavior and criminal past. Father Gabriel: 'I'm not backing down'

It didn't take long for staff and volunteers at the York office of Planned Parenthood of Central Pennsylvania Inc. to take note of the Rev. Virgil Bradley Tetherow .

Tetherow, known as Father Gabriel, first appeared on the sidewalks outside the clinic in the summer of 2008, often dressed in his vestments as if prepared to celebrate Mass.

His behavior toward staff, volunteers and visitors set him apart from other clergy who came to protest the abortions performed at the Beaver Street offices, volunteers say. They have videotape of Tetherow name calling -- coward, moronic idiot and "the personification of the face of evil," for instance -- and yelling at staff, visitors and the volunteers who escort people inside.

"It's not what I would expect of a person of faith," said Suellen Craig, president and CEO of Planned Parenthood of Central Pennsylvania.

When they Googled Tetherow's name, Planned Parenthood volunteers learned something else unexpected:

Four and a half years ago, police in Monroe County charged Tetherow with 10 counts of possessing child pornography and 10 counts of criminal use of a communication facility, according to court records.

Tetherow later pleaded guilty to one charge of criminal use of a communication facility -- a felony. The District Attorney's Office dropped the other charges, and a judge sentenced Tetherow to two years' probation.

"Here's this guy yelling and screaming at us, telling us we're going to hell," said Liz Burcin , a

York County YMCAPlanned Parenthood volunteer. "He's trying to dictate morality to us when he has this in his past."

Tetherow, 45, declined to discuss his guilty plea. He also wouldn't talk about the 2005 decision by Roman Catholic officials that he must remove himself from public ministry as a priest pending a final disciplinary ruling by the Vatican. He now serves a York congregation that the Catholic Church considers schismatic, that is, outside the Church.

In a phone interview last month, Tetherow said people who bring up these events don't know the whole story, which he offered to discuss with anyone, except the media, face-to-face.

The past is being brought up in an attempt to silence his anti-abortion ministry, he said.

"They only know what they have read," he said of Planned Parenthood.

"They tell people all the time that I'm a pedophile, I molest children. I have never molested a child. I would never molest a child. I have only one concern: The salvation of their souls."

Steven Neubauer, a volunteer escort at Planned Parenthood, said visitors are told of the arrest and conviction records of protesters they might encounter outside the building. Neubauer said he has often corrected visitors who misspeak about Tetherow's police record.

Tetherow said he yells outside the clinic because he has a short time to change the minds of patients as they walk inside. Property laws restrict demonstrators from following patients and others onto private land. He defended his comments and confrontational behavior toward Planned Parenthood staff, visitors and volunteers, saying he's trying to awaken them to the evil in which they're participating.

"I know I've made enemies," Tetherow said.

"I will continue to be down there and fight. If they want to call up every newspaper and talk about the past, that won't stop me."

Protests and prayer

Outside Planned Parenthood, Tetherow often meets up with young families from his congregation, Sts. Peter and Paul Roman Catholic Mission on South Beaver Street. The clinic's staff and volunteers said those with Tetherow are usually peaceful, but they're concerned for the children in the crowd. Staff said they've never seen Tetherow act inappropriately with any of his group.

Dr. David Drew , chairman of Sts. Peter and Paul mission, said he knew of Tetherow's background when he invited him to serve the congregation 18 months ago. Drew looked into the 2005 police charges and found them meritless, he said.

"I don't have any qualms about safety," said Drew, who has known Tetherow for more than a decade.

Drew spoke around the time last fall that the Scranton diocese sent a notice to all U.S. Catholic bishops advising them of the charges police filed against Tetherow in 2005. Drew could not be reached for comment this week.

The Scranton diocese notice said Tetherow was working with a group in York that has broken with the Catholic Church.

A spokesman for the Catholic Diocese of Harrisburg, which includes York County, said Bishop Kevin C. Rhoades is aware of Tetherow's presence in York, but that Sts. Peter and Paul congregation is not recognized by the Church. Tetherow has no permission from the diocese to function as a priest in the 15-county area, said the spokesman, Joe Aponick.

Drew believes someone else was responsible for downloading the pornographic material at issue in Tetherow's criminal case but that Tetherow wouldn't turn in that person. Drew believes the 2005 incident was a setup -- an attempt by the Diocese of Scranton to smear Tetherow's reputation, he said.

"Father is being persecuted because he is a traditional Catholic," Drew said.

"He's a very good priest -- a well-formed, well-educated priest, a highly moral man and an exemplary man for anyone of any age to model their life after."

Traditionalists typically favor centuries-old forms of worship, particularly the Latin Mass, which was predominant in the U.S. and elsewhere before the Second Vatican Council of the 1960s. They often hold fast to traditional Catholic dogma on the unique role of the church for human salvation and, thus, look askance at interfaith dialogue and ecumenism.

Drew denies that Sts. Peter and Paul mission is in schism with the Church. The congregation's statement of purpose says members observe obedience to the pope "in all things that are not contrary to the constant tradition of the Catholic Church."

In the Scranton diocese, Tetherow had started a traditionalist religious community that now-retired Bishop Joseph F. Martino dissolved after he became bishop in 2003, said James B. Earley , chancellor of the diocese.

When asked about Drew's statement, Earley said the diocese did not set Tetherow up.

"He was arrested for child pornography. It's not a fiction or anything -- it's a true event in this priest's life," Earley said. "It was investigated, and it was child pornography there. That's incontrovertible if you look at the police report."

The investigation

Police looked into the case after the Rev. Michael Kloton , then-pastor of a church in Tobyhanna, Monroe County, reported that a man brought in to clean up hard drives of rectory computers found images of child pornography on one used by the church secretary.

In charging documents, Pocono Mountain Regional Police said detectives examined computers taken in January 2005 from the rectory and found at least 10 illegal images of children ages 9 to 14 engaged in sexual acts.

The charging documents say Tetherow went to the Pocono Mountain police headquarters Jan. 31, 2005 , and admitted to downloading child porn from January to December 2004 on the secretary's computer at St. Ann's Catholic Church, as well as on a computer in his rectory room.

Police who examined the computers said Tetherow accessed the Internet with the user name "Father Gabriel."

Drew said Tetherow is not computer-savvy and does not understand the terminology. "He wasn't using the word 'downloading' correctly," Drew said of Tetherow's conversation with police in 2005.

Tetherow, who lives at the church on South Beaver Street, said he does not have Internet access.

His defense attorney, Mark Love of Tannersville, said he believed portions of the police investigation were "overbroad." Because the case ended with the plea bargain, he never raised those issues.

"Quite honestly, from the very beginning everybody took the position that Father Gabriel was really a wonderful guy, and the district attorney and the police didn't want to prosecute him, so, consequently, the case was resolved early on," Love said.

Then-Assistant District Attorney Rob Saurman, who prosecuted the case, said Tetherow pleaded guilty to using a computer for a criminal purpose -- in this case, viewing child pornography.

"It was criminal, but it was passive criminality," said Saurman, now in private practice in Stroudsburg. "It was looking at things -- not direct contact with a minor and not creating things," such as porn.

In 2005, the Diocese of Scranton forbade Tetherow from engaging in any public ministry and removed his priestly faculties, said Earley , chancellor of the diocese.

When a bishop removes a priest's faculties, he can no longer celebrate Mass, hear confession or represent himself in public as a Roman Catholic priest in that diocese.

The Scranton diocese forwarded Tetherow's case to a Vatican panel, the Congregation of the Doctrine of the Faith, which is responsible for priestly discipline. It has been pending there since November 2005, Earley said.

"We're waiting to hear what that congregation is going to direct us to do with Father," Earley said.

Tetherow has no plans to slow down his ministry and still prays weekly at Planned Parenthood in York, even though abortions are no longer provided there, he said. (Planned Parenthood would not comment on medical procedures available in York.) Starting this month, he plans to also visit the Planned Parenthood in Harrisburg when he can.

Tetherow's anti-abortion activities are only part of his mission as a priest and a Catholic, he said. He estimated that Sts. Peter and Paul draws 80 to 120 worshippers, including children, on Sundays.

"I'm not backing down. You show me where I'm wrong in the eyes of God, I'll back down," he said.

"I'm going to continue to defend and fight for what is right and needs to be done."