Group Asking Quincyans to Step Forward If They Were Abused by Catholic Priest Who Once Worked at Seminary

By Steve Eighinger
Herald-Whig
November 4, 2009

http://www.whig.com/story/news/SNAP-110509

Judy Block Jones was in Quincy to make a plea on two fronts.

Jones was urging past victims of sexual abuse by Catholic priests to come forward. She was also asking Quincy University to take an active role by encouraging anyone with information about potential crimes committed by a priest who worked at a Franciscan seminary in Quincy.

Block is a regional director for SNAP, the Survivors Network of those Abused by Priests, a nationwide organization headquartered in St. Louis that urges fellow Catholics to help abuse victims come forward and name their abusers.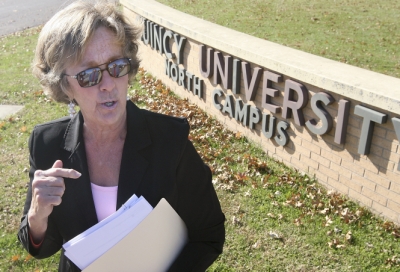 Standing at the corner of 18th and Seminary Road in Quincy, Judy Block-Jones explains how she planned to deliver a letter to Quincy University president Robert Gervasi asking for help to victims of abuse by former a Quincy priest, the Rev. Henry Willenborg. Jones is a leader of a support group called SNAP, the Survivors Network of those Abused by Priests. (H-W Photo/Michael Kipley)



"Our reason for being in Quincy is our concern for those who may have been abused and are walking around scared," said Jones, a native of Ohio whose brother was molested by a priest when he was a child.

"These priests are treated like God, but they need to be held accountable. The (Catholic church) does not want anything to come out. They don't want scandals."

SNAP targeted Quincy and QU after an Oct. 17 front-page article in the New York Times reported that the Rev. Henry V. Willenborg, a Franciscan priest, impregnated a Quincy woman twice, advocated an abortion and essentially tried to ignore the child he fathered while serving in Quincy. The newspaper said the woman in question, Pat Bond, who now lives in a St. Louis suburb, had come to Willenborg for marriage counseling.

SNAP prepared a letter to be delivered to QU President Bob Gervasi detailing the Willenborg case. Roman Salamon, director of communications for the school, confirmed the letter was received Wednesday afternoon.

Willenborg was a member of the staff of Our Lady of Angels Franciscan Formation House in Quincy from 1976 to 1987. The former OLA Seminary is now known as North Campus of QU.

Jones held a press conference at the corner of 18th Street and Seminary Road on Wednesday afternoon, with the former OLA Seminary less than a 100 yards behind her.

"Father Willenborg's conduct is regrettable and reprehensible, but he was not a member of QU and the seminary was not owned by the school," said Salamon, who is serving as QU spokesman on the matter. "We feel QU has been unfairly linked to this (scandal) ... and feel this situation should be dealt with by the appropriate people."

Salamon said SNAP should probably deal directly with the Franciscans and their provincial headquarters in St. Louis.

Willenborg was director of the Apostolates for three years in Quincy, director of spiritual formation for three years and a rector for four years. He was an active member of the then-Quincy College Board of Trustees and the Quincy Rotary Club during his tenure in Quincy.

Bond and her son, Nathan Halbach, 22, are both suffering from cancer. Bond has been engaged in an ongoing battle with the Catholic church over monetary support through the years. Jones contends Bond was "manipulated" into signing "several gag orders" over the years.

The Associated Press reported Bond received about $100,000 in financial support from the Franciscans. She is seeking more, and she said in a statement the church has made her and her son beggars. The Franciscans said they went beyond what the law required.

The New York Times article said Willenborg's Franciscan superiors were aware of his relationship with Bond well before Nathan was born.

"(The priests) preach and teach about not having sex, and they do it over and over," Jones said.

Jones said SNAP believes church officials, church members, the Springfield Diocese, QU and the Franciscans have a moral duty "to seek out and offer help to anyone else who may have seen, suspected or suffered crimes or misdeeds by Willenborg."

Willenborg was suspended as the head priest at a parish in Ashland, Wis., after the story broke in the New York Times.

Contact: seighinger@whig.com/ 221-3377.