Tulsa Ex-Priest Named in Sex-Abuse Suit

By Ginnie Graham
Tulsa World
November 4, 2009

http://www.tulsaworld.com/news/article.aspx?subjectid=11&articleid=20091104_11_A16_Anunid718487

An unidentified plaintiff has filed a lawsuit against a former priest and the Catholic Diocese of Tulsa, alleging sexual molestation of a minor and failure to warn of past accusations.

Ken Lewis was "laicized," or dismissed from the clerical state, in 2007 after a history of sexual-abuse allegations. He is the only priest to be defrocked in the Tulsa diocese's history.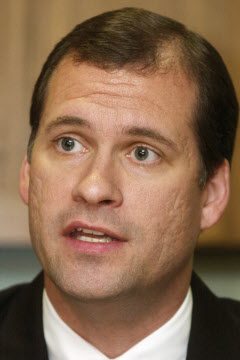 A HISTORY OF ACCUSATIONS
Ken Lewis: He was defrocked in 2007 after resigning from active ministry in 2002 following the revival of older allegations. He was first accused of inappropriate behavior with boys in 1993. He went to a treatment center but returned to ministry in 1995 on condition that he not be alone with minors.
Photo by


Bishop Edward Slattery is also named as a defendant in the suit, which seeks more than $10,000 in damages.

During a 2002 police task force investigation into allegations of sexual misconduct by Lewis, several young men claimed to have been victims of sexual advances. One claimed that he had a sexual relationship with Lewis from age 12 to 15 that began when Lewis was assisting his Boy Scout troop.

Tulsa County District Attorney Tim Harris did not file charges against Lewis, saying the statute of limitations in the case had expired.

Pat Carr, the attorney for the plaintiff, who is named only as J. Doe in court documents, said the statutes for filing a civil suit are less strict than what is allowed in criminal law.

The original filing did not name any plaintiffs or defendants, but Tulsa County District Judge Rebecca Nightingale ordered that the defendants be named.

All of the arguments and filings in the case are sealed under a protective order.

"We feel like that is in the best interest of our client," Carr said.

Monsignor Patrick Brankin said the diocese did not know about the lawsuit until church officials learned about it Tuesday from a Tulsa World reporter.

"Nobody here is familiar with any lawsuit," Brankin said. "We have not been served with any papers and have no knowledge of it. So, I can't comment at all."

Lewis, who was ordained in 1991 at Holy Family Cathedral in Tulsa, faced accusations of inappropriate behavior with boys in 1993.

Those allegations involved physical contact with boys while he was an associate pastor at St. Mary's Catholic Church in Tulsa.

Diocese officials investigated and removed Lewis from St. Mary's.

He was sent to a psychiatric treatment center but returned to active ministry in Tulsa in 1995 under the condition that he not be alone with minors.

He was an associate pastor at Holy Family Cathedral in Tulsa and also served at Sacred Heart Church in Fairfax, St. Joseph Church in Cleveland, Okla., St. John's Church in Pawnee and St. Joseph Church in Hominy.

In June 2001, he was appointed pastor of St. John's Catholic Church in McAlester.

He resigned from active ministry in 2002, when earlier allegations resurfaced during the national sexual-abuse scandal that centered around Boston, where church officials spent $10 million to settle cases of 86 molestation victims.

The lawsuit charges that Lewis held himself out as qualified to work with children.

"Plaintiff and his family relied on (Lewis) as a prominent position in the community to provide counseling and guidance, where he had access to and did work with children," the suit states.

It accuses the diocese of not taking sufficient steps to prevent Lewis from having access to children, not conducting a proper background check with previous organizations where Lewis worked with children, and not warning parents to possible "danger" that Lewis posed to children.

The lawsuit states that the molestation was "extreme, outrageous and intentional," resulting in years of psychological counseling and acute pain and suffering.

The Tulsa diocese has since started awareness and prevention programs.

The Virtus program for adults is required for any volunteer or paid staff member in the Tulsa diocese. The free, three-hour session explains how to keep children safe from sexual predators and recognize signs of child abuse.

More than 11,100 people have completed one of the 540 sessions offered so far, diocese officials said. Training geared toward children is offered in parishes and Catholic schools.

"We want parents and require anyone connected to the diocese to take that training," Brankin said.