Group Urges Victims of Priest Abuse to Come Forward

By Susan Olp
Billings Gazette
November 4, 2009

http://billingsgazette.com/news/state-and-regional/montana/article_92778c2c
-c9a2-11de-b96f-001cc4c002e0.html



Elsie Boudreau, a Yu'pik Eskimo from Alaska, suffered sexual abuse at the hands of a Jesuit priest in Nome, Alaska, from age 10 to 16.

She later successfully sued Father James Poole and won a financial settlement against him. Now he lives in a Jesuit retirement center in Spokane, and Boudreau is a victim liaison for a California law firm.

On Wednesday, she was in Billings with another member of SNAP - the Survivors Network of those Abused by Priests - to encourage others who have gone through the same type of ordeal to come forward. The timing is crucial, Boudreau said, because a deadline looms for victims of abuse who fall in the Oregon Province of the Society of Jesus to file a claim.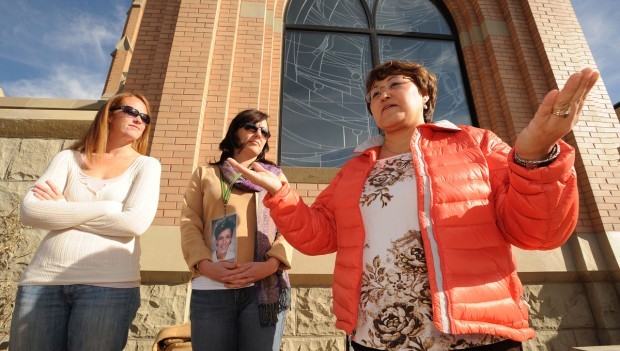 From left, Rebecca Rhoades, Joelle Casteix and Elsie Boudreau make a statement to the media in front of the St. Patrick's Co-Cathedral Wednesday. Casteix, a member of Survivors Network of those Abused by Priests, or SNAP, supporter Rhodes and Jesuit priest sexual abuse victim Boudreau were on hand to answer questions about an upcoming deadline in a bankruptcy case against the Jesuit order.
Photo by Larry Mayer


That includes Jesuit churches and missions in Montana.

"I think the important thing is to let survivors know that you have until Nov. 30 to come forward," Boudreau said. "It's absolutely OK to say that a Jesuit priest molested you and for other parishioners to support victims that are coming forward."

She and Joelle Casteix, SNAP's Southwest regional director from Newport Beach, Calif., held a brief news conference Wednesday morning in front of St. Patrick's Co-Cathedral in downtown Billings. The Chicago-based SNAP organized the event to get the word out about the deadline and to chastise the Catholic Church for not making a greater effort to reach potential victims.

A diocesan official said the church is doing its best to help spread the word about the deadline.

SNAP doesn't have names of any predator priests who were assigned in or around Billings. But the group brought up the name of Father Frank Duffy, a Jesuit priest who was recently identified as a perpetrator.

Duffy worked from 1946 to 1948 at St. Paul's Mission in Hays, Casteix said, citing information from the Portland Diocese.

"Frank Edward Duffy, who while he served in Hays and traveled extensively in Billings in the 1940s, was a prolific perpetrator and molested, we believe, dozens of girls until his death," Casteix said.

The Jesuits were also the No. 1 one group in organizing Native American missions, she said, and many members of the order came through the area to hold Mass and perform baptism and funerals, as well as visit the sick.

Boudreau also believes there has been a pattern by the order of "dumping perpetrator priests in remote areas where people have less access to services and are less apt to talk to law enforcement."

"I talked to hundreds of victims in Alaska who didn't know that they could speak out, who didn't know they could report it to law enforcement," Boudreau said.

Since 2001, Jesuits have paid out more than $25 million to sex-abuse victims. Andy Chasan, a Boise attorney whose law firm is affiliated with Northwest Attorneys for Justice said as many as 200 claims have been filed against the Oregon Province out of Alaska alone.

"Our expectation is there may be as high as 400 to 500 claims filed by victims throughout the Northwest," he said in a telephone interview.

The Nov. 30 deadline comes into play because the Oregon Province of the Society of Jesus filed for Chapter 11 bank-ruptcy. Nov. 30 is what's called a "bar date," Chasan said.

"For most people, that means they have to file the claim by that time," he said.

As part of the bankruptcy order, the Oregon Province must search for victims. At the behest of the Jesuits, the Diocese of Great Falls-Billings put a legal notice in its September newspaper notifying registered parishioners of the Nov. deadline.

The newspaper reaches 17,500 households in Eastern Montana totaling an estimated 58,000 Catholics, said the Rev. Jay Peterson, vicar general for the diocese.

The diocese also periodically includes a notice in its newspaper encouraging people who have been victimized by a priest or member of the laity to contact Sister Kathleen Kane, the diocese's victim assistance coordinator in Great Falls.

"Churches generally have posters in the entryway or parish offices," Peterson said. "We try to do the best we can. We want to be as approachable as we possibly can if there are victims that need ministry."

But Casteix doesn't believe that's good enough, calling the diocese's failure to reach beyond parishioners to get the word out "a horrible disserve to victims of sexual abuse by the Jesuits."

"Most victims are not registered parishioners and a legal notice is something that is easily overlooked," she said. "We want to make sure that there is survivor-centered communication that can touch people at 2 in the morning when they're upset and looking at the Internet or hanging out in the back of a church too scared to go in."

Survivors ought to know they have recourse to the abuse they suffered, she said. And they need to know that child sexual abuse is not shameful, said Casteix, who, herself was sexually abused by a lay teacher at a Catholic high school.

"No child ever deserves to be abused, and by coming forward they can protect that child that was hurt so long ago and start on the path of healing," she said.

Contact Susan Olp at solp@billingsgazette.com or 657-1281.