St. Louis Priest Faces New Sex Charge

By Robert Patrick
St. Louis Post-Dispatch
November 5, 2009

http://www.stltoday.com/blogzone/st-louis-crime-beat/2009/11/05/st-louis-priest-faces-new-sex-charge/

A St. Louis priest already accused of trying to pay for sex with a 16-year-old girl was indicted Thursday on new charges, including a child pornography charge.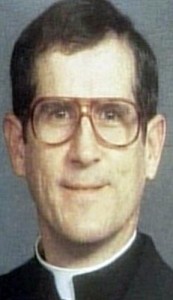 Rev. James P. Grady



The superseding indictment handed up Thursday afternoon accuses the Rev. James P. Grady of possessing three pornographic images of young girls. One of the photos also had a nude male in it, the indictment says. Prosecutors also added a felony charge of "coercion and enticement."

Grady was first indicted July 30 on a felony charge of attempting to obtain a minor for a commercial sex act after being caught up in a sex sting being run by the FBI and police from St. Louis County and Maryland Heights.

Prosecutors say Grady spotted an ad in the "adult services" section of the Craigslist website that used three code words taken from child pornography and often used to describe underage girls. Grady exchanged e-mails with an undercover officer, then showed up at a house somewhere in St. Louis County after agreeing to pay $80 for 30 minutes with the girl and asking for "kissing" and oral sex, according to court documents.

In testimony during a pretrial hearing last month, FBI Special Agent Cynthia Dockery said that Grady was suspicious that the deal was a law enforcement set-up, and tried to back out once at the house. Agents pulled their guns and had to force an uncooperative Grady into handcuffs.