Child-porn Charges against Priest, Who Briefly Taught at Notre Dame, Go to Court

By Michael Sadowski
Pocono Record
November 5, 2009

http://www.poconorecord.com/apps/pbcs.dll/article?AID=/20091105/NEWS/911050324/-1/news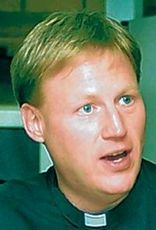 Father Robert M. Timchak, pastor of Transfiguration Church in 2006.



SHOHOLA — A priest and onetime teacher at Notre Dame Elementary in East Stroudsburg accused of having child pornography on his computer will be headed to court after he waived his preliminary hearing Wednesday.

The Rev. Robert Timchak, 43, who has been an assistant pastor in Pike County for two years after working throughout the Diocese of Scranton since 1992, is charged with 17 counts of sexual abuse of children for having explicit pictures of underage boys on his personal computer. The police affidavit accuses Timchak of downloading the photos from two Internet porn sites.

He waived his right to a preliminary hearing in front of Magisterial District Judge Alan Cooper.

The investigation into Timchak has been going on since last December, when the Diocese of Scranton received an anonymous tip that Timchak may be using a computer for inappropriate use, according to the diocese.

The diocese reported the tip to the Pike County District Attorney's Office, which turned the investigation over to the state police.

According to the diocese, it was told to do nothing that might tip off Timchak to the investigation. Police first questioned Timchak in April, according to the police affidavit. According to the diocesan statement, Timchak had been granted a leave of absence in April and was not removed from his position in Pike County during much of the investigation.

He stayed on as assistant pastor at St. Vincent de Paul in Milford and St. John Neumann in Lords Valley.

"If Father Timchak had been accused of sexual abuse against a minor in the form of actual physical contact, and if this allegation was credible, he would have been removed immediately," the diocese said. "In this case, there was an anonymous accusation that had to be investigated and verified before any action could be taken. The diocese cooperated completely with law enforcement in this case from the beginning."

In addition to his time in Pike County, Timchak also worked as a student teacher at Notre Dame from September to November 2007. In December 2008, he worked as an occasional substitute teacher at Notre Dame and "occasionally celebrated Mass" there, according to a statement from the Diocese of Scranton, and "possibly" attended school functions.

He also worked as a substitute in other local elementary schools, the diocese said. Trooper Sandra VanLuvender of the state police said she could not reveal which elementary schools were involved, but she did confirm some were public schools.

Sixteen of the counts of sexual abuse are second-degree felonies and one of the counts is a third-degree felony.

He also faces charges with criminal use of a communication facility and tampering with or fabricating physical evidence.

According to the affidavit, Timchak admitted early on in the investigation that when he found out he may be investigated by police, he tried to "delete graphic files from his computer."

There was not a court date set for the trial.

Timchak remains free, released on his own recognizance.