Moose Lake Superintendent Tells of Sexual Abuse As Teen

By Jeff Strickler
Star Tribune
November 17, 2009

http://www.startribune.com/lifestyle/faith/70246032.html?elr=KArks7PYDiaK7DU2EPaL_V_9E7ODiUiD3aPc:_Yyc:aULPQL7PQLanchO7DiUr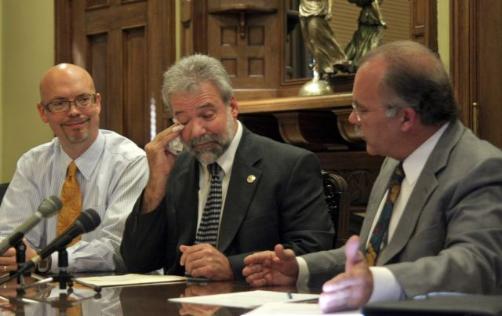 Timothy Caroline, center, daps a tear from his eye after recounting the consequences of sexual abuse as a child by Brother Anthony (Raimond)Rose. Left, his attorney, Patrick Noaker, who has filed a fraud suit against the order of Brothers, and right, Bob Schwiderski, an advocate for victims of abuse by clergy.



Tim Caroline's lawsuit alleges that he was molested by Brother Raimond Rose on a church-sponsored retreat.

Tim Caroline taught what he called the most difficult lesson of his 30-year career Monday when he went public in announcing that he was sexually abused in junior high.

Caroline, 53, the superintendent of the Moose Lake Public Schools, filed a suit alleging that he was molested by Christian Brother Anthony (Raimond) Rose while on a church-sponsored retreat at Dunrovin Retreat Center in Marine on the St. Croix in 1970 or 1971.

This is the seventh suit filed against Rose since February. He also faces suits alleging abuse while teaching at DeLaSalle High School in Minneapolis and Cretin High School in St. Paul in the late 1960s and early '70s, as well as a suit concerning a North Dakota student.

Most suits involving the abuse of minors are filed as "John Doe" suits. Asked why he didn't opt to maintain his anonymity, Caroline said:

"I'm not John Doe. I'm Tim Caroline. My job as an educator is to make a difference. As teachers, we talk a lot about teachable moments, and this certainly is one of them. If just one person who has been molested gets help because of this, then it is worth it. "

Often battling to hold back tears, he talked of the emotional struggles of keeping the abuse secret for years and then, when he finally worked up the nerve to tell his parents, the anguish he felt when they didn't believe him.

"I didn't talk about this to anyone for several years," he said. "When our first child [who is now 20] was born, I just couldn't see raising him in the Catholic Church. I told my parents that we weren't going to have him baptized in a Catholic Church. We had him baptized in a Lutheran Church, and my parents didn't come to the baptism."

In retrospect, he thinks that his parents "were in shock. They were battling their own emotions over the fact that this had happened to their son. They didn't want to believe it happened."

Although he is no longer Catholic, he insisted several times that he makes a distinction between Rose and the church.