Boys Ranch Moves Assets before Abuse Trials' Start

By Kevin Graman
The Spokesman-Review
November 19, 2009

http://www.spokesman.com/stories/2009/nov/19/boys-ranch-moves-assets-before-abuse-trials-start/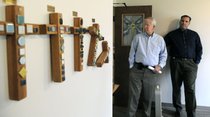 Joe Pickert, right, was executive director of both organizations when the Morning Star Boys' Ranch deeded real estate to the Morning Star Foundation. Ranch executive director Richard I. Petersen, left, said charitable organizations often form foundations. "There was no attempt to defraud anybody, he said."



Alleging fraud, plaintiffs' attorneys seek to delay proceedings

Morning Star Boys' Ranch has moved the bulk of its assets, including securities and real estate worth millions of dollars, to a nonprofit foundation in advance of the first trial over sexual abuse lawsuits against it.

In 2007, the ranch transferred more than $12 million in securities and other assets to the Morning Star Boys' Ranch Foundation, an organization that supports youth sports and other charities, according to federal tax documents.

On April 2, the ranch deeded to the foundation 25 parcels of Spokane County real estate with a total assessed value of nearly $3.5 million. The signature appearing on those deed transfers as both grantor and grantee was that of Joe Pickert, a foundation board member who at the time was executive director of both the foundation and the ranch.

Those transactions follow the filing of 18 lawsuits against Morning Star Boys' Ranch and some of its employees by former residents of the south Spokane facility for troubled boys, alleging beatings and sexual abuse. The lawsuits were filed beginning in 2005.

Morning Star and its supporters have vehemently denied those allegations, saying those filing suit are trying to squeeze money from the nonprofit organization.

Attorneys for 15 of the 18 plaintiffs against the ranch now have filed a motion seeking to delay trial in Spokane County Superior Court so that they can depose board members of the ranch and the foundation about the asset transfers. Morning Star's attorney countered in a court filing Tuesday that he will try to prevent those depositions.

In an e-mail Wednesday, Seattle attorney Tim Kosnoff accused "Morning Star insiders" of trying to protect the ranch's assets from upcoming litigation and "conspiring to commit a fraud of massive proportions." He called upon state and federal authorities to open a criminal investigation into the matter.

The directors of the Morning Star Boys' Ranch and the newly renamed Morning Star Foundation deny that the transfers were made to defraud potential creditors, which would be a violation of state law.

"There was no attempt to defraud anybody," said Richard I. Petersen, the ranch's executive director, who added that forming a foundation is a common practice among charitable organizations.

"It was transparent and done with the advice of legal counsel," Petersen said.

Petersen, who has served on the ranch's board of directors since 2008, became director in April, succeeding Pickert, who remains executive director of the Morning Star Foundation.

According to Pickert, the foundation, established in 2006 "to support causes that help young people grow into successful citizens," raises funds through charitable donations. By far, most of the foundation's assets are a result of the transfer from the ranch.

The foundation's federal tax filing for 2008 shows it began the year with $12.5 million and ended with $9.1 million. It raised $137,000 through contributions and grants and reported total revenue of $321,000. It paid out $1.4 million in grants, most of that to support the operations of the ranch, according to the tax documents.

Other beneficiaries include Spokane South Little League, AAU Youth Basketball, Southside Christian School and Greater Spokane League programs, Pickert said.

Asked if the ranch's benefactors approve of the assets being used for purposes other than caring for troubled boys, Pickert said, "The foundation is a vehicle for us to preserve and protect what the donors intended."

Attorneys for the plaintiffs saw the ranch's transfer of assets "without the exchange of reasonable equivalent value" as an attempt to render the nonprofit judgment-proof.

"It is sort of like if a millionaire rear-ended you and when you filed a lawsuit against him, he gave away all of his money and said there was nothing to recover in your lawsuit," Seattle attorney Daniel Fasy – who's working with Kosnoff to represent 15 of the plaintiffs – said in an interview. "Instead of litigating these claims in good faith, MSBR has taken steps to render itself insolvent by simply giving assets to another corporate entity."

But Pickert and Petersen said in a letter Wednesday that "the ranch remains a solvent entity with sufficient assets capable of satisfying the demands of such creditors."

Linda Hume, a University of Washington law professor specializing in bankruptcy and commercial law, said the state's Uniform Fraudulent Transfer Act allows creditors to ask the court to reverse property transfers made prior to bankruptcy.

"If you transfer something for less than fair value, it is presumed to be fraudulent and can be undone," Hume said, even if there was no fraudulent intent.

The real estate transferred includes most of the 222-acre ranch, except for the southern portion on which the ranch buildings sit at 4511 S. Glenrose Road.

The foundation has entered into a deal with the Spokane South Little League to sell 19 acres in the northeast corner of the ranch for use as a baseball complex. However, neighbors opposing the sports complex have filed an environmental appeal, which will be heard next month.

The foundation also received from the ranch several residential properties, mostly in south Spokane; a cabin on Newman Lake; and 675 acres of Lincoln County farmland, which had been transferred to the ranch by the Catholic Diocese of Spokane.

Though the ranch and the foundation have separate boards of directors, the foundation's four-person staff, including Pickert, is headquartered at the ranch.

Since June, six employees have been terminated at the ranch and two others have resigned, according to management and employees. The fired employees, all of whom had direct contact with the resident boys, sent a letter to Morning Star's board last month alleging mismanagement of the ranch and intimidation of employees. In later interviews, three of the six ex-employees alleged that Pickert and Petersen were spending more than $1 million a year in administrative salaries and attorneys' fees.

"They are sucking the ranch dry," John Loch-ridge, a 30-year employee who was fired in September, said in an interview. Lochridge said he was terminated for questioning management practices.

Pickert and Petersen, both of whom come from business backgrounds, say the ranch is being run more efficiently with its 30 employees than it was with 48 last year.

"We have brought a business discipline" to the ranch, Petersen said.

But there also are fewer boys – 11 at the ranch and six at Morning Star's Bosco House, a facility for boys 16 to 18, and Savio House, a home for adult graduates of the Morning Star program. At one time there were more than 30 boys in residence at the ranch. Petersen said he would like to see those numbers again.

The Department of Social and Health Services has three boys placed at the ranch and four at Bosco House. A DSHS spokesman said state budget cuts have resulted in fewer placements with residential providers.

The lawsuits against Morning Star have been separated into individual trials. The first is scheduled to begin Jan. 4 in the courtroom of Judge Kathleen O'Connor and will center on allegations brought by Kenneth Putnam, who says he was molested by the ranch's former director, the Rev. Joseph Weitensteiner, during a boating trip in the 1980s.

Weitensteiner, who retired as director in 2005, has denied the allegations. He is on the board of the Morning Star Foundation.