Some of Those Convicted in Abuse Cases

Irish Independent
November 25, 2009

http://www.independent.ie/opinion/analysis/some-of-those-convicted-in-abuse-cases-1952874.html

SOME Christian Brothers or former Christian Brothers have already been convicted of abuse in the courts.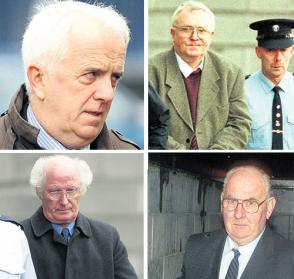 Clockwise from top left, former Christian Brothers Sean Drummond, Patrick Kelly, Maurice Tobin and Stephen Allen, who have already been convicted of abuse in the courts

* Stephen Allen (77) with an address at Christian Brothers Provincial, Griffith Avenue, Marino, Dublin, was sentenced to one year in prison in March of this year, for sexually abusing four boys 45 years ago. In interviews with gardai, Stephen Allen described the abuse as "an affection that went out of control".

* In 2003, retired Christian Brother Maurice Tobin received a 12-year sentence for the abuse of 25 boys at Letterfrack school, Co Galway, over a 15-year period up to 1974. During the garda investigation, investigating officers took complaints from at least 100 former residents who said they were sexually abused by Tobin.

* Former Christian Brother John McKenna was given a three-year suspended sentence in 2002 for abusing boys at Letterfrack between 1968 and 1970. McKenna (then 59) of Wood Dale Green, Ballycullen, Dublin, pleaded guilty to 15 counts of indecently assaulting three boys during that period.

* Christian Brother Patrick John Kelly, known as Brother Jack Kelly, was jailed for eight years in 1999 for sexual assaults on 11 boys over a 12-year period.


After his sentencing, the order apologised to his victims, acknowledging "extreme pain, hurt and trauma that have been suffered by the people who were abused by Brother Jack Kelly".


* Former school principal and Christian Brother Donal Dunne, who died in 2003, was jailed for two years at Tullamore Circuit Court in 1999 after a lifetime of abuse which spanned his entire 45-year teaching career. Dunne, who left the order following sexual abuse allegations, acknowledged numerous sexual offences against children over several decades but did not feel regret, a court report stated.

* In June of this year, former Christian Brother Sean Drummond (61) pleaded guilty to 36 counts of indecent assault on pupils at Creagh Lane National School in Limerick city in the 1960s. He is due to be sentenced early next month.