Storm the Vatican April 2010. Also, Money for Therapy Comes from Plaintiffs Not Church, and Santa Barbara Story Part 3

By Kay Ebeling
City of Angels
December 1, 2009

http://cityofangels5.blogspot.com/2009/12/storm-vatican-april-2010-also-money-for.html

Medical Exams of freshmen by Friars for "undescended testicles"

Part 3 of the Santa Barbara Story, is below. Also we are running reruns from last week for clarification. Some readers balked and misunderstood about the therapy funds available for victims announced here a few days ago. It is Not money that comes from the Church, the funds come from plaintiffs in the Santa Barbara 2006 settlements. They donated and created a trust fund for other victims who need therapy. Also, the Ash Wednesday 2010 Day of Silence announced a few days ago here is to raise funds for people in Canada who are going to Rome to "storm the Vatican" in April 2010. Both stories are rerun below for clarification, but first, from Santa Barbara.

The author of City of Angels is slammed at work, had planned to write an evocative drama based on these Santa Barbara court documents, but I have to work overtime all this week on my "real" job. So instead here at City of Angels we are copy and pasting from the legal documents, exactly as filed: I am not making this stuff up. The following, except for occasional offset comments by CityofA, all the way to the line of asterisks (***) is direct quotes from: First Amended Complaint for Damages and Relief, Case Number 1338070 filed in Santa Barbara Superior Court November 3, 2009.

As to Gus Krumm, long before the Franciscans assigned him to St. Anthony's Seminary he and another notorious Franciscan perpetrator, Father Philip Wolfe, contracted the sexually transmitted disease known as "crabs" while doing field work as novices (training to become Franciscans). The source of the crabs were adolescent boys Wolfe and Krumm encountered who, according to Krumm, were willing to do anything for money.

And according to Krumm, Wolfe contracted not only crabs but other sexually transmitted diseases from these adolescent boys, prompting Wolfe's and Krumm's novice master (also a Franciscan) to lecture both men angrily and repeatedly with regards to the sexual promiscuity with these boys that resulted in Wolfe and Krumm contracting crabs.


Gus Krumm, looking like a hot dude



Complaint Document Continued:

Thus, long before the Franciscans hired Krumm and Wolfe and assigned them to work at St. Anthony's, the Franciscans knew both Perpetrators had been sexually involved with adolescent boys. Despite this knowledge the Franciscans assigned both Perpetrators to work with adolescent boys, including Craig (Plaintiff), doing nothing to stop the contact or to warn Craig.

************

Medical Exams: The Friar Tucks Up Your Scrotum

Part of the Freshman Experience at St. Anthony's Seminary, Santa Barbara

************

Case #1338070 Complaint, cont'd:

Finally, with regards to physical examinations of students, during either the 1964-65 or 1965-66 school year, the Franciscans not only authorized such examinations but authorized them by Father Mario Cimmarrusti –a man with no medical training who was one of the most prolific Franciscan perpetrators in the history of this scandal.

Cimmarrusti had expressed "concern" during a faculty meeting that some students appeared not to be developing normally, and had undescended testicles.

No Franciscan questioned how Cimmarrusti gained such knowledge.

Cimmarrusti then told the faculty, including Fr. Xavier Harris, that other signs a student was not developing normally included undeveloped sexual organs, lack of pubic hair, softness or femininity, or no changes to a student's voice. He then proposed a program to the faculty wherein he would perform an initial assessment of freshmen students to determine if they were exhibiting any of these so called signs.

Despite the fact Cimmarrusti had no medical training, the fact the rector (who had worked at other high schools prior to St. Anthony's) had never heard of such a program, and the fact St. Anthony's applicants were required to submit proof of a complete physical exam by an actual physician, the St. Anthony's Franciscan faculty, including rector Father Xavier Harris, approved this program.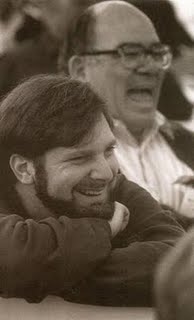 Krumm and Cimmarrusti, from Google Images, from Santa Barbara News-Press



Complaint Document continued:

Even worse, they approved the program without any understanding as to how Cimmarrusti would perform these so-called "assessments." The Franciscans' uninformed consent in this regard was especially egregious given that the initial assessment proposed by Cimmarrusti included factors which by necessity required assessing each student's testicles and pubic hair.

*****************

Asseessing each freshman boy's teticles and pubic hair! By a friar with no medical training, just a later proved proclivity for little boys, See Maria Cimmarrusti in the database under C at bishopaccountability

*****************

Thus, Cimmarrusti's Franciscan-sanctioned sexual assaults of new seminarians commenced, and by at least 1966 the Franciscans began receiving reports that Cimmarrusti was sexually abusing students during these supposed examinations.

A number of future Franciscan perpetrators – including Robert Van Handel, Dave Johnson and Gus Krumm – were St. Anthony's students while Cimmarrusti was committing his Franciscan-sanctioned assaults. At least one of them – Van Handel – continued Cimmarrusti's tradition and was present at the start of a similar assault against Craig fifteen years after the Franciscans first approved Cimmarrusti's supposed program.

*****************

Only changes we made in document quotes above were to break it into smaller paragraphs for graphic purposes and adding first names, when the doc references names that had been given earlier.