Appeal Sent to Archbishop Burke for Embattled St Vincent College Priest

Catholic News Agency
December 9, 2009

http://www.catholicnewsagency.com/new.php?n=17986

LATROBE -- Catholic priest Fr. Mark Gruber, a professor at St. Vincent College in Latrobe, Pennsylvania has been removed from ministry and barred from campus after accusations were made that he downloaded pornography to his computer. Some of his colleagues and friends are defending him, claiming his computer was tampered with.

Fr. Gruber, 53, is a Benedictine monk who teaches anthropology and is an authority on the Coptic Christians of Egypt. He is reportedly a popular retreat leader in the U.S. and Canada and is known for his theological orthodoxy.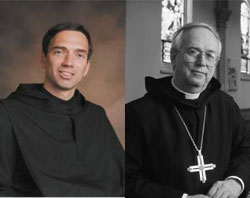 Fr. Mark Gruber / Archabbot Douglas Nowicki



The pornography investigation began after an email was sent in the middle of the night last July to some St. Vincent faculty, the Pittsburgh Post-Gazette says. The email, which was critical of the college administration, was sent in the name of another faculty member who denied having anything to do with it and asked for an investigation.

College technicians said the email originated on campus and that Fr. Gruber's computer was one of two active at the time. A search of the computer uncovered visits to several pornography sites, a state police report says.

A college technician also reported that software had been used to erase evidence of the visits to the sites. According to St. Vincent spokesman Don Orlando, the priest used his own user name and password to access the sites.

State police were called because child pornography was suspected. They found no evidence that the pictures were of minors and found that other people used the computer and apparently had email accounts on it.

They declined a request from the college to discover who had viewed pornography and who owned the other email accounts because "neither of those acts was a crime."

One source at the university, who asked to remain anonymous because of the sensitivity of the case, told CNA that local police also believe Fr. Gruber's computer most likely had been tampered with.

According to the Post-Gazette, state police asked Fr. Gruber whether he had used his computer to view child pornography but he did not "answer the question directly."

Instead, the police report says, Fr. Gruber remarked "I would be surprised to know that Web sites contained child pornography."

The priest was also asked whether he had used the computer system to look at young boys. He replied "I don't think that is a relevant question."

Archabbot Douglas Nowicki and Bishop of Greensburg Lawrence Brandt have revoked Fr. Gruber's priestly faculties.

Another confidential source informed CNA that friends of Fr. Gruber have filed a defense before the Apostolic Signatura in Rome, which is headed by the former Archbishop of St. Louis Raymond Burke.

St. Vincent spokesman Don Orlando said the college remains "confident" that its actions were appropriate, the Post-Gazette reports. The priest was removed from ministry pending a final decision from the Vatican because "the Church holds its educators of young people to a higher standard."

Fr. Gruber's attorney, Sharon Smith, said the priest is "very upset" by the accusations.

"This is overwhelming and very stressful. He's not doing well physically or emotionally. This has taken everything he's worked for and destroyed it."

She blamed a virus for the pornography. She argued that Fr. Gruber could not have installed software to conceal his alleged actions because he wasn't a systems administrator.

Orlando said that anti-viral software showed "no evidence" of any virus or malware. He also disputed the police report's description of the computer's location as a "large open room" in a "common area." Orlando said the room is a reception area for an inner office that "has a door to the hallway that only he would have access to."

Archabbot Douglas Nowicki has forwarded the case to Rome for a final verdict. Fr. Gruber's attorney, Sharon Smith, reported that the priest may sue if he is not restored as a priest and professor.

"The last thing Father Gruber wanted to do is take this matter into civil courts, which we haven't done yet. We're really trying to work this out" said Smith. "My client has been damaged severely by them labeling him a pedophile, when the police said there was no crime, no child porn."