Former Priest Gets 90 Days Jail for Sex Charge

By Brad Dicken
Chronicle Telegram
December 14, 2009

http://chronicle.northcoastnow.com/2009/12/14/former-priest-gets-90-days-jail-for-sex-charge/

ELYRIA -- A former priest has been sentenced to 90 days in prison and three years probation for his guilty plea to a sex charge alleging he had sexual contact with a teenage boy 12 years ago.

O'Connor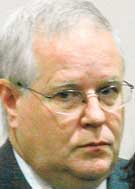 O'Connor



Patrick O'Connor, 51, pleaded guilty in September to a single count of corruption of a minor as part of a plea agreement. O'Connor had originally been charged with sexually battery, a crime that could have sent him to prison for five years.

The plea deal also calls for O'Connor to register as a sex offender every six months for the next 25 years.

O'Connor was indicted in August after an investigation of more than a year into allegations that he had touched the boy — now in his late 20s — during the summer of 1997.

The victim came forward to the Catholic Diocese of Cleveland in June 2008, and the allegations were turned over to Lorain County Prosecutor Dennis Will.

O'Connor was a priest at St. Jude Church in Elyria in 1997 and also once served as Elyria police chaplain.

The victim in the 1997 case wasn't a parishioner, but rather a boy from the neighborhood whom O'Connor knew, according to prosecutors.

O'Connor resigned from the priesthood after the allegations surfaced last year. He had been working as chaplain to the Sisters of the Most Holy Trinity and Our Lady of Lourdes Shrine, both in Euclid, jobs that were deliberately designed to keep him away from children.