Kiss and Tell
Critics Want the Diocese to Explain Why This Roman Catholic Priest Is Still Celebrating Mass

By Craig Malisow
Houston Press
December 14, 2009

http://www.houstonpress.com/2005-08-11/news/kiss-and-tell/1

As far as the allegations go, Houston's Father Joseph Tu Ngoc Nguyen loves the ladies. Juvenile, adult -- it doesn't matter.

The word from the residential treatment center where he was sent by his religious order in 1993 was that Father Tu suffered from a "very underdeveloped psycho-sexual personality." This diagnosis is found in a 1994 letter from then-Fort Worth Bishop Joseph Delaney to one of Father Tu's accusers. Delaney did not specify if Father Tu was stalled out in the oral, anal, phallic, latent or genital stage, but he did say that Father Tu would be better off in Houston, where "he can profit from living in a Dominican community with the support of several of his brothers."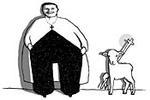 Al Cameron



But we're getting ahead of ourselves, so we'll go back to 1982, when the 48-year-old Tu allegedly kissed a 22-year-old nun seeking his spiritual guidance. It was at St. Matthews Parish in Arlington, where Father Tu, a gregarious and popular Vietnamese priest, had served off and on since 1975.

The woman, Janet Buchanan, is now the chief mission officer of a Catholic hospital in Oregon. She told the Houston Pressthat she met with Father Tu two or three times in his office. She says she met with him about concerns over her future as a nun. But apparently Father Tu had something else in mind.

"He started out by just touching and caressing and then moved to…kissing me fully on the lips," Buchanan says from Oregon. "I was very confused by that. I couldn't figure out at all why that was happening."

Confused, hurt and ashamed, Buchanan did not report the incident. But she stopped seeing Father Tu because, as she says, "I had no idea where it was progressing, but it seemed to be progressing."

She says that, a year later, she met another woman who claimed to have experienced the same thing with Father Tu. But still, she said nothing.

It wasn't until the early 1990s, when she was visiting a friend and former church member who lived out of state, that Buchanan thought Father Tu might be a predator. Buchanan's friend told a similar story about Father Tu, and that's when Buchanan's training as a licensed addictions counselor kicked in.

Buchanan's friend (who asked not to be named) told her that when she sought spiritual guidance from Father Tu in the late 1980s, he ended two sessions with a G-rated hug he attempted to turn R-rated by grabbing her ass and pulling her into him. On the first occasion, she gave him the benefit of the doubt. But on the second, when he went for her breast, she knew it was not just an innocent mistake.

Buchanan was convinced.

"I knew that if I had just happened to encounter two people over such a long time frame, that I was confident that it had happened to other women, and I was also confident that it was continuing," she says.

The two women approached Bishop Delaney with their stories. Both told the Pressthey were impressed and comforted by his compassion and swift action.

"He said the three most important words I could've ever heard -- and I didn't even know I even needed to hear them that much -- and that was 'I believe you,' " Buchanan says.

The women say Father Tu denied the accusations, but Delaney sent him to counseling anyway. But the real trouble started when he came back, which didn't last long.

Two juvenile sisters accused Father Tu of molesting them in 1980. Delaney had apparently heard enough. He punted Father Tu out of Fort Worth and back to the Dominican Order.

Buchanan's friend remembers it this way: "When the other two girls came forward, they immediately turned him back over [and] said, 'He will no longer function in the Fort Worth Diocese. We are not going to allow him in ministry here.' "

According to Delaney's letter to Buchanan, the Dominicans placed him in a residential treatment facility from approximately September 1993 to March 1994.

The story might very well have ended there, had it not been for two recent developments. In June, shortly before he died of cancer, Delaney released the names of eight priests -- including Tu -- who had been accused of molesting minors. Delaney indicated that Tu's juvenile accusers ultimately recanted, but he refused to open the eight priests' personnel files. The Dallas Morning News and the Fort Worth Star-Telegramsubsequently filed a joint petition to have them opened.

The day after Bishop Delaney released the names, Houston Archbishop Joseph Fiorenza told parishioners at Father Tu's Holy Rosary Church that Father Tu had no sexual attraction to minors. Nope. No indecent feelings toward kids at all. No worries.

He did not tell parishioners that Father Tu was booted out of Fort Worth for allegedly fondling adults. He did not tell parishioners Father Tu spent seven months in a residential treatment center.

And now, his adult accusers want to know why.

The Father Tu quandary is not the only controversy facing the Galveston-Houston Diocese.

In 2004, a Harris County grand jury indicted a former seminarian for felony indecency with a child. The man, Juan Carlos Patino-Arango, was already the subject of a civil suit filed by three men who accused him of molesting them in 1996, when they were teens. In their suit, the men accuse both the diocese and Pope Benedict XVI of conspiring to help Patino-Arango flee to Colombia. Archbishop Fiorenza acknowledged the abuse in a letter he wrote to one of the men in 2003. Diocese spokesperson Annette Taylor says the diocese alerted Children's Protective Services as soon as the men came forward with their allegations. But in an affidavit, Betty Richardson of the Texas Department of Family and Protective Services (which oversees CPS) states the agency has no record of contact by the diocese concerning Patino-Arango's victim.

Last year, CPS spokesperson Estella Olguin said if her agency had been notified, it would have immediately turned the matter over to Houston police. However, an HPD records search last month turned up no such notification.

The victims in the 2004 indictment and the civil suit do not appear to be Patino-Arango's only victims. According to government sources, the Harris County District Attorney's office in May filed another charge of felony indecency against Patino-Arango for molesting a ten-year-old boy in 1994. Sources told the Pressthat charges have not been made public because Patino-Arango is a fugitive and has not been booked -- regardless of the fact that his prior indictment was already publicized.

The specifics of the 1994 case are not known, but the civil suit is full of graphic allegations.

"As sexual predators are known to do, Patino-Arango befriended the mothers of these boys in order to gain access to their children so that he could gratify his own deviant desires," the suit states. "He was often seen taking parish boys to McDonald's using the church vehicle, and even visiting the boys' homes. Once he established a special relationship with the mothers, he convinced them to bring their boys to him for 'counseling.' Patino-Arango enticed them by insisting that he had a degree in psychology and specialized in counseling adolescent boys…Patino-Arango's modus operandi was nearly identical for all three of the boys. He told them that they should pull down their pants and show him their pubic hair so he could see their progress toward manhood. Then, he would forcefully masturbate the boys while simultaneously masturbating himself. The 'counseling sessions' would conclude with Patino-Arango performing oral sex on the plaintiffs."

One source told the Pressthat Colombia does not extradite its accused to the United States, meaning that if the Houston diocese arranged Patino-Arango's escape, it ensured his freedom so long as he stays in his home country. He is believed to be working at a parish in Colombia, where is quite possibly "counseling" other young boys.

Of the eight priests' names Delaney released in June, only Father Tu, now 70, is still working as a priest. But most of them have interesting backgrounds, as uncovered by a Star-Telegraminvestigation.

One priest, now living in Dublin, was removed from active ministry and is not allowed to have contact with the public without being accompanied by a member of his religious order. Another died at age 38, after years of heavy drinking. One admitted molesting a 12-year-old boy. One pleaded guilty to embezzling from a Rhode Island church.

Father Tu did not return messages the Pressleft for him at his church. The Fort Worth Diocese referred all questions to Regina Wedig, a New Orleans attorney representing Father Tu's religious order, the Dominicans. As far as Wedig is concerned, any adult's allegations against Father Tu are irrelevant.

"The release of the information by the bishop…dealt with those persons who had received allegations of sexual abuse against minors, and that's what we have been addressing," she says from New Orleans. "[Tu's] faculties to serve in the diocese have always been in place, and I think that the rest of this is rather a private matter to him…this wouldn't be making news, but for the fact that he's a member of the clergy."

The Houston diocese offered no comment besides Archbishop Fiorenza's letter to Father Tu's church, in which he stated, "Since 1994, Father Tu has served with fidelity and dedication the Vietnamese- and English-speaking parishioners of this parish. There have been no complaints of a sexual nature against Father Tu during his 11 years of priestly ministry in Houston."

David Clohessy, executive director of the St. Louis-based Survivors Network of those Abused by Priests (SNAP), says all allegations of abuse should be investigated, regardless of the accuser's age. Clohessy says he was recently contacted by a third woman who says Father Tu came on to her.

"Church leaders are very determined to -- and adept at -- splitting hairs when it comes to abusive behavior," he says from St. Louis. "It is inherently abusive and harmful when a trusted, revered, allegedly holy and celibate priest you know forces anyone…into unwanted sexual contact…We believe that Delaney [this interview was conducted before Bishop Delaney died] has a moral obligation to personally visit each parish where Tu worked and vigorously urge Catholics to contact law enforcement if they experienced or witnessed or suspected sexual misconduct by him. And [to] urge Catholics to aggressively reach out to friends, family, former parishioners and ask, 'Did this man hurt you?' "

On August 12, a Dallas district court judge will hear arguments regarding the opening of Father Tu's files.