Clergy Sex Abuse Brings New Protest

By Daniel Tepfer
Connecticut Post
December 17, 2009

http://www.connpost.com/ci_14011331


John Lee, of the Survivors Network of those Abused by Priests, and Gail Howard, of Voice of the...



BRIDGEPORT -- Representatives of two groups supporting those abused by priests called on Bishop William Lori Wednesday to be more "transparent," regarding allegations of abuse against priests in the diocese.

"The continuing exposure and release of diocesan records, processes and responses, especially in recent weeks, shows Bishop Lori in full view defending all activity to maintain power and influence," said John Marshall Lee, a representative of the local chapter of Voice of the Faithful as he stood outside the Catholic Center Wednesday afternoon holding a poster-sized photograph of one of the priests accused of abuse.

"The broader public is listening and making their own decisions about how this series of episcopal leaders from Bishop Walter Curtis to Bishop Edward Egan and now to Bishop Lori have received allegations of abuse and found ways to settle quietly and confidentially such claims by a clever combination of law, process and secrecy."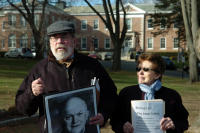 John Lee of the Survivors Network of those Abused by Priests (SNAP), and Gail Howard



Added Gail Howard, of the Survivors Network of those Abused by Priests: "Bishop Lori allowed these secret payoffs and allowed these priests to remain active in the diocese."

Diocese spokesman Brian Wallace declined comment on the protest.

The protest was held less than a week after a Minneapolis lawyer disclosed that the diocese had paid a total of $40,000 in 2004 to two men he represented who claimed they had been abused by Monsignor William Genuario and Monsignor Frank Wissel in the late 1970s and early 1980s.

Wissel, pastor at St. Mary Parish in Greenwich, has denied the claims.

It was the second time the diocese has paid to settle a claim against Genuario, who sits of the diocese marriage tribunal. In January 2006 the diocese paid an unspecified amount to settle a claim of abuse against the priest.