More Catholic Priests Arrested for Misconduct with Boys

By Kilian Melloy
EDGE Boston
December 21, 2009

http://www.edgeboston.com/index.php?ch=news&sc=&sc2=news&sc3=&id=100309

United States -- Two Catholic priests have been sentenced in separate cases involving improper sexual conduct.

In New York, a former St. John's university minister and chancellor, Charles Plock, 63, received probation for a period of five years after his arrest for sending sex videos of himself to a vice cop who he had met online. Plock believed that the officer was a boy of thirteen; however, the contact was a sting operation that led to Plock's arrest on Oct. 10, 2008, a Dec. 17 article at YourNabe.com said.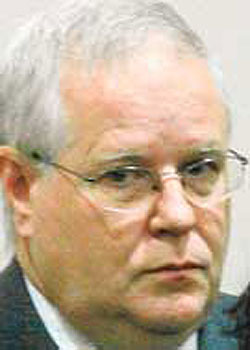 Patrick O'Connor(Source:Image posted at ChronicleOnline.com)



The officer in the case was a Colorado police detective named Mark Michielli, who is with the sheriff's office in Adams County. Plock lived in Queens, but has relocated to upstate New York, where he will live under supervision from a fellow Catholic clergyman.

In Ohio, a former priest received a sentence of three months' prison time and three years of probation for having improperly touched a boy in the 1990s, reported a Dec. 14 story in Elyria, OH newspaper the Chronicle-Telegram.

In a plea deal, 51-year-old Patrick O'Connor saw charges of sexual battery reduced to corruption of a minor. In addition to jail time and probation, O'Connor will be required to register as a sex offender. The incident took place a dozen years ago in Elyria, a town outside of Cleveland. The victim reported the 1997 incident to church officials in 2008. In 1997, O'Connor was serving as a priest at Elyria's St. Jude church; the victim, a teenager at the time, was not a member of the parish, but rather a resident in the neighborhood.

O'Connor also served as a police chaplain in Elyria, the article said.