Riverside County Sheriff's Department

Jurupa Valley Station
December 30, 2009

http://www.riversidesheriff.org/press/09355-jur.htm

Date/Time Written: December 30, 2009 at 11:30 A.M.

Type of Incident: Crimes Against Children-Sexual

Date/Time of Incident: Various / Reported December 21, 2009

Location(s) of Incident: 13462 Magnolia Ave., Home Gardens

Reporting Officer: Dep. Herlinda Valenzuela / Public Information Officer

File Number: E093550099

Details:

On Monday, December 21, 2009 at about 2:30 p.m., deputies from the Jurupa Valley Station responded reference a Sexual Crimes Against Children call that occurred on various dates at 13462 Magnolia Ave., in the unincorporated area of the County of Riverside known as Home Gardens.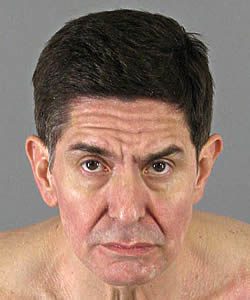 Anthony Martinez Garduno
DOB 08/15/1958



The location is a church, Our Lady of Tepeyac. The victim reported being sexually assaulted at the age of 17 years by Bishop Anthony Garduno. The victim also reported having knowledge of additional sexual assaults against underage males and the selling of methamphetamines by Garduno.

On Tuesday, December 29, 2009, investigators from the Jurupa Valley Station conducted a search warrant at Our Lady of Tepeyac and located evidence indicative of Garduno selling narcotics from the church. Additionally, investigators located evidence of possible sexual assaults having occurred at the church.

Anthony Martinez Garduno, 51 years of Home Gardens was arrested and transported to the Robert Presley Detention Center. Garduno was booked for being in violation of 11350(A) H&S, 11375(B)(2) H&S, 11377(A) H&S, 11378 H&S, and 496(A) PC.

Investigations are continuing reference the sexual assaults. Anyone with information or anyone who has been a victim of sexual assault at the location is asked to contact Investigator Birmingham or Investigator Pluimer at the Jurupa Valley Investigations Bureau at 951-955-2600. Their identity will be kept confidential.