Bishop Moriarty Outlines Reasons for Resignation

Offaly Express
December 30, 2009

http://www.offalyexpress.ie/news/Bishop-Moriarty-outlines-reasons-for.5943733.jp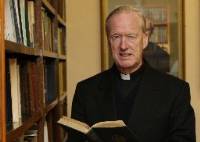 Bishop Jim Moriarty. Picture: Alf Harvey.



THE Bishop of Kildare and Leighlin, Dr James Moriarty, has outlined the reasons for his resignation in the wake of the Murphy report. His diocese includes a large part of Offaly, including Edenderry, Rhode, Daingean, Walsh Island, Geashill, Clonbullogue and Portarlington, as well as much of Laois, Kildare and Carlow.

The following is the full text of his statement:

"On the Sunday after the Murphy report into the Archdiocese of Dublin was published (29th November 2009), I stated the following in Carlow Cathedral:

"As you are aware, I served as an auxiliary bishop in the Archdiocese of Dublin from 1991 until my appointment here in 2002. While the Murphy report does not criticise me directly, I feel it is important to state that I fully accept the overall conclusion of the commission – that the attempts by Church authorities to 'protect the Church' and to 'avoid scandal' had the most dreadful consequences for children and were deeply wrong.

I do not want to dwell here on individual criticism as I have already responded to that. As I acknowledged in radio interviews last week, the Murphy report covers far more than what individual bishops did or did not do. Fundamentally, it is about how the leadership of the archdiocese failed over many decades to respond properly to criminal acts against children.

Over the last few weeks I have been reflecting on what should be my response to the overall conclusion of the Murphy report – particularly because I was part of the governance of the archdiocese prior to when correct child protection policies and procedures were implemented.

It does not serve the truth to overstate my responsibility and authority within the archdiocese. Nor does it serve the truth to overlook the fact that the system of management and communications was seriously flawed. However, with the benefit of hindsight, I accept that, from the time I became an auxiliary bishop, I should have challenged the prevailing culture.

I know that any action now on my part does not take away the suffering that people have endured. I again apologise to all the survivors and their families. I have today offered my resignation as Bishop of Kildare Leighlin to the Holy Father. I hope it honours the truth that the survivors have so bravely uncovered and opens the way to a better future for all concerned.

I will endeavour to continue to do my best, as I have throughout my 48 years of ministry, to share Christ's light and hope for the world. We are about to celebrate Christmas, a time when we welcome Christ as the 'light that darkness could not overpower'. It is this truth that leads us forward. Christ is our Light.

May the blessing, the grace and the peace of Christmas be with us all."

Bishop Moriarty was born in Dublin in 1937, the eldest son of Michael and Catherine Moriarty. From a medical family, his siblings, sister Ann and brothers Aidan, Dr Michael and Prof Denis, have all worked in healthcare at Dublin hospitals. Dr Michael is married to Fiona Scanlon-Moriarty, a native of Tullamore and a sister of local GP Dr Declan Scanlon and local solicitor Mr Dermot Scanlon.

Bishop Moriarty was educated at Catholic University School, Lower Leeson Street, Holy Cross College, Clonliffe, University College, Dublin and St Patrick's College, Maynooth.

He was ordained for the Archdiocese of Dublin in 1961 and was chaplain in UCD from 1968 to 1979.

He was the first parish priest of Deansrath, near Clondalkin, from 1983 to 1989 and parish priest of Donaghmede from 1989 to 1991. In the late 1980s, he was elected chairman of the Dublin Diocesan Council of Priests.

In September 1991, he was ordained Titular Bishop of Bononia and Auxiliary Bishop of Dublin with responsibility for the deaneries of Fingal South East, Fingal South West and Howth.

He was chairman of the National Committee of Diocesan Youth Directors in which role he spoke at the 2002 World Youth Day celebrations in Toronto which were attended by Pope John Paul.

In June 2002, he was appointed Bishop of Kildare Leighlin and installed at Carlow cathedral on August 31, 2002. He succeeded the late Bishop Laurence Ryan who submitted his resignation as Bishop of Kildare Leighlin, on health grounds, to Pope John Paul in July 2001.

Bishop Moriarty has been chairman of the Irish Bishops' Conference Department of Worship, Pastoral Renewal and Faith Development and chairman of the bishops' Commission for Pastoral Renewal, as well as chairman of the commission's sub-group on parish life.

He was formerly chairman of the Episcopal Commission for Pastoral Renewal and was also president of the Episcopal Commission for Social Welfare.