Checking Diocesan Action against Priest
Women Seek to Ensure Police, Victim Contact

By Sue Nowicki
Modesto Bee
January 8, 2010

http://www.modbee.com/life/faithvalues/story/999707.html

Two women protested Thursday afternoon outside Our Lady of Fatima Catholic Church in Modesto, where a priest recently was banished after admitting sexual misconduct with a minor.

The Stockton Diocese announced Wednesday that the Rev. Leo Suarez had been removed from the priesthood for inappropriate behavior with a minor 20 years ago when he was serving at St. Anthony's parish in Hughson. The Mexican-born priest most recently served at Fatima, for about seven months in 2009.

Thursday, diocese spokeswoman Sister Terry Davis confirmed that after Suarez's revelations, law enforcement was informed and the victim has been contacted by the diocese.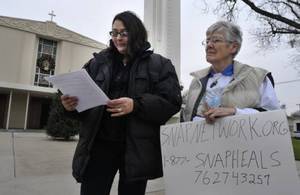 At left, Jennifer Chapin, 37, and her mom, Marilyn Weise, 73, both from Oakdale wanted to urge any other abuse victims to come forward. They were standing outside Our Lady of Fatima Church January 7, 2010. Chapin was an abuse victim in the Oakland Diocese and a member of SNAP, Survivors Network of those Abused by Priests.
Photo by DEBBIE NODA


Those were two pieces of information sought Thursday by the protesters, Jennifer Chapin and her mother, Marilyn Weise. The women live in Oakdale.

Chapin, 37, was abused as an elementary school student in Hayward by the now-deceased Msg. George Francis. In 2004, after filing a lawsuit, she reached a $3 million settlement with the Diocese of Oakland. Chapin is a member of Survivors Network of Those Abused by Priests.

Victims told to come forward

Chapin and Weise said they wanted to encourage other victims — of Suarez or any other priest — to report the abuse. Chapin didn't tell anyone about her own abuse until 2003, five years after Francis died.

"That did a lot," she said. "The secret was out. More people started calling after that."

That was the first time her mother heard about the abuse.

"It was horrifying to hear about," said Weise, 73. "I feel guilty that we didn't know."

Chapin said she knows it's a "difficult and scary thing to come forward, but I want other victims to know it's a safe thing to do."

She encourages parents to be watchful of their children. "Just because they're your priest, Cub Scout leader, soccer coach, don't trust your children with anyone," she said.

Bishop Stephen Blaire on Wednesday asked anyone with information about other alleged abuse of minors by Suarez to contact Sister Barbara Thiella, the diocesan victim assistance coordinator, at 466-0636.

Chapin said victims instead should contact law enforcement, because too many past calls to various dioceses were buried.

Diocesan attorney Paul Ballestracci said contacting either is fine.

"The first thing we do is call law enforcement," he said. "Thirty or 40 years ago, (ignoring or burying the information) may have happened. But since the early 2000s, you call the cops immediately, whether there's a requirement to do so or not. It's not true that these things have been routinely buried."

Bee staff writer Sue Nowicki can be reached at 578-2012 or snowicki@modbee.com