Joliet Bishop Apologizes for Priests Actions

By Brian Stanley
Plainfield Sun
January 8, 2010

http://www.suburbanchicagonews.com/plainfieldsun/news/1979415,Joliet-bishop-apologizes-JO010110.article

JOLIET -- A priest accused of sexual abuse remains hospitalized in intensive care after reportedly attempting suicide by jumping from a church balcony Wednesday.

"Our diocese has suffered some tragedies this week which have saddened many people within the diocese and the entire community," Bishop J. Peter Sartain said Thursday.

» Click to enlarge image

Joliet Bishop Peter Sartain answers questions Thursday afternoon about the attempted suicide attempt of Rev Alejandro Flores.

(John Patsch/Staff Photographer)

» Click to enlarge image

The Rev. Alejandro (Alex) Flores

RELATED STORIES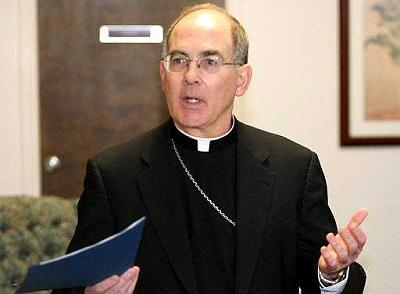 Joliet Bishop Peter Sartain answers questions Thursday afternoon about the attempted suicide attempt of Rev Alejandro Flores.



• Jan. 6: Accused priest attempts suicide

Late Sunday night, the family of a 13-year-old boy contacted a priest regarding alleged sexual abuse by the Rev. Alejandro Flores, 37. On Monday morning, the priest reportedly contacted Sartain, who removed Flores from his position as parochial vicar at Holy Family Church in Shorewood.

"I spoke with Father Flores about the accusation and removed his priestly faculties," Sartain said, meaning Flores could no longer hold Mass, perform sacraments or wear his vestments.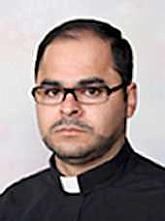 The Rev. Alejandro (Alex) Flores



Flores was taken to a diocese residence on Center Street where he would be kept from contact with children and "closely monitored."

"That was something we volunteered to do based on the serious nature of the allegations," Sartain said, when asked if anything in Flores' statements or behavior indicated he needed to be monitored.

Per policy, the diocese also contacted the Department of Children and Family Services and the Kane County state's attorney's office about the reported abuse Monday.

"Kane County authorities have directed the diocese not to disclose any other information (regarding the allegations)," Sartain said.

Kane County State's Attorney John Barsanti expressed concern Thursday about too much information being released during the investigation, but he did offer a timeline of how the case developed.

The boy's family contacted the Joliet Diocese on Sunday and, on Monday, went to St. Charles police, who took a sex assault report, officials said. That information was forwarded on to the county's Child Advocacy Center, which is an arm of the state's attorney's office. Their investigation began late Monday and continues.

"It's sensitive," Barsanti said of the case.

Barsanti added that it appears the diocese followed protocol for the reporting an abuse allegation.

Balcony fall

Detectives investigating the allegation were reportedly en route to Joliet to interview Flores when he left the Center Street residence on foot around 9 a.m. Wednesday. He was reported missing to Joliet police shortly before noon.

He went to the site of the former St. Mary's Carmelite Church, 113 N. Ottawa St. Though the church has been closed for some time, the priory next door was only recently shut down, and Flores had lived there while studying to be ordained, a diocese spokesman said.

Flores apparently went up into the choir loft and jumped 20 feet to the main floor below, landing on some pews. He was found by a priest and a diocese employee at 12:38 p.m.

Since the church was boarded up, firefighters had to be led through the residence to get to Flores before police officers could get the doors open for a stretcher.

Police reports indicate a responding officer walked up to the balcony while firefighters were treating the injured priest and found "a jacket, cell phone, glasses, large knife and a bottle of liquor" there. Those items were processed by an evidence technician.

Flores, who reportedly suffered serious head trauma, was rushed to Silver Cross Hospital. Sartain visited Flores in the hospital Thursday, the bishop said.

'Well-liked' priest

A native of Bolivia, Flores grew up in an orphanage there and began serving as an altar boy. After beginning his seminary studies and working as a missionary in Bolivia, he attended Sacred Heart School of Theology in Hales Corners, Wis., and worked during breaks at St. Mary's Parish in West Chicago. Flores was ordained in June and had been at Holy Family since then.

"Father Alex seemed very well-liked," one parishioner said. "English was not his first language (but the efforts he showed) giving the homily in broken English made people empathize with him."

Sartain noted the allegation did not involve a Holy Family parishioner and there have been no prior allegations of abuse against Flores, nor have there been any additional allegations.

"Recognizing the pain this young boy and his family are going through ... I want to publicly issue my apology to (them) that this happened under my leadership," Sartain said Thursday.