Questions in Death of Area Priest

By Rick Foster
The Sun Chronicle
January 16, 2010

http://www.thesunchronicle.com/articles/2010/01/16/news/6783660.txt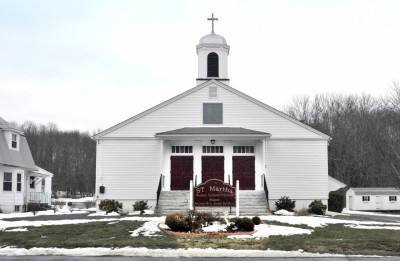 St. Martha's Catholic Church in Plainville.
Photo by Martin Gavin


Plainville pastor had faced abuse charge

PLAINVILLE - The pastor of St. Martha's Church died earlier this month in New Hampshire under mysterious circumstances, and parishioners are hoping to learn more about it next week.

The Rev. J. Garret Thomson, 55, was found dead Jan. 6 on the bedroom floor of his home in Jaffrey, N.H. The appointment of a temporary church administrator for the parish was announced Friday by the Boston Archdiocese.

The New Hampshire Medical Examiner's Office ruled that Thomson died of natural causes and that high blood pressure and diabetes contributed to his death.

The archdiocese informed parishioners that Thomson had been placed on administrative leave prior to his death, but did not specify why. Many in Plainville's only Roman Catholic parish assumed it was for health reasons.

The archdiocese reported Friday that the administrative leave was due to a sexual abuse allegation. James Denson, a parishoner and member of the Knights of Columbus, said church members were shocked by the revelations and the lack of clarity by church officials immediately following the priest's death.

"Where was the transparency?" said Denson, who added he is generally sympathetic to the archdiocese, but that the parish was left in the dark concerning the priest's leave and allegations.

Denson described Thomson as dedicated and loyal, with particular compassion for those who were ill or whose family members had died.

"When he would talk about someone who had died or who was sick, he would actually choke up," Denson said.

He added that it is hard to believe that Thomson could be guilty of abuse.

"I don't know, but I pray that Father Gary's name will be cleared," he said.

According to an official update provided to the parish Friday by the archdiocese, Thomson was placed on administrative leave Jan. 4 following a single allegation of abuse of a minor.

The allegation stems from an incident alleged to have taken place about 15 years ago.

The update said the archdiocese notified law enforcement of the allegation and initiated a preliminary investigation into the complaint.

The decision to place Thomson on administrative leave represented "the archdiocese's commitment to the safety of all parties," and was not a finding on the priest's guilt or innocence. Because of the priest's death, the investigation is now closed.

Barbara Dorris of St. Louis, Outreach Director of SNAP, the Survivors Network of those Abused by Priests, blasted the archdiocese for not disclosing the allegations sooner, although she expressed sympathy for Thomson's family and any potential victims.

"It's outrageous that, even now, Catholic officials can't be honest and forthcoming about clergy sex abuse reports - either with the public, the press or their parishioners," she said. "When a child sex abuse report is deemed credible, it is reckless to delay disclosing it for almost any reason, even for one day," she said.

The diocese did not return a phone call from a Sun Chronicle reporter Friday.

St. Martha's parishioner Mark Alegria said the parish was never told of the sex abuse allegations. He said he considered Thomson a "friend."

"He was very concerned about maintaining the proper amount of space and projecting the right image," said Alegria, who added that Thomson, like many priests, had been concerned about avoiding even the appearance of impropriety as a result of the Catholic Church's sexual abuse scandal during the 1990s.

Auxilary Bishop John Dooher celebrated Mass at St. Martha's last weekend to inform parishioners of Thomson's death and the decision to place him on administrative leave the week before.

Dooher also expressed the sympathy of Cardinal Sean O'Malley and announced that a parish meeting would be held to discuss details surrounding Thomson's status.

The Rev. Thomas J. Stanton has been appointed by O'Malley to serve as St. Martha's temporary administrator, the archdiocese announced.

The archdiocese is also making counseling and other services available to Thomson's survivors, their families and parishes affected by clergy sexual abuse.

Despite reassurances, some parishioners reportedly are wondering if stress from the allegation contributed to their pastor's death and are hoping to learn more from a question-and-answer session with archdiocesan officials scheduled for Wednesday.

A police report on the priest's death said no visible evidence of suicide was found. Toxicology results from Thomson's autopsy might not be available for months.

Thomson did leave one last message, just before Christmas, on the parish Web site, concerning the benefits of the sacrament of penance.

"The scary part,'' he wrote, "is in looking at oneself and admitting that I'm not perfect and that I need love to forgive me, to heal me, and to give me the inspiration of hope."

Thomson graduated from Bentley College in Waltham before entering St. John's Seminary in Brighton. He was ordained to the priesthood in 1981 at the Cathedral of the Holy Cross.

He served as associate pastor in several parishes before becoming pastor at St. Martha's.

A parish meeting has been scheduled for 7 to 8:30 p.m. Wednesday with Dooher and other archdiocese representatives concerning circumstances that led to Thomson's leave of absence. The meeting will also address parishioners' questions and concerns, according to a notice on the church's Web site.

A memorial service has been scheduled for 3 p.m., Jan. 24, at the church.