Questions Linger in Plainville

By Rick Foster
Sun Chronicle
January 21, 2010

http://www.thesunchronicle.com/articles/2010/01/21/news/6815400.txt

PLAINVILLE - The death of a popular Catholic priest two days after he was placed on leave pending investigation of a 15-year-old sexual abuse complaint took church officials by surprise and caused delays in getting information to the local parish, representatives of the Boston Archdiocese said Wednesday.

A diocesan panel led by Auxiliary Bishop John Dooher held an open meeting with members at St. Martha's Church Wednesday night, during which they answered questions about the archdiocese's procedures and listened to comments from parishioners - many of whom were upset about the handling of the case.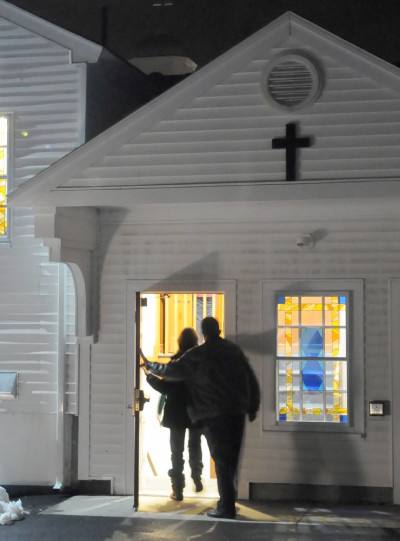 People enter St. Martha's Church in Plainville Monday night for a meeting on the Rev. Garret Thompson. (Staff photo by Mike George)



Some parishioners said they weren't satisfied with the church's explanation of its actions related to Rev. J. Garret Thomson, who died Jan. 6 at his home in New Hampshire two days after being informed he was being placed on leave.

The meeting also exposed a potentially divisive undercurrent within the parish, when several speakers said that Thomson had been troubled for weeks because of unrelated complaints brought to the archdiocese by some churchgoers.

"There's no satisfaction," said parishioner and selectmen Chairwoman Andrea Soucy, who referred to Father Thomson as a "saint" who she and many other parishioners said could not imagine could be guilty of abuse. "His priesthood was the most important thing to him," she said. "There's no way I can believe that he could do anything like that."

Parishioner Chris Murphy said he found the archdiocese representatives "somewhat evasive" on the question of what church officials knew about the sex abuse allegation and when they knew it.

Others were critical of the archdiocese's decision to close its investigation of the complaint because of the priest's death and wanted to see more information collected so that the Thomson's name might potentially be cleared.

Many of those who trooped in front of a microphone set up near the front of the church said they thought of Thomson as a compassionate leader who worked hard to build rapport within the church and cared about his flock.

"Every Sunday, he would thank everyone for coming to church," said Sally Winslow, a member of the liturgy commission. "His message was that we are all part of a parish family."

Another woman said that when she returned to the parish a year ago after more than 20 years away, it was Thomson who restored her faith.

Barbara Thorp, head of the archdiocese's Office of Pastoral Support and Outreach, said it is the normal practice to inform members of the parish about administrative action against a priest as soon as possible.

Had Thomson not died on Jan. 6, the parish would have been officially informed the following Sunday, she said.

With the priest's unexpected death, the archdiocese decided to put notification off a week.

Nonetheless, when the administrative leave was announced the following Sunday, parishioners said there was no mention of a sexual abuse complaint. The archdiocese confirmed the complaint in writing in a special message to the parish following news reports.

Thorp said in answer to questions that the archdiocese did not know of any sexual abuse complaint before Thomson came to St. Martha's 1 1/2 years ago. But, she did not give specifics about precisely when the allegation became known to the church.

Many parishioners were troubled about how Thomson was notified of his administrative leave and whether stress might have contributed to his death.

Thomson, a diabetic, died of natural causes according to the New Hampshire Medical Examiner's Office.

His leave was preceded by a phone call and a meeting with two archdiocese representatives, Dooher said, and Thomson did not specifically ask for special help.

Others pointed to complaints brought to the archdiocese by a "small group" of parishioners who had grievances with Thomson.

One woman, who tearfully said she had been one of the complaining parties, said she had been concerned over what she called the priest's inappropriately frank language during a pre-confirmation meeting with children and adults.

She said she communicated with Thomson over the issue, but that he never replied. Following the complaints, she said the archdiocese developed a plan to respond to the parents' issues.

Some church members said they feared the loss of the priest might prompt the archdiocese to close St. Martha's. Dooher sought to reassure parishioners.

"Cardinal Sean (O'Malley) doesn't want to close any parishes," Dooher said, adding that he was certain a replacement will be authorized.

Archdiocese officials said they will continue to be available to provide help as the parish responds to the death of the beloved priest.

The archdiocese announced last week that the Rev. Thomas J. Stanton has been appointed by O'Malley as temporary administrator for St. Martha's.

Janice Pothier-Pac, a member of the parish council, said it's healthy that a large number of people came out to participate in Wednesday's meeting and to share their sorrow and anxiety.

"A lot of people here feel that Father Gary did a lot for our parish," she said.

The fact that some anger also surfaced is also natural, she added.

"Some disagreements are normal in any family," she said.