Pastor of Plymouth Church Dies

The Patriot Ledger
January 25, 2010

http://www.patriotledger.com/lifestyle/faith/x1685420901/Former-Plymouth-Pastor-Dies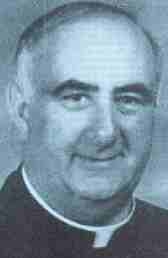 The Rev. Kenneth A. LeBlanc, former pastor of St. Peter's Church in Plymouth, has died.



PLYMOUTH ó The Rev. Kenneth A. LeBlanc, a Plymouth priest on leave since last February when the Boston Archdiocese announced it was investigating claims of sexual abuse against him, has died.

The Rev. LeBlanc was 61 and had been battling cancer. He died Wednesday at a nursing home in Needham.

Parishioners at St. Peterís Church in Plymouth where the Rev. LeBlanc had been pastor since 2005 were stunned last February by the announcement about the investigation.

The alleged victim said that he sexually assaulted her and other young girls in his car, in his home and in secluded areas in Wakefield 30 years ago when he was assigned to Most Blessed Sacrament Church in that town.

Included in his obituary was the following: "To all of his extended family and his parishioners, to those he ministred to in the church and out of the church, to his friends and family, Father LeBlanc wanted you all to know that he loved you unceasingly and unconditionally and was grateful for your many prayers. Above all else in this world, he valued his priesthood most and his intense sufferings of this past year, we his family believe, has born fruit for all of us."

The Rev. LeBlanc grew up in Natick and graduated summa cum laude from Loras College in Dubuque, Iowa and from St. Johnís Seminary in Boston where he earned a masterís degree.

He was a parish priest in several churches including St. Michaelís in Hudson, our Lady Comforter of the Afflicted in Waltham and Mary Immaculate of Lourdes in Newton.

An administrator, the Rev. Robert Milligan, is working at St. Peterís in Plymouth until a new pastor is appointed.

The allegations against the Rev. LeBlanc were still under investigation at the time of his death, a spokesman for the archdiocese said Monday.

Parishioners told The Patriot Ledger last February that they were shocked by the allegations against the Rev. LeBlanc, calling him a well-liked priest and a gentle man.