Summary of Cases

Courier-Journal
January 31, 2010

http://www.courier-journal.com/article/20100131/FEATURES10/1310347

[See also the main article of this feature: Victims' Advocates Question New Bishop: He Had Input on Reassigning Priests in Sexual-Abuse Cases, by Peter Smith, Courier-Journal, January 31, 2010.]
The Rev. William Medley was involved in cases involving these priests while director of clergy personnel for the Archdiocese of Louisville from 1989 to 1993, according to church records released during litigation against the archdiocese in 2002 and 2003:

Rev. Joseph Herp

Medley interviewed a man in 1992 who had accused the Rev. Joseph Herp of molesting him in 1978. Confronted with the claim, Herp immediately resigned as pastor of his parish, and a therapist warned against re-assigning him to any work with adolescent males. But Herp got a second opinion that cleared him for ministry at "any parish or school," and Kelly reassigned him to a new parish.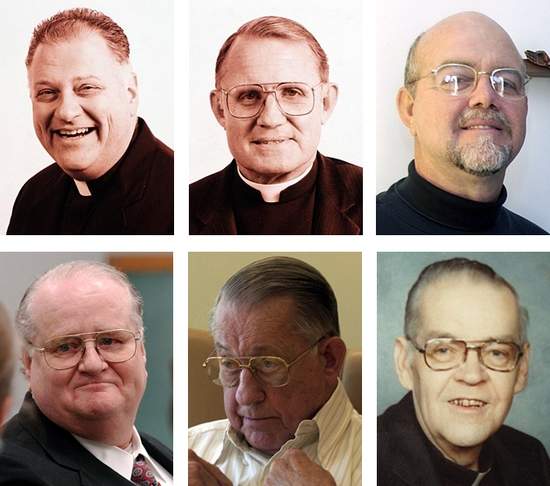 Clockwise from upper left: Rev. Joseph Herp, Rev. Irvin Mouser, Rev. Joseph Stoltz, Rev. Arthur Wood, Rev. Louis Miller and Rev. Daniel C. Clark.


Medley met with the accuser again in August 1992 "out of concern both for his own welfare and his attitude toward Father Herp's reassignment," Medley wrote at the time.

Medley told the man that the psychological tests on Herp were inconclusive as to whether the priest had a problem with sexual abuse. He said Herp would be required to receive therapy and that the archdiocese would be "sensitive to the geographical area where this alleged offense occurred in consideration of future assignments."

The man told Medley he could accept Herp's reassignment if the archdiocese believed Herp was adequately evaluated and monitored.

Herp remained a parish priest until May 2002, when another man accused him of abuse in the 1970s. Herp was never criminally charged but was later named in four lawsuits against the archdiocese alleging abuse between the late 1970s and 1990.

Rev. Irvin Mouser

In 1992, the archdiocese learned of an allegation against another priest, Irvin Mouser. That "jogged the memory of Father Medley, who recalled an incident" several years earlier during Mouser's previous parish assignment, Kelly wrote in a memo to Mouser's therapist. Medley spoke with Mouser's successor at that parish and confirmed the incident, and that no one had reported it authorities.

Mouser, interviewed by a psychologist, denied both allegations, but the therapist told Kelly that Mouser's denials were "suspect" and that if the accusations were true, his behavior would likely recur.

In a later memo to Medley, Kelly referred to that evaluation but concluded that Mouser, after a "sabbatical," was "re-assignable and could be a pastor." Kelly wrote that Mouser "promised that he would be candid with me should another incident occur."

Mouser served as a pastor until 2002. He was named in five lawsuits against the archdiocese alleging abuse in the 1960s and 1970s, but never criminally charged.

Rev. Joseph Stoltz

In August 1990, Kelly wrote to Medley that a priest, Joseph Stoltz, had been removed as chaplain at Our Lady of Peace Hospital after a man reported Stoltz had sexually abused him as a teenager in the 1970s.

A therapist said Stoltz confirmed the incident, and the archdiocese paid the victim $200,000 in an agreement requiring all sides not to comment publicly.

In July 1991, after Stoltz had undergone therapy, Kelly wrote an a memo copied to Medley that he was working with Stoltz's therapist to draft a letter clearing the priest for ministry. Kelly planned to give a copy to a priest, who had gained the confidence of Stoltz's victim, with the aim of persuading the victim to accept Stoltz's return to ministry. Kelly wrote of the "need to silence (the victim) if possible."

There is no record of Medley's reply, but in later memos, Medley wrote of Stoltz's assignments to parishes and a hospital ministry. Stoltz also worked in parish ministry until 2002 and later left the priesthood. Stoltz never faced criminal charges but was named in one lawsuit against the archdiocese.

Rev. Daniel C. Clark

In 1989, Medley began monitoring the job searches of Daniel Clark, a priest who had just been convicted of sexual abuse and placed on probation under the condition that he avoid working with minors for 15 years.

A later memo shows Medley recommending strongly against Clark's request to become an adviser to troubled priests, saying Clark lacked qualities needed for the job. Clark later did clerical work for the archdiocese, served as chaplain for several civic organizations and worked in health-care ministries involving nuns and AIDS patients.

Clark was arrested in 2002 and later convicted of molesting two boys over the previous three years in the family of a longtime friend. He is now on probation. Clark was named in 19 lawsuits against the Archdiocese of Louisville and has been removed from the priesthood.

Rev. Louis Miller

Another priest, Louis Miller, met with Medley in November 1990 to discuss potential assignments. A memo from Medley says Miller made clear he had to be restricted from working with children because of a recent accusation of sexual abuse.

Kelly later assigned Miller to be a parish administrator in 1991 and 1992 and wrote that he would inform Medley of the restrictions. Miller also worked as chaplain of a retirement home, even as more accusations of past abuse came in throughout the 1990s, until a surge of accusations in 2002 prompted his removal.

Miller is now serving a 30-year prison sentence for molesting 29 minors between the 1950s and 1980s, and he was named in nearly 100 lawsuits alleging abuse during those decades. He was removed from the priesthood in 2004.

Rev. Arthur Wood

In 1992, Medley met with a man who told of being sexually abused in the 1960s by the late priest Arthur Wood, who was later accused in 39 lawsuits. Medley arranged for the man to get counseling at the archdiocese's expense.

Wood died in 1983 at age 59. There is no record of any criminal charges or church discipline, although one plaintiff says his parents told church authorities in the 1970s.