Victims' Advocates Question New Bishop
He Had Input on Reassigning Priests in Sexual-Abuse Cases

By Peter Smith
Courier-Journal
January 31, 2010

http://www.courier-journal.com/article/20100131/FEATURES10/
1310326/New+Owensboro+bishop+played+role+in+re-assigning+priests+accused+of+sexual+abuse

[See also a summary of cases.]

When Pope Benedict XVI appointed the Rev. William Medley as bishop of Owensboro in December, many touted the leadership experience Medley gained in 27 years as a priest and administrator in the Archdiocese of Louisville.

"I have always accepted any assignment that the church has asked of me," Medley said at the time.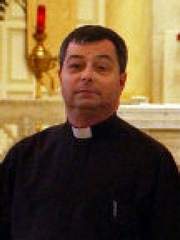 William Medley, named bishop of Owensboro, used to be Louisville archdiocese director of clergy personnel.


But one of those assignments is coming under scrutiny from advocates for victims of sexual abuse, as Medley prepares for his formal installation Feb. 10 as spiritual leader of 50,000 Western Kentucky Catholics.

From 1989 to 1993, Medley served as the Louisville archdiocese's director of clergy personnel, where he helped handle re-assignments for five priests facing accusations, some substantiated, of sexually abusing minors, according to court documents.

Among those priests were Daniel C. Clark and Louis E. Miller, who ultimately were sent to prison for sexually abusing children. The archdiocese removed all five from ministry a decade later after concluding that accusations against them were valid.

Cal Pfeiffer, a Louisville member of the Survivors Network of those Abused by Priests, said he believes the people in Owensboro "have the right to be aware" of Medley's involvement in those cases.

"These things raise some real questions, and if these things are never brought out, it would show there's no consequence for him" for how he handled his job, Pfeiffer said.

Medley said in an interview that he is reluctant to talk publicly about cases that could dredge up new pain for all involved, and he doesn't remember details about the cases.

"I prefer to look forward," Medley said, adding that while the church cannot "undo the hurt and damage" to children, it is now working to prevent future abuse.

He pledged to handle any future revelations of abuse seriously.

"I think what I need to say to the people in Owensboro, and certainly any victims that would come forward, would be that I fully support the charter," Medley said, referring to the 2002 bishops' charter governing the handling of abuse allegations.

Human beings being what they are, we all know that someone will fail again, but I hope it will not be because the institution protected that or hid that."

Priest re-assignments common

The ultimate decision to re-assign priests belonged to then-Archbishop Thomas C. Kelly, who retired in 2007 and faced criticisms over revelations that he had kept some abusive priests in ministry.

That was a common practice among bishops until 2002, when they approved a Charter for the Protection of Children and Young People barring any priest from ministry for a single instance of sexual abuse.

But internal archdiocese documents released in later court proceedings show Medley knew of Kelly's decisions and in some cases helped carry them out.

The records illustrate how the abuse scandal continues to affect a rising generation of new Catholic bishops: The administrative experience that prepared them for the job also put them in the position to know about, and at times carry out, now-condemned 'policies.

A 2003 report from the Massachusetts attorney general, for example, denounced administrative assistants to Cardinal Bernard Law of the Archdiocese of Boston for concealing their knowledge of abusive priests from the public and law enforcement authorities. Several later became bishops leading other dioceses.

Medley said he "truly did not have responsibility" for handling sexual-abuse issues. But church records show he was regularly involved in and informed of such cases.

For example, he interviewed an accuser of the Rev. Joseph Herp and investigated a past allegation against the Rev. Irvin Mouser. In both cases, he told Kelly about details of the accusation, the impact on victims and the priests — and the likelihood that the victims would not object to the priests remaining in ministry.

The priests were temporarily placed on leave, then returned to ministry for another decade before new accusations of past abuse prompted their removal.

Also, Kelly informed Medley of efforts to "silence" the victim of the Rev. Joseph Stoltz with assurances the priest was being safely monitored. A therapist reported that Stoltz confirmed the incident, and the archdiocese paid the victim a $200,000 settlement.

Medley also monitored the job-hunting efforts of Clark, who was on probation for sexual abuse and restricted from working with children. And he helped process Miller's reassignment by Kelly to positions as a parish administrator and retirement-home chaplain, after being aware of new prohibitions against Miller's working with children because of sexual-abuse allegations.

Medley said in an interview that he never recommended to Kelly keeping a priest out of ministry, saying he had no indications that any priest posed a "clear and present danger."

Not all advocates of victims of priest abuse are critical of Medley's appointment.

SNAP member Colleen Powell said after reading the church documents that she believes Medley took his responsibilities seriously, and she views him as "a good person and a good priest who has a good grasp of important issues that he will face as bishop."

Documents detail involvement

Some of the court documents can be read in Medley's favor, such as an account of him taking the initiative to investigate an old claim of abuse and another in which he warned Kelly of an abusive priest's relapse into alcoholism.

Medley also met with the victim of yet another priest who was long deceased, and arranged counseling at the archdiocese's expense.

Yet the records show no evidence that Medley informed police of what he knew about past abuse allegations against priests, and they show that he shared Kelly's concerns about whether victims would object to new assignments for the priests they were accusing.

During Medley's tenure as personnel director, Kelly's approach echoed that of other bishops.

Kelly assigned some priests with a history of abuse to work in parishes or agencies — without informing parishioners or clients of any risk — within guidelines set by lawyers and therapists consulted by the archdiocese.

For example, some abusive priests were assigned to work only with adults, or to undergo therapy before and during assignments.

That policy ended with the eruption of the sexual-abuse scandal in 2002, prompting the bishops to approve the new zero-tolerance charter toward abusers. (Most of the bishops who knowingly reassigned them to new positions, however, remained in office.)

More than 250 people sued the Archdiocese of Louisville over abuse during the previous half-century. The archdiocese ultimately paid nearly $30 million in settlements and other costs, and it released internal documents showing how Kelly, Medley and other church officials had handled abuse cases.

The total cost to American dioceses has topped $2.3 billion, and a later report revealed 4 percent of American priests had been accused of abuse between 1950 and 2002.

Archdiocese: Medley 'not responsible'

The Archdiocese of Louisville issued a written statement Jan. 14, in response to The Courier-Journal's inquiry about Medley, saying he, as personnel director, "was not responsible for dealing with clergy sexual abuse matters."

Asked to elaborate, chancellor and chief administrative officer Brian Reynolds said in an interview that it meant Medley did not have decision-making responsibility. He said Medley's tenure in the early 1990s should be seen in the context of the archdiocese's policies at that time.

"I think the mistakes made in the past won't be repeated," he said. "The Diocese of Owensboro is going to have a bishop that's going to follow the charter."

Reynolds said he didn't know if the Vatican considered Medley's role in handling sexual abuse before appointing him bishop.

The papal nuncio to the United States, Archbishop Pietro Sambi, did not reply to a faxed request for comment.

Kelly said in an interview that he can't remember the specifics of cases dating back two decades, but Medley "was a very astute judge of character" whose advice "would have amounted to a very significant influence."

Medley, the outgoing pastor of St. Bernadette Church in Prospect, said neither he nor Kelly knew the vast extent of sexual abuse by priests at that time. He noted that most plaintiffs had not reported the abuse to the church until the lawsuits began in 2002.

Still, public awareness of clergy sexual abuse was rising in the early 1990s, particularly with revelations of the serial abuse by a Massachusetts priest, James Porter. The archdiocese in 1993 implemented its first formal policies to deal with abuse in 1993.

Medley noted that virtually all of the reported abuse in the Archdiocese of Louisville occurred decades ago, and that improved screening of seminarians and tougher policies on abuse show the matter is "being dealt with in an effective way."

Reporter Peter Smith can be reached at (502) 582-4469 or psmith@courier-journal.com