Judge Orders Priest-abuse Cases Combined

Burlington Free Press
February 2, 2010

http://www.burlingtonfreepress.com/article/20100202/NEWS02/100202020/Judge-orders-priest-abuse-cases-combined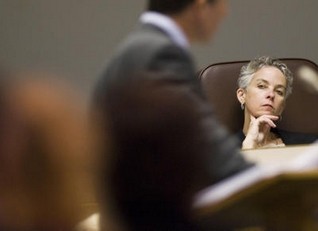 Judge Helen Toor has ordered many of the pending priest-abuse cases against the state' Roman Catholic Diocese to be joined.



A Vermont Superior Court judge has ordered 18 cases involving a defrocked Roman Catholic priest's abuse of altar boys be tried jointly.

Judge Helen Toor, in a three-page order, said the 18 remaining cases against Edward Paquette -- already the subject of six previous civil trials -- would be joined.

Most of the cases against Paquette involve claims by former altar boys at Christ the King Church in Burlington who say they were molested by Paquette in the mid-1970s.

Three cases involving complaints against Father Alfred Willis also would be tried jointly.

Toor started investigating the idea of joint trials in November.

"We have all these cases, and I would like to see if there's a way to get them resolved," Toor told lawyers for the plaintiffs and the defendant, the state's Roman Catholic diocese, at a hearing.

"It would take years and years to do these cases piecemeal," Toor told the lawyers. "My concern is about the plaintiffs' sitting out there without a resolution, and the diocese having this hang over its head."

In her order dated Monday, Toor said, "Vermont courts rarely see multiple related cases of this number. Unless this court devoted all of its time to these cases to the exclusion of the many other cases pending on its docket -- an option neither practical nor fair to the many other litigants waiting their turn -- separate trials in all 25 cases will not be concluded for years."