Fmr. Priest Sentenced to Prison for Child Porn

CBS 4
February 3, 2010

http://cbs4.com/local/kenneth.hasselbach.priest.2.1467965.html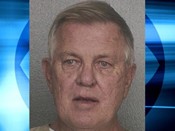 Former priest Kenneth Hasselbach was sentenced to two years in prison for possession of child pornography.



A former Catholic priest who retired to Hollywood from New York will be spending the next two years in federal prison.

Kenneth Hasselbach, 69, was arrested in January 2009 after an FBI investigation revealed he had received child pornography in the mail. Hasselbach, who pleaded guilty to one count of possession of child pornography, was sentenced to prison in January 28th, according to The Sun-Sentinel.

Federal authorities have recommended that the U.S. Federal Bureau of Prisons house Hasselbach in a facility that treats sex offenders.

Hasselbach, who had served as a priest in the Diocese of Rockville Center in New York, left the priesthood in 1994 after a former altar boy claimed that the father had molested him in the 1960s.