Monsignor at Our Lady Queen of Martyrs in Forest Hills in Child Porn Investigation

By Anna Gustafson
Your Nabe
February 4, 2010

http://www.yournabe.com/articles/2010/02/04/queens/queenshlaquyx02042010.txt

NEW YORK -- A Forest Hills priest has been placed on administrative leave after federal officials launched an investigation into the monsignor for allegedly watching child porn on the Internet.

Monsignor Michael Dempsey, 77, has left his post at Our Lady Queen of Martyrs Church at 110-06 Queens Blvd. in Forest Hills, Bishop Nicholas DiMarzio announced last week. Federal law enforcement officials recently told the bishop that Dempsey was under investigation.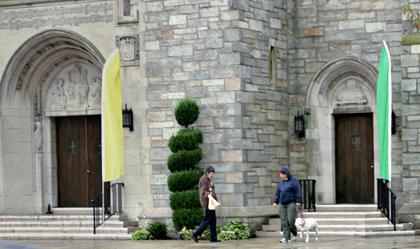 Monsignor Michael Dempsey has been removed from his post at Our Lady Queens of Martyrs Church in Forest Hills after federal law officials began investigating him for allegedly viewing child pornography.
Photo by Christina Santucci


"You are undoubtedly aware of the deep suffering and hurt that surround any matter of child abuse, especially when allegations involve a member of the clergy," DiMarzio said in a letter read by Monsignor Paul Sanchez at the Masses on the weekend of Jan. 23. "It can damage, often irreparably, the innocence, the trust and the reputations of all who are in any way affected by it."

Dempsey lived at the Forest Hills church since 1961 and served as the executive director of pastoral communications since 1978. DiMarzio said Dempsey was relieved of his post immediately after church officials learned of the investigation.

Dempsey's attorney, Margaret Shalley, did not return a phone call for comment.

DiMarzio wrote that he encouraged "each of us in our resolve to protect our children and youth from all forms of abuse," and asked parishioners for their "prayers for all victims and survivors of abuse as well as for Monsignor Dempsey."

The Catholic Church has been rocked by sex scandals in recent years and a former St. John's University chaplain was sentenced in December to five years' probation after pleading guilty to sending homemade sex videos of himself to someone he believed to be a 13-year-old boy.

DiMarzio said church officials will be cooperating with the government in the investigation. The diocesan Victims' Assistance Coordinator, Sister Ellen Patricia Finn, is expected to be contacted to make "appropriate services available" to any victims of clergy sexual abuse, DiMarzio said.

Members of the diocesan healing and intervention team were available at Our Lady Queen of Martyr's Church to meet with parishioners who wished to speak about the investigation.

DiMarzio said anyone who has been a victim of sexual abuse should report the information to the diocese at 888-634-4499.

Reach reporter Anna Gustafson by e-mail at agustafson@cnglocal.com or by phone at 718-260-4574.