Ventnor Catholic School to Remove Name of Alleged Molester Priest from Science Lab

By Derek Harper
Press of Atlantic City
March 5, 2010

http://www.pressofatlanticcity.com/news/top_three/article_15836992-287b-11df-abb3-001cc4c03286.html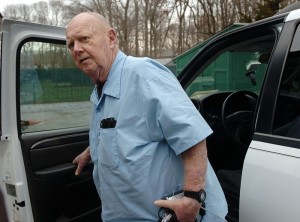 The Rev. Brendan V. Sullivan answers questions outside his Northfield home on Tuesday.
Photo by Ben Fogletto


VENTNOR - The principal of Holy Family Regional School said the school would rename a science lab it named in honor of former parish priest Father Brendan V. Sullivan last year.

The Camden Diocese removed Sullivan from the ministry Feb. 23 shortly after it sustained an allegation of sexual abuse that occurred in 1981.

He was a former principal and vice principal for Absecon's Holy Spirit High School. He had also served as the priest for St. James Parish in Ventnor. Its school and Margate's Blessed Sacrament School were merged in 2008 to form Holy Family on the Ventnor campus.

Holy Family dedicated a trailer filled with science equipment from the two schools for Sullivan in September, Sr. Lydia Etter, Holy Family's school principal said. The trailer is currently named "Father Sullivan Hall," she said, in letters about a foot tall.

She said the school, per diocesan policy, would rename the trailer but a decision on a new name has not yet been made.

"This news is just hitting the parish," Etter said on Friday. "We're still reeling."