Priest with New Orleans Ties Faces Sex Abuse Indictment in West Virginia

By Bruce Nolan
Times-Picayune
March 11, 2010

http://www.nola.com/religion/index.ssf/2010/03/priest_with_new_orleans_ties_faces_sex_abuse_indictment_in_west_virginia.html

NEW ORLEANS (LA) -- Archbishop Gregory Aymond said he will heed an advocacy group's call to alert New Orleans area Catholics that the Rev. Robert Poandl, a priest who lived in New Orleans in the early 1970s, is now under indictment for sexual abuse in West Virginia.

But Aymond declined to help victims' advocates with another mission: publicizing the names of 17 people accused of abusing children at Hope Haven and Madonna Manor, two Catholic orphanages in Marrero, in a package of lawsuits the church settled in the fall.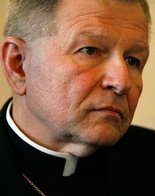 Archbishop Gregory Aymond
Photo by John McCusker


The Survivors Network of Those Abused by Priests called on Aymond Wednesday to release all the names in the interest of helping victims of sexual abuse.

He declined, saying, "We will disclose names of those who continue to be a threat."

After the abuse crisis exploded in 2002, Catholic bishops pledged to end years of habitual secrecy and disclose the names of credibly accused priests or employees as the charges come in.

But to the considerable consternation of SNAP, Aymond and many other bishops have drawn the line at disclosing allegations against priests, nuns or others who are dead or infirm and out of ministry, as Aymond said is the case with those on SNAP's list.

SNAP's position is that the sexual abuse of children, especially by popular or respected adults, is kept secret for decades and needs to be coaxed to the surface. That is because victims mistakenly feel they alone were abused, or because they fear no one would believe their accusations against a popular public figure, said Michael Kuczynski, the spokesman for the local SNAP chapter.

"We hope that by informing the public and general community that other victims may have been hurt by a respected priest, they may be empowered to come forward" for help or therapy, he said.

To that end, SNAP announced that Poandl, a member of the Glenmary Home Missioners, is under indictment for molesting a 10-year-old boy in West Virginia in 1991. He has denied the allegation through the head of his order, the Rev. Dan Dorsey.

SNAP chapters in other cities where Poandl served apparently made coordinated announcements.

Jean Bach, communications director for the order, said Poandl lived in New Orleans from 1973 to 1975. She said he supervised a group of college-age men studying at Loyola University and living in a community while they discerned whether they wanted to join the Glenmary order.

She said the Glenmary house was closed in 1977.

Bach said Dorsey, Poandl's superior, informed Archbishop Alfred Hughes in June of the accusation against Poandl. Bach said Dorsey asked Hughes to check his files for any complaints against the priest. Aymond said none were found.

Aymond, who took over from Hughes in August, said he did not know of the letter until recently. But he said that given SNAP's call, he would instruct pastors and other communicators to tell local Catholics about Poandl and his long-ago service in New Orleans.


But Aymond declined to endorse SNAP's publication of the names of three priests, four nuns, two brothers and eight lay people accused of sexually abusing minors in a package of lawsuits the Archdiocese of New Orleans settled for almost $5.2 million in the fall.

Most of those names had already been made public in news stories when the suits were filed. Most, but not all, involved alleged sexual abuse decades ago at either Hope Haven or Madonna Manor.

Announcing the settlements in the fall, Aymond said, "It's important that these wrongdoers come to light and that we admit that as far as we can tell, (the claims) are true."

He added Wednesday that "we take the word of the accusers and do believe them," but because some of the accusations are 50 years old, "no true or detailed investigation ever occurred."

But because they are all dead, infirm or out of ministry, Aymond said he would not, as SNAP hoped, characterize as abusers those church employees named in the settled suits.

SNAP's published list includes the name of one retired New Orleans area priest accused of abuse, not at Madonna Manor or Hope Haven, but in a parish setting. Aymond said the church believes the allegation against that priest is not credible — a case of mistaken identity — but it settled that lawsuit because the plaintiff had also been the victim of credible abuse at Madonna Manor.

The Times-Picayune is not publishing that name.

Bruce Nolan can be reached at bnolan@timespicayune.com or 504.826.3344.