Priest Accused of Sex Abuse Collapses in Court

Daily Herald
March 17, 2010

http://www.dailyherald.com/story/?id=366614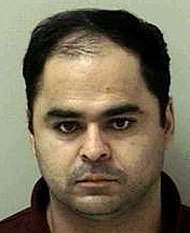 Alejandro Flores



A Catholic priest charged with molesting a St. Charles boy collapsed Wednesday during a court hearing in which prosecutors disclosed new details about his sex life.

Alejandro Flores, 37, of Shorewood, was in front of Kane County Judge T. Jordan Gallagher for a bond reduction hearing when he began swaying and told the court he was not feeling well.

Seconds later, Flores' legs buckled, and he slowly collapsed to the floor as courtroom security and attorneys rushed to his side. Gallagher emptied the room and postponed the hearing for a day.

"He (Flores) was out," defense attorney Glenn Sowa said later, attributing the priest's collapse to stress. "I tried to pick him up. He was limp. He was perspiring profusely."

Moments earlier, a vicar from the Diocese of Joliet testified Flores had received counseling after viewing pornography depicting young men having sex just three months before he was ordained in June 2009.

Also disclosed was a sexual relationship the priest had with a fellow seminarian, who was 17 at the time, according to Assistant State's Attorney Deb Bree. In addition, she said, Flores tried to engage in sexual activity with a brother of his accuser in St. Charles.

"He may face other charges in our area," Bree said.

Flores has asked the judge to reduce his $1 million bond to $200,000 so he can be released from the county jail and receive treatment at a facility near Baltimore that serves priests, nuns and other Catholic clergy with psychological issues, including sex addiction.

The Rev. William Dewan testified that the Diocese of Joliet would pay for any treatment Flores might need, as well as his transportation to and from court in St. Charles.

Flores previously received counseling in March 2009 after he viewed pornography involving young men, Dewan said. The Saint Luke Institute, the facility in Maryland, would be the "best facility to handle the alleged issue" in Kane County, he testified.

"We feel, why not offer something that would be productive to him" while awaiting trial, Dewan said.

According to court records, Flores is a citizen of Bolivia who was orphaned at a young age and legally moved to the United States on a religious visa in 2004. He has no prior criminal history and worked most recently as a parochial vicar at Holy Family Parish in Shorewood.

The priest is charged with seven felony offenses accusing him of sexually assaulting a St. Charles boy over five years, beginning when the victim was 8. He faces up to 67 years in prison if convicted of the allegations, which stemmed from his time at St. Mary's Parish in West Chicago.

Prosecutors oppose Flores leaving the state for treatment. Bree said the Maryland facility is not secure and allows its patients to sometimes leave unsupervised.

She also noted that Flores, who has relinquished his passport, has several thousand dollars in previously undisclosed assets, including a car, $8,000 in stocks and a $5,000 IRA - all given to him by a former parishioner.

"There's no sort of responsibility, no sort of consequence if he decided to walk out the door (of the treatment facility)," Bree said.

After his collapse, Flores was to be evaluated and, if necessary, receive medical treatment. Gallagher is expected to rule Thursday on the request for a lower bond.