Catholic Church Accuses Abuse Victims of Smear Campaign

By Annysa Johnson
Milwaukee Journal Sentinel
March 25, 2010

http://www.jsonline.com/features/religion/89121802.html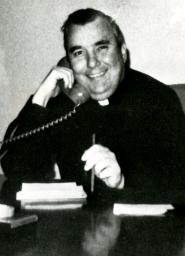 Vatican answers claim of inaction on sex abuse



The Vatican on Thursday defended its decision not to defrock a Wisconsin priest accused of sexually assaulting as many as 200 deaf boys from the 1950s to the 1970s and denounced what it called a "despicable" attempt to smear Pope Benedict XVI and his aides.

But Wisconsin advocates for victims of clergy sex abuse suggested the Vatican's handling of the case involving Father Lawrence Murphy - and revelations on similar cases in Europe - provide evidence of an institutional coverup that spanned decades and continents.

"We are finally able to get this where we believe it belongs, and that's at the Vatican's doorstep," Mark Salmon of the Survivors Network of those Abused by Priests said at a Thursday morning news conference outside the Archdiocese of Milwaukee's headquarters.

Murphy is believed to have molested as many as 200 deaf boys in his 25 years at St. John's School for the Deaf in St. Francis, luring many of his victims through the confessional.

Police and Milwaukee bishops have known of the allegations at least since the mid-1970s, and the Journal Sentinel has reported on them for years. However, criminal charges were never filed, and the archdiocese did not attempt to defrock Murphy until 1996. Murphy died in 1998 at the age of 72.

According to documents obtained as part of a civil lawsuit against the Milwaukee Archdiocese, two Wisconsin bishops including then-Archbishop Rembert Weakland urged the Vatican's Congregation for the Doctrine of the Faith - led by Cardinal Joseph Ratzinger, now Benedict XVI - to allow them to conduct a church trial of Murphy, who had moved to the Superior Diocese and was continuing in ministry.

Ratzinger's deputy at the Congregation ruled that the charges were too old and that Murphy, then ailing and elderly, should instead repent and be restricted from celebrating Mass outside of his diocese.

That deputy, Cardinal Tarcisio Bertone, now the Vatican's secretary of state, ordered the church trial halted after Murphy wrote Ratzinger saying he was ill and infirm, and "simply want to live out the time that I have left in the dignity of my priesthood."

The Vatican issued a statement saying it learned of the allegations against Murphy two decades after they occurred and that nothing prohibited local church authorities from reporting such cases to police.

The Vatican newspaper L'Osservatore Romano denied any coverup and called the latest charges a "clear and despicable intention" to strike at Benedict "at any cost."

Victims and their supporters gathered Thursday morning outside Milwaukee Archdiocese offices, including 61-year-old Arthur Budzinski, who was molested by Murphy beginning at the age of 12 when he was a student at St. John's.

Speaking in sign language interpreted by his hearing daughter, Gigi, Budzinski said, "somebody should be punished."

"The pope knew about this. He's the one who handled these. He should be accountable."

In Rome, a group of Americans, including Midwest SNAP Director Peter Isely of Milwaukee, staged a news conference outside St. Peter's Square to protest the pope's handling of the Murphy case.

Afterward, Isely and three others were detained for holding the news conference without a permit.

"We've spent more time in the police station than Father Murphy did in his life," Isely said after his release.

The Archdiocese of Milwaukee issued a statement Thursday apologizing for Murphy's crimes. Chief of Staff Jerry Topczewski said Weakland moved to defrock Murphy two decades after learning of his offenses because he was violating restrictions on his ministry, "and the decision was made to pursue the stronger penalty."

It was unclear Thursday what, if any, effect the revelations would have on the 11 civil fraud cases involving 17 victims pending against the Archdiocese of Milwaukee, including at least one involving Murphy.

John Rothstein, attorney for the archdiocese, declined to comment, citing pending litigation.

Marci Hamilton, chair of public law at Benjamin N. Cardozo School of Law in New York, said the revelations could increase pressure on the archdiocese to settle as a way of keeping more documents from being released through the legal discovery process - and they could bolster the resolve of victims to take their cases to trial.

"For victims, getting the truth out is often as important as compensation," said Hamilton, who has litigated clergy sex-abuse cases for victims, including the Wisconsin case that opened the door for the pending fraud allegations.

It's to the church's advantage to have "as little discovery as possible," said Hamilton.

"That's why they spend so much time ensuring that statutes of limitations are not lengthened."

The Milwaukee Archdiocese has testified against a Wisconsin bill that would make it easier for victims to sue their abusers for damages and open a three-year window in cases where the statute of limitations has lapsed.

State lawmakers said Thursday that the developments in the Murphy case could ease passage of the bill.

"I think (the case) reinforces the fact that a bill like this is needed," said Rep. Joe Parisi (D-Madison), a sponsor of the legislation. "There are many victims of the Catholic Church (and other religions) who deserve the right to seek justice."

Sen. Julie Lassa (D-Stevens Point), another sponsor, said she was hopeful that the developments would spur action in the Senate, where the bill is facing more skepticism. Both houses are controlled by Democrats.