Friends Leap to Defense of Priest
970s Sex Abuse? 'It's Just Not True'

By Michelle McNiel
Wenatchee World
March 27, 2010

http://www.wenatcheeworld.com/news/2010/mar/27/friends-leap-to-defense-of-priest-1970s-sex-abuse/

WASHINGTON -- The accusation that a former Waterville priest sexually abused a child in the 1970s has shocked people who were close to the priest, including a family who lived with him at one time.

"It's just not true, it can't be true," said June Norman, now of Wenatchee, who worked as a housekeeper and cook for the Rev. Joseph "Joe" Graaff during part of the time he served in Waterville.

"It surprised me — shocked me in fact," said Mary Ann Sprauer, Graaff's bookkeeper at the church during the nine years he served in the rural Douglas County community. "This man that I knew professionally was a perfectly decent, honorable man."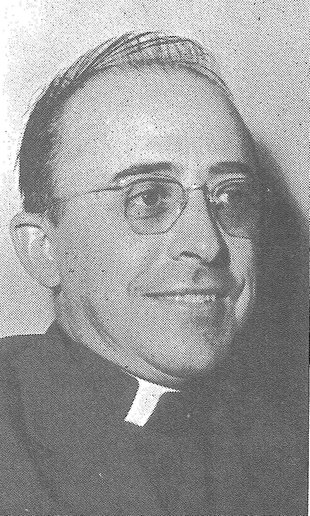 The Rev. Joseph Graaff



A former Waterville resident now living in King County filed a lawsuit March 18 in Yakima County Superior Court accusing Graaff of sexually molesting her between 1972 and 1974, when she was ages 9 to 11. She said the abuse occurred several times in the church rectory. Graaff died in 1990.

The woman's attorney, James. S. Rogers of Seattle, said he expects more people to come forward and accuse Graaff now that the lawsuit has been filed.

Between 1958 and 1979, Graaff served as a priest at St. Joseph's Church in Wenatchee, then St. Francis de Sales Catholic Church in Chelan, St. Joseph's Parish (now Our Lady of the Snows Catholic Church) in Leavenworth, St. Joseph's Catholic Church in Waterville and Holy Apostles Catholic Church in East Wenatchee.

He was also director of the Catholic Youth Organization Camp Field at Leavenworth for four years.

Norman said she was "outrageously upset" when she heard the lawsuit had been filed. She said she lived in the church rectory in 1968 and 1969, serving as a live-in housekeeper and cook for Graaff. Her young children also lived there.

"He was kind," she said. "He came from a good, Catholic family."

She said her four children grew up around the priest. He took them camping at Lake Chelan State Park and Lake Kachess.

"They thought the world of father," she added. "They were around him all the time as little kids."

Norman recalled that Graaff was busy during his time in Waterville, also serving as priest for a nearby church in Farmer. In his spare time, he liked to read, she said.

"Father was of German descent," she said. "He could be stubborn. But Father was always willing to help and do something for you. If I needed time away from the children, he was always there. ... He would help anyone who would come to the door for help."

Norman's son, Roy, now 44, said he was just a toddler when his family first met Graaff. He said the priest was a father figure in their lives after their own father left and remarried.

"This just kills me," he said. "He helped raise us."

Norman said his fondest memories of Graaff are their camping trips. They would make campfires and roast marshmallows. "I just remember being able to be a kid when I was with him."

"He was like a dad to me," he added. "He came and told me stories and put me to bed when I was little. Nothing bad, though."

After the Normans moved to Wenatchee, Graaff continued to be a part of their lives, especially after he was assigned to Holy Apostles Catholic Church in East Wenatchee. He would occasionally babysit the children, June Norman said.

"I know that this kind of thing (abuse by priests) has happened a lot," Roy Norman said. "But I can't see it or believe it from him. I have two older sisters; he took us under his wing. He was like family to us. He brought us around his own family."

"It was all good," he added. "There was never anything weird. ... I can't say enough good about this man. For our family, he was a saint."

Sprauer said Graaff spent a great deal of time around her children as well, and she never heard of anything inappropriate.

"The way kids talk and carry on, I would think that I would have heard even a hint. In all honesty, I had no clue that any of these things could have been going on."

Sprauer said she has attended the Waterville church regularly since 1952, and knew Graaff before he was assigned there.

She recalled that Graaff replaced a beloved Irish priest, Father Seamus Kerr. While Kerr was jovial, friendly and outgoing, she said Graaff was more reserved and quiet. She said he adhered to a strict kosher diet and was more strict with the children in his classes.

"It took some adjusting going from a happy Irish priest to a quiet German one," she said.

She said Graaff taught children's Christian doctrine classes at the church, and her children attended them in junior high and high school.

"Typical teen-agers, they didn't want to go to the classes," she recalled. "They were used to Father Kerr, the smiling Irishman. Father Graaff was different, more strict, more serious. They would say, 'Aw, do we have to go again?' "

But she said teenagers "have a tendency to talk" and she believes that if anything bad was going on they would have talked at least among themselves about it.

"There was absolutely nothing unusual," she said.

Rogers, who has represented numerous plaintiffs accusing Catholic priests in Washington of sexual abuse, said it is not unusual for the priests to be popular and loved by the people around them. Of Graaff he said, "He was well-liked. Nobody had a clue what was going on."

He cited the case of Rev. Lawrence Murphy, a priest now accused of molesting 200 deaf boys for nearly a quarter century in Milwaukee, Wis. He said even the victims talked about how much they liked the priest and how good he was.

Rogers said for all the people who are outraged by the accusation against Graaff, he believes there are people who are quietly contemplating the accusation and will come forward to say it happened to them, too.

On Friday — eight days after the suit was filed — Rogers said he has not heard of any other people coming forward to accuse Graaff.

Vincent Graaff of Ellensburg said he does not believe the accusations against his brother.

He said Graaff, born in 1917, was the oldest of 15 brothers and sisters. Joseph went into the U.S. Army immediately after high school and served in World War II. While serving in the military, he became close to a priest, Vincent Graaff said. After leaving the military, his brother went to seminary. He was ordained in 1955.

Vincent Graaff said he saw his brother regularly at family gatherings, and he was often around all the children of his brothers and sisters. There was never any accusation by the children of any wrongdoing by their uncle.

He described his brother as "reserved" but also "normal."

When Graaff was assigned to a church in Roslyn, Vincent said his brother often came to Ellensburg to take care of their aging mother.

"Personally, I don't believe that he would do that," he said. "I think it's a trumped-up deal."

Michelle McNiel: 664-7152

Contact: mcniel@wenatcheeworld.com