Pope Accused in New U.S. Predator Priest Case

Canada.com
March 30, 2010

http://www.canada.com/news/Pope+accused+predator+priest+case/2744898/story.html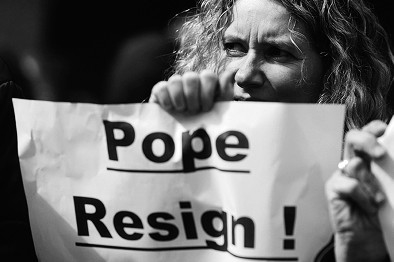 A demonstrator calls for Pope Benedict to resign during a protest outside of Westminster Cathedral in London on Sunday. Pope Benedict, facing one of the gravest crises of his pontificate as a sexual abuse scandal sweeps the Church.
Photo by Suzanne Plunkett, Reuters


WASHINGTON - The Vatican and Pope Benedict XVI came under fire in the United States Tuesday for allegedly covering up for another predator priest and doing nothing to remove him from ministry.

Documents sent to AFP by lawyers representing a man who claims he was sexually abused as a teen by Father Ernesto Garcia Rubio claim the Papal Nuncio — the Vatican ambassador to the U.S. — asked the church in Miami to protect Garcia after he moved there from Cuba in 1968 after "serious difficulties of a moral nature."

"He was in ministry here in Miami for about 30 years and during that time we know of about a dozen victims that he abused," said Jessica Arbour, an attorney for the unnamed victim and five others who are suing the archdiocese of Miami for alleged abuse between 1977 and 1987.

"There was definitely a concerted effort at all levels — from the Vatican to the archdiocese of Miami and even the Cuban diocese he was originally ordained for — to cover up for and protect this guy.

"At the Vatican's request — they said, 'Please protect him' and that's what they did for 30 years," said Arbour.

The case has been in the Miami court for the past year, and in a statement posted on the Internet, Mary Ross Agosta, director of communications for the Archdiocese of Miami, said Arbour's team did not understand the workings of the church.

"What was not understood . . . is that correspondence with the Church in Cuba always took place and continues to do so through a representative of the Vatican . . . the Apostolic Nuncio," she wrote.

"This type of communication is not unique, but necessary, with countries under political suppression," she said.

The Church was primarily concerned in all cases of alleged child abuse by clergy members "for the victims and a prevailing sense of justice," she added.

Arbour also accused Pope Benedict XVI of "protecting pedophiles at the expense of parishioners and families" when he was head of the Roman Catholic church's moral watchdog, the Congregation of the Doctrine of the Faith (CDF).

When a bishop in the 1990s began the process of defrocking Garcia, the Congregation of the Doctrine of the Faith in Rome "lost the paperwork", Arbour said. Garcia is no longer a priest.

The CDF was led from 1981 to 2005 by Cardinal Joseph Ratzinger, who was elected to the papacy in April 2005 following the death of pope John Paul II.