The Idea That the Vatican Helped Nazi Leader Adolf Eichmann Escape to Argentina Is Complete Tosh

By Guy Walters
Telegraph
March 30, 2010

http://blogs.telegraph.co.uk/news/guywalters/100031951/the-idea-that-the-vatican-helped-nazi-leader-adolf-eichmann-escape-to-argentina-is-complete-tosh/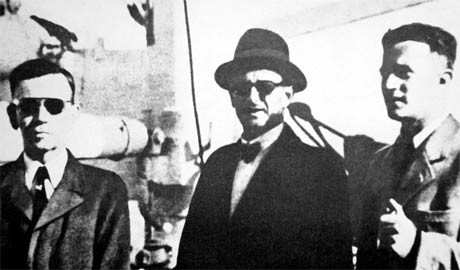 Adolf Eichmann en route to Buenos Aires in 1950.



With the Roman Catholic Church now supposedly responsible for every evil on the planet, it came as no surprise to read in the Jerusalem Post that the Vatican ďaidedĒ Adolf Eichmannís escape to Argentina. This accusation is made annually by hacks eager to do their bit of pontiff-baiting, but unfortunately for them, it is complete tosh. Yes, members of the Catholic Church certainly helped Eichmann escape, but there is no evidence that suggests that the Vatican as an institution helped Nazis on their way to South America and the Middle East (an often overlooked retirement destination for pensioned fascists). This distinction between individuals and an institution is an important one to make Ė one bent copper does not make a corrupt police force.

Like all institutions, the Catholic Church has its share of rotten apples, and historians are fairly knowledgeable about the ones who helped Eichmann. These include the members of the St Raphael Community in Bavaria, and a Franciscan called Edoardo Domoter in Genoa. Some, such as Simon Wiesenthal, supposed that Eichmann went to Rome to receive the assistance of Bishop Alois Hudal, but this is nonsense. Iíve looked through Hudalís archives in Rome, and although names such as Franz Stangl and Erich Priebke pop up, there is no mention of Eichmann or of his alias, Riccardo Klement.

What many also overlook is that many priests, such as those at St Raphael and even Bishop Hudal, also helped Jews escape during the war. Ironically, Eichmannís own department of the Gestapo actually spied on St Raphael. Of course, these are inconvenient truths for those who like their Vatican to be evil, and their history to be simple.