Analysis: Abuse Crisis in Europe Much like US 2002

By Rachel Zoll
Associated Press
April 5, 2010

http://www.google.com/hostednews/ap/article/ALeqM5h4vOMeJhntTJi-QPOk6LdaXuW-1AD9ESO4100

EUROPE -- It's 2002 all over again.

The Roman Catholic sex abuse crisis now unfolding from Ireland to Germany to Denmark has been a near replay of the scandal that hit U.S. dioceses eight years ago. And if the American experience is any indication, European Catholics have a long, painful road ahead.

The problem of clergy abuse in the U.S. first became widely known in the mid-1980s because of a predator priest in Louisiana, then exploded in 2002, when a court unsealed files in the case of an accused priest in the Archdiocese of Boston. The documents revealed a pattern of administrators moving guilty clergy among parishes without telling parents or police. Catholics nationwide demanded that their local dioceses explain how they had handled claims.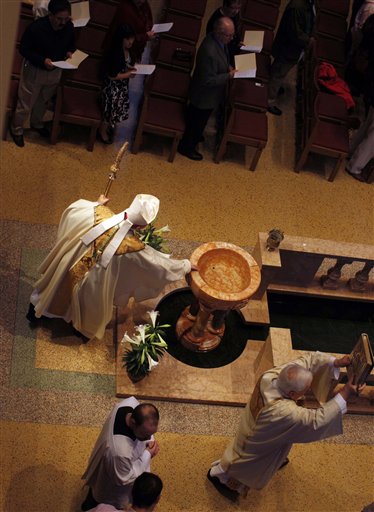 Archbishop of Milwaukee Jerome E. Listecki reaches for holy water as he enters the church for Easter services at the Cathedral of St. John the Evangelist Sunday, April 4, 2010, in Milwaukee.
Photo by Jeffrey Phelps


While the intensity of the crisis has eased, there is no endpoint in sight.

U.S. dioceses received nearly 400 claims of abuse last year alone, with the overwhelming majority from adults who said they were molested decades ago as children. The total number of claims since 1950 has reached over 14,000, according to surveys commissioned by the bishops.

The U.S. price tag for settlements, legal fees and other abuse-related costs has surpassed $2.7 billion over that same period, according to the surveys and individual dioceses.

Revelations of abuse on both continents sparked the same mix of contrition and indignation from church leaders. U.S. and European bishops apologized repeatedly for failures to stop predators, yet often viewed the unrelenting spotlight on the issue as an attack on the church.

In 2007, Chicago Auxiliary Bishop Thomas Paprocki, a civil and canon lawyer and deputy to Chicago Cardinal Francis George, said "none other than the devil" was behind the unending litigation. Many American dioceses have sold buildings and land to cover settlements. Some of the most outraged church defenders have compared the situation to Henry VIII's seizure of Catholic property in Reformation-era England.

The complaints of anti-Catholic persecution reached fever pitch in recent weeks as the scandal moved closer to Pope Benedict XVI, who had served as archbishop of Munich and later as a Vatican cardinal directing the Holy See's policy on handling abuse claims.

Benedict's personal preacher compared the claims against the pope to "collective violence" suffered by Jews, although the Vatican quickly distanced the pope from the remarks.

European Catholics struggling to understand how such a tragedy could happen are engaged in the same debates as American parishioners. Was mandatory celibacy to blame? A lack of women in leadership? Or was the real problem lax enforcement of church orthodoxy? American Catholic analysts have in recent weeks been re-publishing their old commentaries on these issues — this time for a European audience.

Inevitably, some in Europe will blame the scandal on gay priests, just as some U.S. Catholics did. Researchers from the John Jay College of Criminal Justice, hired by U.S. bishops to trace the roots of clergy abuse, found that about 80 percent of American victims since 1950 were adolescent boys. In Europe, many coming forward now with abuse claims are also male.

However, the researchers told U.S. bishops that sexual identity and abuse are separate issues. The prevalence of male victims likely reflects the fact that abusive priests often had more access to boys, the researchers said.

Bishops around Europe used Holy Week's solemn call for penitence to pledge transparency in dealing with the abuse. The American church reforms are often mentioned as a model.

U.S. bishops developed a national policy in 2002 that bars credibly accused priests from any public church work while claims against them are under investigation. Clergy who are found guilty are permanently barred from public ministry and, in some cases, ousted from the priesthood. The Vatican approved the disciplinary plan as church law for the United States.

Still, victims and church leaders vehemently disagree over how closely American dioceses have followed the policy — keeping the issue in the public eye.

In defending their efforts, U.S. church leaders point to the more than $21 million dioceses spent just last year for child protection such as background checks and training for staff. Only a tiny number of abuse allegations now being made involve claims of wrongdoing in recent years.

Yet the stain from the scandal remains. American dioceses complain that their efforts to stop abuse have often been ignored. Bishops have tried to regain some moral authority they lost during the crisis, speaking out with renewed vigor on issues such as abortion.

But the prelates are dogged by the scandal any time new major cases come to public attention anywhere.

That may be the toughest lesson of all from the United States for the church in Europe: The crisis may wane, but there's no evidence so far that it's ever really over.