Catholic Sex-Abuse Scandal Poised to Return

By Randy Dotinga
Voice of San Diego
April 5, 2010

http://www.voiceofsandiego.org/public_safety/article_9360af1a-412f-11df-86b4-001cc4c03286.html

As a new worldwide outcry over molestation by priests engulfs the Roman Catholic Church, a pair of lawsuits is poised to reignite the sex-abuse scandal that battered the reputation of the San Diego diocese and spurred its bid for bankruptcy.

A Marine and ex-Navy sailor are making a unique argument in court, saying their military service allows them to bypass legal hurdles and sue the diocese over the sexual abuse they say they experienced at the hands of priests in the 1970s. A judge accepted the men's argument and is allowing the two cases to move toward trial, perhaps as early as this year.

The overall picture presented in these cases -- of Catholic children violated and a diocese accused of protecting its own -- is not new. The local diocese admitted that there were credible accusations against 42 priests and later paid $198 million to 144 victims in a 2007 settlement.

But while settlement talks took place behind closed doors, a trial would allow the San Diego public to hear courtroom testimony from alleged abuse victims for the first time. Attorneys would try to force diocese officials to disclose more than ever before about what they knew about accused priests and when they knew it.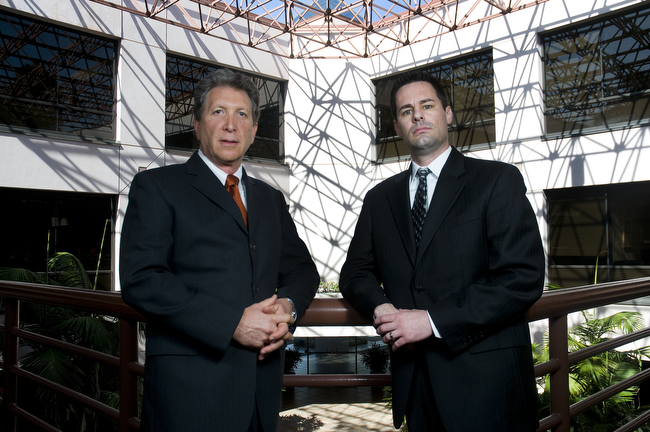 Attorneys Irwin Zalkin and Devin Storey are representing two anonymous sex-abuse victims who are suing the Catholic church.
Photo by Sam Hodgson


There are already signs that new revelations are possible. A lawyer in the case says the judge is forcing the diocese to disclose previously unseen documents regarding accused priests, and one lawsuit discloses that an official testified that the diocese made a practice of banishing problem priests to desert communities, where many molestations occurred.

"Our goal is to expose what happened and put on as much as the evidence as we can of 40 years, 50 years of a cover-up in protecting these perpetrators and disregarding the safety of children," said San Diego attorney Irwin Zalkin, who represents the Marine and ex-sailor.

The Catholic diocese argues in court papers that the time for filing lawsuits regarding old abuse accusations has passed, and it says there's no exception. And besides, it argues, the diocese is not responsible for the acts of the individual priests.

• • •

The Marine and former sailor both say it took them more than three decades to connect their persistent emotional pain to their pasts. Only then did they finally sue the church for failing to protect them when they were children.

For the Marine, known in court papers only by the pseudonym of John Roe 67, "the scab came off" a few years ago when an investigator came calling, said Devin Storey, one of his attorneys.

The investigator was looking into allegations against Father Edward Anthony Rodrigue, who admitted molesting dozens of boys at parishes across Southern California, from La Jolla, Lakeside and Encinitas to Poway, Calexico and Barstow.

In his lawsuit, the Marine says Rodrigue gave alcohol and cigarettes to him and other altar boys at a church in El Centro in the mid 1970s. He says he was forced to masturbate the priest and was masturbated by the priest about three times a month for as long as a year and a half.

Rodrigue left the priesthood in 1992 and was later convicted of molestation and sent to prison in 1998. He was released in 2006 and died last fall.

The 50-year-old man known in court papers as John Roe 65 tells a similar story, this one about Father John Keith, who was accused in other cases. Roe 65 was a student around 1972 at a church school in Barstow, a remote desert city between Los Angeles and Las Vegas, and took classes taught by Keith, according to the lawsuit.

The suit alleges that at about age 13, Roe 65 went to Palm Springs with Keith and three other boys. One night, the suit says, Keith asked Roe 65 to masturbate him, and the boy did. He also, the suit says, slept naked with Keith at the priest's request.

Roe 65 later joined the Navy and served until 2008. Keith, who denied other molestation charges in a 2002 interview with The San Diego Union-Tribune, died in 2003.

Roe 65's lawsuit says he didn't realize that the abuse had caused him psychological injury until 2006, when he lived in Texas and heard about charges against Keith. At that point, the suit says, he suffered from "gastrointestinal distress," saw a doctor and was referred to a psychologist and a psychiatrist. He sued in 2008.

Both lawsuits claim that the church -- its top officials, priests, officials, employees and volunteers -- knew about molestation allegations against the priests but failed to protect the plaintiffs.

Even though the alleged abuse occurred in other counties, the San Diego diocese is being sued because it served San Bernardino, Riverside and Imperial counties in the 1970s. It still serves Imperial County today. The diocese's attorney, Maria Roberts, declined to comment on the lawsuits.

In response to questions, diocese spokesman Chancellor Rodrigo Valdivia sent a statement saying the diocese is "committed to reaching out with pastoral concern and care to victims of sexual abuse and their families," including victims of the two priests in these cases, "to promote healing and reconciliation." He said the diocese "has also been vigilant about the prevention of abuse."

• • •

Normally, time would not be on the side of these two plaintiffs.

The justice system doesn't look kindly on lawsuits that target people over events that happened years or decades in the past. Memories fade, witnesses die, documents disappear and the idea of long-delayed punishment begins to seem like "an unfair surprise," said University of San Diego law professor Lawrence A. Alexander.

State law regarding lawsuits over childhood sexual abuse changed several times in the 1980s and 1990s. Regardless, the alleged victims were out of luck if they missed the deadlines.

But for a year, in 2003, the state responded to church sex-abuse scandals by carving out an extraordinary exemption: It allowed alleged victims to file lawsuits in cases that were years or even decades old. Hundreds took advantage of this special window, including 144 people who accused the San Diego diocese of failing to protect them from sexual predators.

The 2007 settlement allowed the victims and the church to avoid a public trial, although the case isn't over quite yet: Fulfilling a requirement of the settlement, a judge is expected to publicly release the personnel files of the accused molesters, perhaps as early as this year.

The settlement allowed the diocese, which had wrangled with a judge over the prospect of bankruptcy, to move on. Or so it may have thought.

• • •

Currently, state law allows alleged victims of childhood sex abuse to sue before they turn 26 or within three years of the time they link psychological trauma to their alleged abuse.

But the San Diego diocese argues victims of long-ago abuse can't sue anymore because their chance has passed. The legal window for lawsuits opened in 2003, the diocese argued, then it closed.

John Roe 65 and John Roe 67 argue they still have the right to sue the church over abuse in the 1970s because they served their country in the military. Under federal law, statutes of limitations don't apply to members of the military when they are in service.

The Supreme Court said the law protects "those who have been obligated to drop their own affairs to take up the burdens of the nation." When a service member leaves the military, the statute of limitations clock begins ticking again.

The men say they can sue because their service stopped that clock for decades. But the diocese argues that the federal act doesn't apply because, among other things, it doesn't say a service member "may sit on his rights for decades."

Judge Emilie Elias, who is overseeing Southern California sexual abuse cases involving the Catholic church from the Los Angeles Superior Court, rejected the diocese's argument that the federal act doesn't apply. She refused to throw out the cases and is allowing them to proceed.

The diocese's legal quiver is not empty, however: it's making other arguments against the two suits, contending that it's not responsible for the individual priests' actions.

• • •

A blizzard of paperwork headed to lawyers soon could shed light on dark parts of the diocese's history.

Late last month, Elias ruled that the diocese had to provide files regarding cases of confirmed or alleged abuse, said Storey, the plaintiff's attorney. The files will include previously unreleased documents regarding accused priests who were never targeted in lawsuits, he said.

The judge also ordered the diocese to produce reports that it files with the Vatican every five years, Storey said. He expects the reports to include details about sex abuse complaints, lawsuit settlements and the diocese's finances.

While no trial dates are set yet, the next hearings in the two cases are scheduled later this month.

Zalkin, who represents the two men, said his goal is to go to trial and publicly expose the "nitty gritty details" about the priests and the church's failure to protect children.

"People have a sense they (the diocese) must have moved these priests around," Zalkin said. "It's one thing to generally understand it. It's another to read testimony and hear the stories and listen to what happened in the medical institutions these guys were sent to, how they were treated and sent back into the communities."

Many of the details in the two lawsuits have already been made public, including allegations against both Rodrigue and Keith and details from the confessions Rodrigue made about abusing boys in a deposition.

But Roe 67's lawsuit, which alleges that the diocese knew Rodrigue molested boys but "quickly and quietly" reassigned him to new parishes, includes at least one new detail that hadn't been made public.

The suit paraphrases a church official as previously testifying that the diocese "had a pattern and practice of sending problem priests to the desert."

Rodrigue, one of the priests accused in the lawsuits, served in desert parishes of Riverside, San Bernardino and Imperial counties.

In a 2006 interview with The Press-Enterprise, a Riverside newspaper, Rodrigue's brother, Tom, said: "My position, and he agrees, is that the church knew he was a pedophile from the first year he was ordained, and they kept moving him."

• • •

The cases of these two John Roes aren't the only ones threatening to break open the sex-abuse scandal again.

At least a dozen people, both men and women, recently sued the San Diego diocese over long-ago sexual abuse. But their cases are on hold pending a California Supreme Court case that will decide whether alleged victims of abuse lost their right to sue when the state's special 2003 lawsuit window closed.

The cases of the Marine and ex-sailor -- who are asking for unspecified damages -- are further along in the legal process and likely to go to trial first, Storey said.

A trial could be a media sensation, in part because it would be a rare occurrence. While hundreds of priests have faced abuse accusations, there have only been 39 document civil trials in Catholic sex-abuse cases since the mid-1980s, according to the victim advocacy site bishopaccountability.org.

"A trial can have a tremendous impact on public opinion, by revealing just how corrupt Catholic officials are and have been," said David Clohessy, national director of the Survivors Network of those Abused by Priests organization, in an e-mail.

Trials may have less impact in San Diego because several major players in the sex-abuse saga are dead, including the two accused priests and Bishop Leo Maher, the leading diocese official accused of protecting molester priests, died in 1991.

And sometimes the past has to remain in the past, said California Western School of Law professor Scott B. Ehrlich, who thinks the attorneys for the victims are using a "hypertechnical argument to get this thing in court."

"My feeling is that what happened was despicable, but it's being cleaned up, and it's time to move on. It's been a really long time," he said. "They're trying to expose the church and get someone to sit on the stand and do a Perry Mason-type mea culpa. That's not going to happen."



Contact: rdotinga@aol.com