Newark Archdiocese Settles in Sexual Assault Lawsuit

By Victoria Cavaliere
NBC New York
April 8, 2010

http://www.nbcnewyork.com/news/local-beat/Newark-Archdiocese-Settles-in-Sexual-Assault-Lawsuit-90253102.html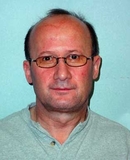 Wladyslaw Gorak aka Walter Fisher. Source: Florida Dept. of Corrections



The Archdiocese of Newark and the Diocese of Orlando have settled a civil lawsuit with a woman who says she was stalked and sexually assaulted by a priest with a long history of complaints against him in both cities.

The amount of the settlement is confidential.

The accused priest, Rev. Wladyslaw Gorak, was convicted of stalking in 2005. He has not been defrocked and remains a priest in the Archdiocese of Newark, a press release on the lawsuit said.

The announcement of the settlement came outside the Archdiocese of Newark Chancery offices Thursday.

The lawsuit claimed that Rev. Gorak was transferred to Florida after multiple complaints from female parishioners in Newark about his alleged sexual aggression. In 2001, two New Jersey police departments investigated Gorak for stalking, the release said.

In 2004 Gorak began working in Orlando -- and the lawsuit alleged that Newark's new Vicar General, now-Bishop Arthur Serratelli, provided a sworn affidavit that Gorak was "fit for ministry."

For his part, Bishop Serratelli testified that he did not know of the prior complaints against Gorak and had never reviewed his file.

During his time in Orlando, Gorak, who now legally goes by the name Walter Fisher, was accused of stalking Jane Doe. He was arrested in 2005 for stalking Jane Doe and allegedly breaking into her home.

Jane Doe says she had gone to the Orlando church officials to complain about Gorak, but he was not censured.

Gorak, who was born in Poland, was convicted of stalking in 2005. A year later he was arrested and pleaded guilty to charges of burglary, false imprisonment, battery and stalking, the Orlando Ledger reported.

He was sentenced to four years probation and ordered to undergo treatment.