Stepdaughter: Accused Preacher Held Hammer Night Her Mother Was Killed

By Katherine Sayre
Press-Register
April 8, 2010

http://blog.al.com/live/2010/04/stepdaughter_accused_preacher.html

MOBILE, Ala. -- Anthony Hopkins gripped a hammer as he argued with his wife one night in December 2004, the last night she was seen alive, one of her children testified Wednesday.

"We heard a lot of bumping," said the 19-year-old girl, describing her mother and stepfather arguing in their house in Mobile. "She said, 'Take me to the hospital. Don't let me die.'"

Hopkins, a 39-year-old traveling preacher, is accused of killing his wife, Arletha Hopkins, that night and later storing her body inside a freezer for nearly four years.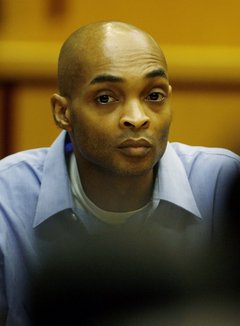 Anthony Hopkins is pictured during jury selection Tuesday, April 6, 2010, in Mobile, Ala. The part-time south Alabama evangelist faces life in prison in the death of his wife, a mother of eight whose body had been stored in a freezer inside his home for at least three years before it was discovered by investigators. Hopkins also faces charges of sexual abuse, rape, sodomy and incest.



Prosecutors say Arletha Hopkins had learned that her husband was sexually abusing his oldest stepdaughter. There were eight children in the Hopkins household.

In the second day of testimony in Hopkins' trial, his youngest stepdaughter, now 19, testified that she never told police any of what she saw because she feared "that my dad was going to go to jail, and we wouldn't have anywhere to go."

"We'd be split up," she said.

On cross-examination Wednesday, defense attorney Jeff Deen asked the stepdaughter why she'd never mentioned the hammer in her previous statements to investigators.

She said it's what she remembers from the night.

"Where were you when, you claim, you saw the hammer?" Deen asked.

"In my room," she said. "He was coming down the hallway."

In 2008, Hopkins' oldest stepdaughter, now 21, went to police and said Hopkins had killed her mother, buried her near a church in Jackson, then transferred her body to a freezer in Mobile. Police later found the body inside the freezer.

Hopkins, who traveled to various churches to preach and formed a musical group with his children, was arrested while giving a sermon in Jackson. He faces charges of murder, second-degree rape, second-degree sex abuse, second-degree sodomy and incest.

On Wednesday, a 14-year-old Hopkins sibling told jurors that after the night her parents fought, Anthony Hopkins told the children that their mother had run away, and if anyone asked, they should say that she was working.

The 19-year-old testified that sometime later, an announcement was made at their church that her mother had died in childbirth.

Arthur Mitchell, who attends church in Jackson, testified on Wednesday that one morning, he was driving past his church when he saw a "strange van" parked near a utility shed.

He said he pulled up, and Anthony Hopkins walked up and greeted him.

Mitchell told jurors that he saw one of Hopkins' daughters standing near a hole, holding a shovel. Mitchell said Hopkins told him that another pastor had asked him to do "survey work" in the area.

"I didn't know it was a grave," Mitchell said.

Arletha Hopkins' death has been ruled a homicide, although the body was too decomposed to determine exactly how she died, prosecutors said.

Her stepmother, Mary Best, testified that her stepdaughter, Anthony Hopkins and their seven children visited their Georgia home for one hour in the spring of 2004, the last time she saw her stepdaughter.

At the time, Arletha Hopkins was pregnant with her eighth child, Best said.

About November of that year, Best testified, she couldn't reach Arletha Hopkins on the phone, and Anthony Hopkins told her that the family had moved. She continued to call Arletha Hopkins' phone, but she never answered.

"I tried so many times," Best said.

The trial is expected to continue today in Mobile County Circuit Judge John Lockett's courtroom.