Defrocked Priest Dale Fushek Pleads Guilty to Misdemeanor

By Jim Walsh
The Arizona Republic
April 15, 2010

http://www.azcentral.com/news/articles/2010/04/15/20100415defrocked-priest-fushek-pleads-guilty.html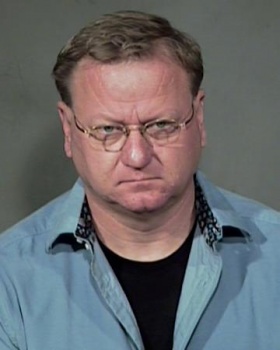 Dale Fushek



Defrocked Catholic Monsignor Dale Fushek pleaded guilty Thursday to one count of misdemeanor assault, ending five years of prosecution on charges of inappropriate sexual behavior involving teens.

Fushek was sentenced to 364 days of probation and fined $250 plus a 37 percent surcharge by San Tan Justice of the Peace Sam Goodman.

The sentencing was part of a plea deal that allows Fushek to avoid five separate trials, the first of which was scheduled April 30.

"I feel a tremendous weight gone. I feel I can move on with my life," Fushek told the Republic Thursday. "I feel a brightness I haven't felt for a long time."

Fushek, the former second-in-command of the Phoenix Diocese, was accused of indecent exposure, assault and five counts of contributing to the delinquency of a minor in connection with several incidents involving approximately five young male teens.

The teens complained that Fushek had asked them intimate details of their sex lives and that he had gotten into a hot tub while naked with one of them.

There were no allegations of felony sex acts.

The assault charge involved the "flicking" of a young man's genitals, but prosecutors dropped an allegation of sexual motivation, meaning Fushek will not be required to register as a sex offender.

Fushek said the incident he pled guilty to involved a pickup basketball game, and that he doesn't remember the details.

Thomas Hoidal, Fushek's attorney, dismissed the incident as horseplay.

While prosecutor Barbara Marshall said the incident was inherently sexual in nature, Hoidal emphasized that Fushek was not convicted of a sex crime.

Marshall said however that Fushek admitted "inappropriate conduct" with members of his former parish at St. Timothy's Catholic Church in Mesa.

Earlier in his career, Fushek gained nationwide acclaim as founder of an innovative outreach program he founded at St. Timothy called "Life Teen." The organization formed chapters across the nation and in several foreign countries.

After the allegations, Fushek was suspended by the diocese. He was later excommunicated for continuing to hold religious services despite an order from Bishop Thomas J. Olmsted to refrain from public ministry.