News about Father Casey Brings Local Shock, Pain

By John M. Jr. Jones
Greeneville Sun
April 17, 2010

http://www.greenevillesun.com/story/309123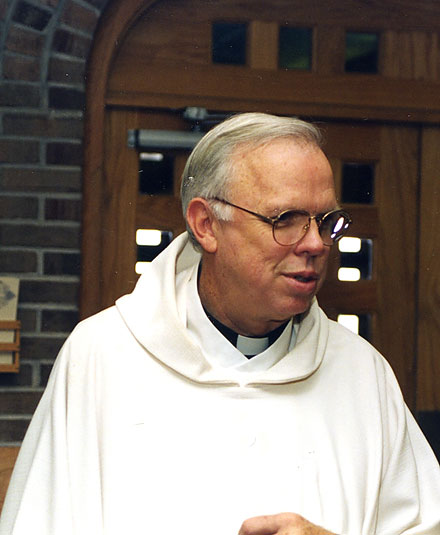 Father Bill Casey is seen in an undated photo provided by the Diocese of Knoxville. Casey has acknowledged sexually abusing a boy at his Kingsport church more than 30 years ago and said there may be other victims, Bishop Richard Stika of the Diocese of Knoxville said Thursday. He urged anyone else who may have been abused by Casey to come forward.



For more than 40 years, the Rev. William "Bill" Casey has been a familiar face in the Greeneville/Greene County community.

A person with generations of family heritage in Northeast Tennessee, he began his ministry as a Catholic priest in the 1960s at a Chattanooga church.

Now 76, he became well known here in the 1970s during several years as pastor of Notre Dame Catholic Church, located off East Barton Ridge Road in east Greeneville.

He went on to other church assignments in the 1980s, and 1990s, returning to Greeneville tow years before retiring in 1999.

Since then, he has lived full-time near relatives at his home in the Camp Creek area, filling in when needed at services at Notre Dame here and at other Catholic churches in the Diocese of Knoxville, of which Northeast Tennessee is a part.

Besides leading mass at Notre Dame Church when needed, as he did at one of the four services on Easter Sunday, he has participated actively in the life of the church as simply a member of the congregation -- for instance, as a member of the building committee for the new church building.

In addition, he has been active in local civic life in a variety of other roles -- as a longtime member and leader in the Greeneville-Greene County Ministerial Association, a Food Bank volunteer, and a member of the Tusculum College Community Chorus.

Popular and respected among both Catholic and non-Catholic members of the community, he long ago became a valued, well liked figure in local life.

NEWS BRINGS SHOCK, PAIN

Thus, when it was announced Thursday in Knoxville that Father Casey had acknowledged that there was credibility to charges that he molested a young man for several in Kingsport some 30 years ago, the news was received with shock, initial disbelief, and great emotional pain among his many friends here.

Nowhere was that pain more acute than among the congregation of Notre Dame itself.

As it happened, Pastor John Appiah was out of town when Bishop Richard Stika of the Catholic Diocese of Knoxville announced Thursday morning that he had met with Casey on Wednesday night, established that the abuse allegations were credible, and then removed Father Casey permanently from ministry as a Catholic priest.

One of many Notre Dame members struggling to take in the painful news is Sandy Alter, an Alabama native but an active Notre Dame laymember who has known Bill Casey as both a priest and a good friend since the 1970s.

Her husband, Charles "Chuck" Alter, and his family, as longtime Greenevillians, had known Father Casey well -- as both a priest and a friend -- since the beginning of his pastorate here in 1972.

"It's heart-rending," she said in an interview with The Greeneville Sun on Friday afternoon. "It's so sad. I can't imagine it..."

"There are so many people in this community who love Bill Casey ... He has been such a mainstay in this community."

'WE NEED TO PRAY ABOUT THIS'

As the stunning news spread through the local congregation, Sandy Alter reached out to several other equally-shocked and hurt parishioners with the urgent thought that "We need to pray about this -- for the church, the victim, for Father Casey."

One of those she spoke with was Judy Collins, a member of Notre Dame Church since 1956, who, in addition to other responsibilities in the church, is the Web master for the Notre Dame Web site.

Collins agreed about the need for the congregation to come together that very night for prayer, and she sent out an email to a church list about 5 p.m. that anyone who wanted to participate should come to the church at 7 p.m.

Some 20 to 25 parishioners received the message in time to come, and gathered at the church to pray with other members for about 30 minutes.

Various laypersons led different segments of the time of prayer, Collins said in an interview Friday.

"There would have been more if the word had gotten out to more people," she said.

She explained that the members present prayed for the victim of the sexual abuse, Warren Tucker, of Indiana, for Father Casey, for the church itself, for Bishop Stika, for all priests, for Pope Benedict XVI.

For Collins, the pain of the situation cuts deep.

Father Casey baptized both of her sons, she said, and he had ministered to her when she was experiencing a very difficult crisis in her own life that occurred during his pastorate here in the 1970s.

"I believe in the power of prayer," she said. "All of us are hurting."

"The Scripture says that when one part of the body hurts, the whole body hurts. There is nothing that anyone does right or wrong in this world that doesn't affect other people."

'STRONG POLICY NOW'

Collins, a Eucharistic minister at Notre Dame and a longtime lay leader there, is also an officer in the Council of Catholic Women for both the Five Rivers Deanery and the Diocese of Knoxville.

She noted that, besides filling in when needed at Notre Dame and other area Catholic churches, Father Casey had been very involved in ecumenical work for the diocese.

She also had praise for the actions taken by Bishop Stika, who, she said, was doing just what he had to do to carry out the very strict requirements of the diocese about situations such as the one with Casey.

"We have such a strong policy now for preventing this kind of thing from ever happening again," she said. For instance, she said, "No adult is ever alone with a child" now.

A letter from Bishop Stika urging any others who were abused sexually by Casey to come forward is to be read at services this Sunday in every church in the Diocese of Knoxville, from Chattanooga to Bristol.

Ironically, Notre Dame celebrates its 55th anniversary this weekend.

'OUR HEARTS GO OUT'

Notre Dame Pastor John Appiah told the Sun in a brief interview Friday afternoon that "We are all saddened."

"Our hearts go out, first of all, to Mr. Tucker and his family.

"We pray for Father Casey.

"Some of the good that Father Casey has done in the community, hopefully, will endure. The community knows of him because of his presence over the years in different activities in our city.

"Father Casey volunteers at the Food Bank, for example.

"Personally, he always responded in a friendly and knowing way when I needed advice or help as parish priest.

"Many persons may not know that Father Casey spent many hours of outreach at funerals, consoling parishoners.

"He has touched many lives.

"Many non-Catholics have called to have him at their funerals."

Father Appiah also said that Casey would assist him in visiting the sick at local hospitals.

In addition to "filling in" by conducting occasional masses at Notre Dame, he filled in at Morristown, and throughout the diocease, Appiah said.

Asked how his professional relationship with Casey would change, Father Appiah replied, "He (Casey) is not allowed to function as a priest, or perform priestly duties."

He added, "To acknowledge such an abuse, it takes courage. Anything we can do to help him would be good. He is in our prayers."

'VERY VALUABLE MEMBER'

The Rev. Dr. Dan Donaldson, pastor of First Presbyterian Church and a longtime leader in the Greeneville-Greene County Ministerial Association, said in an interview Friday evening that he was "deeply saddened, for him [Father Casey] and the victim."

Dr. Donaldson recalled that Casey had been a "very active" member of the association for years, coming to monthly meetings regularly and sometimes holding various leadership offices.

"Through the years, Bill has been an integral member of the Ministerial Association," he said. "Very involved, and a very valuable member of the association."

He noted that Casey had often preached or taken other leadership roles in the association-sponsored noon services during Holy Week each year, or at the annual Community Thanksgiving Service, also sponsored by the association.

'JUST DEVASTATED'

Carmen Ricker, executive director of Greeneville-Greene County Community Ministries/The Food Bank, said that the staff of the Food Bank, where Casey has been a weekly volunteer for the last few years, was "just devastated" by the news about the acknowledged charges that he had molested a young man years ago.

Community Ministries itself, including the Food Bank, its best known service, was established by the Greeneville-Greene County Ministerial Association decades ago, and the association continues to sponsor the multi-faceted outreach to those in need here.

"He [Father Casey] was very good," she said. "He worked every Monday as an interviewer...

"He also served six years as a member of the board of directors of Greeneville-Greene County Community Ministries -- two three-year terms.

"We have had dealings with Father Casey for many years. He has been a personal friend for years, and is.

"And over this time ... we saw him to be a very caring, compassionate person for people with financial needs. ... We found him to be very reliable, a good friend, and very caring about people who were in need."

She noted, "We had to watch him closely because he cared for people, and when [their] need was so great in his mind, he would sometimes give money out of his own pocket beyond what we gave at the Food Bank.

"In fact, I know of at least two instances in which we saw a hundred dollars pass."

NOTE:

In accordance with diocesan wishes, Casey himself has referred almost all requests for statements or interviews to Chancellor Sean Smith at the Diocese of Knoxville headquarters.

In a brief telephone conversation with the Sun on Friday afternoon, however, Casey acknowledged that he was aware that many in the community were praying for him, and said that he deeply appreciated it.

He went on to emphasize, though, that, when someone let him know that the person was praying for him, he expressed gratitude but also urged the person to pray "for the healing of Mr. Tucker and his family, and for all others who are suffering as a result of this situation."