Retired Priest Facing Abuse Charge in Western North Carolina

By Julie Ball
Asheville Citizen Times
April 20, 2010

http://www.citizen-times.com/article/20100420/NEWS/304200008/1009

Investigators have charged a retired Catholic priest with molesting a boy while on a trip to Western North Carolina more than 30 years ago.

McDowell County authorities say 76-year-old Bill Casey will face a charge of crime against nature. He was arrested Monday in Greene County, Tenn., on a fugitive warrant from McDowell County.

Capt. Victor Hollifield with the McDowell County Sheriff's Department said Casey waived extradition.

Hollifield said Casey was charged with first-degree sexual offense. However, that charge will be dismissed during arraignment. It was not applicable in 1977 and 1978 when the offense is alleged to have occurred.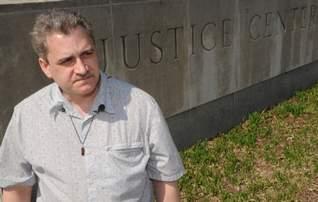 Warren Tucker of Jeffersonville, Ind. talks with reporters outside the Kingsport, Tenn. Justice Center Thursday, April 15, 2010. Tucker says he was abused by the Rev. Bill Casey for five years, beginning in 1975, when he was a fifth-grader at St. Dominic\'s in Kingsport.
Photo by David Grace


The crime against nature charge carries a maximum penalty of 10 years in prison, Hollifield said.

Hollifield declined to identify the victim, but Warren A. Tucker, of Jeffersonville, Ind., says he reported abuse by the priest to McDowell County authorities in September of last year.

Tucker said the incident occurred when Casey, who was then pastor at St. Dominic Parish in Kingsport, Tenn., took him on a gem mining trip. It allegedly occurred while Casey and Tucker were staying at a McDowell County inn.

For years, Tucker said he kept the abuse hidden.

"I don't feel alone any more," he said Monday. "I feel vindicated, relieved … This is about so many other people in those mountains and hills … that I know were raised to keep their mouth shut. They need to hear they don't have to do that any more."

The bishop of the Diocese of Knoxville, Richard Stika, said last week that Casey told church officials that molestation allegations made public by Tucker are credible, The Associated Press reported. Casey was permanently suspended from Catholic ministry.

A spokesman for the diocese could not be reached Monday afternoon.

Tucker said he met with the bishop who apologized to him and his family.

The incident in McDowell County is alleged to have occurred between May 1, 1977 and Aug. 1, 1978, according to Hollifield.

Unlike Tennessee, North Carolina does not have a statute of limitations for felonies.

Tucker said the abuse began when he was 10, and he was abused multiple times in Tennessee between 1975 and 1980. He says he sought help from a support group for abuse survivors in June of 2009.

"I was self destructing. Heavy alcohol use. My marriage was failing again. Things were spiraling completely out of control," the 44-year-old man said. "I said I can't take this any more."

Tucker praised the work of the McDowell County Sheriff's Office.

"Justice delayed is still justice," he said. "Hopefully some day this is going to be over, and I can get back to some semblance of a normal life."