Bishop Walsh Rejected Call to Remove Napa Priest

By Martin Espinoza
Press Democrat
April 24, 2010

http://www.pressdemocrat.com/article/20100423/ARTICLES/100429695/1033

Bishop Daniel Walsh has rejected the recommendation of his own advisory panel and refused to remove a Napa priest accused of repeatedly sexually abusing a grade-school-age girl more than 40 years ago.

The seven-member Diocesan Review Board spent two years investigating abuse charges by Erin Brady, now 51, against Monsignor Joseph Alzugaray, pastor of St. Apollinaris Church in Napa.

In October, the board recommended to the bishop that Alzugaray be removed from ministry, according to Brady and diocesan sources.

But in January, Walsh notified the review board that he had decided against their recommendation and would keep Alzugaray in active ministry at St. Apollinaris, where he continues to serve.

Walsh, interviewed Friday in the parking lot of the Santa Rosa Catholic Diocese chancery, refused to comment on his decision, citing the confidential nature of the review board.

"I will not comment on my decision," he said. "If I start reporting on what was discussed, the confidentiality will not be helped."

When asked whether or not the parishioners of St. Apollinaris had a right to know what the review board had recommended, Walsh said, "I will not comment on that."

Walsh's decision to keep Alzugaray in ministry comes at a time when the Catholic sex abuse scandal is spreading throughout Europe. Critics say Pope Benedict XVI, in earlier roles, failed to remove abusing priests despite compelling evidence brought to his attention.

Alzugaray has repeatedly denied the charges against him.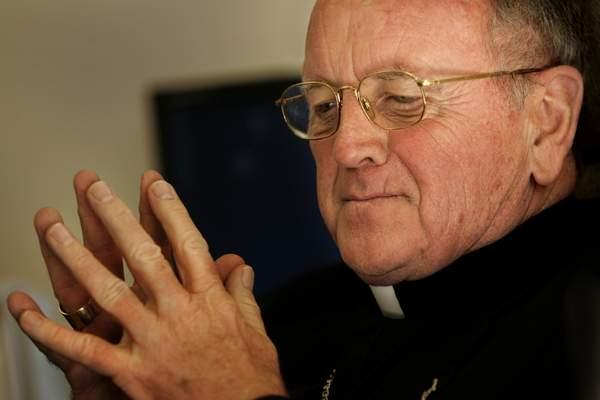 Santa Rosa Bishop Daniel Walsh declined to comment on his January decision.
Photo by JOHN BURGESS


But in a 2003 civil lawsuit, Brady, the only person who has publicly brought allegations against Alzugaray, claimed that from "approximately 1967 through approximately 1970, Joseph Alzugaray engaged in unpermitted, harmful and offensive sexual conduct and contact" with her. The details of the alleged abuse were also documented in a 2002 Monrovia Police Department report.

The review board's findings would have remained private were it not for Tony Madrid, a west county psychologist and review board member. Brady said that within the past few weeks he had called to inform her of the recommendation to remove Alzugaray.

"He just wanted me to know what the board decided, what the process was," Brady said. "He said that the board believed me, that they found me credible. ... Basically, he said that they believed me and not him."

Madrid, as well as board members Frank Heffernan and John Gallagher, refused to comment publicly about the board's recommendation. The board's chairwoman, Cathy Hughes, and members Elizabeth McKee and Bob McKeever did not return repeated phone calls seeking comment.

The review board was created by Walsh in 2000, shortly after his arrival to head a Santa Rosa Diocese that had received national attention over claims of clergy sexual abuse. The diocese, which stretches from Santa Rosa to the Oregon border, has paid about $25 million to settle victims' lawsuits involving abuse by at least 17 priests over four decades.

Walsh, in a message to North Coast Catholics, heralded establishment of the permanent committee to review clergy misconduct as "a new chapter in the life of this local church."

The body, he said, "will investigate any incidents that are reported and make recommendations so that any victim is assisted and any perpetrator is stopped."

Julie Sparacio, victim's assistance coordinator for the diocese, said, "I'm aware that the bishop made a decision in January to leave Alzugaray in ministry." She declined to answer specific questions about the communication between the board and the bishop, but said she had been in contact with Brady.

"In my role as victim's assistance coordinator, it's my job to listen to the person bringing the allegations and present it to the review board," she said. "It's up to the review board to determine whether or not an investigation needs to be done to determine credibility. That's their job."

Brady's allegations were part of a 2003 lawsuit against the Los Angeles Archdiocese, which accused 28 priests of abusing children. Her case was part of a record $660 million settlement in 2007 between the Los Angeles Archdiocese and 508 claimants who accused priests of sex abuse. Brady and her attorneys received $2 million.

Alzugaray, interviewed at St. Apollinaris last week, denied all of Brady's claims. He said he wasn't aware of the review board's recommendation but that previous investigations by the church have cleared him of wrongdoing.

"I've done absolutely nothing wrong," said the 68-year-old priest. "I've never, ever harmed any individual in my life."

Monsignor John Brenkle, longtime Napa Valley priest and former chairman of the review board, defended Alzugaray.

"The man, he has one unsubstantiated accusation," said Brenkle. "He has been functioning from that point on. ... Why should we be convicting a priest when there's only one unsubstantiated accusation?"

In 2004, Alzugaray filed a libel suit against Brady, her attorney and Survivors Network of those Abused by Priests, or SNAP. The suit, which alleged the three parties were defaming him by falsely accusing him of child molestation, was dismissed by a Los Angeles County Superior Court judge.

Alzugaray is head of the diocese's Napa Deanery, which includes seven parishes in Napa Valley and American Canyon. As pastor of St. Apollinaris Church, Alzugaray oversees the adjacent St. Apollinaris Catholic School.

Brady said that is what most concerns her — his continued work as an active minister and his proximity to schoolchildren.

Victims' advocates and their attorneys blasted Walsh's decision and the secrecy surrounding the review board's recommendation.

"Why are they keeping their findings secret? They're either here to protect the children and parishioners of the diocese or they're not," said Anthony De Marco, the attorney who handled Brady's case against the Los Angeles Archdiocese.

"And if they have found that the allegations are credible and they are not allowing their findings to be made public, aren't they putting children at risk themselves?" he asked.

Brady, who lives in Los Angeles where she works as a substitute teacher, said she would like to put the entire ordeal behind her.

She filed her 2003 lawsuit, she said, because she was having trouble getting anyone to take her allegations seriously. According to psychological evaluations and church responses to Brady, Alzugaray has consistently denied that he molested Brady.

But Brady said a majority of the members on the review board found her allegations were "credible" and that she wants local parishioners to know that.

Brady said she was shocked when she learned Walsh had chosen to leave Alzugaray in ministry.

"I was disappointed that he was not concerned about the children in the diocese," she said. "I was shocked that he chose to overrule the professionals that he has given this job to."

In 1993, Brady was starting to become a nun with the Sisters of Orange in Southern California. She was in training in Pittsburgh when she confided to her spiritual adviser about being abused as memories of the abuse began to crystallize in her mind.

"I was in a very safe environment with people that cared about me," Brady said "I told one of the sisters there. Part of the process when you go into that religious life is you have a spiritual director that you meet with on a regular basis. That's who I told originally. She was angry, she was very caring. She believed me."

She left the convent in September 1993. Two months later, after finding work and a place to live, Brady said she reported her allegations to the Los Angeles Archdiocese.

That same year, relations between Monsignor Joseph Alzugaray and Cardinal Roger Mahony, archbishop of Los Angeles, had become strained and confrontational over alleged financial improprieties by Alzugaray while he was archdiocesan director of Pontifical Mission Aid Societies and later as pastor of All Souls Parish in Alhambra, according to court documents.

In April 1993, after Alzugaray was reassigned to St. Martin of Tours Parish in Los Angeles, Alzugaray wrote to Mahony asking that he be transferred out of the archdiocese.

"I have spoken with Bishop Daniel Walsh of the Diocese of Reno-Las Vegas, and I know he is open and willing to accept me into his diocese," wrote Alzugaray. "The Bishop is familiar with the events of the past; his diocese is in need of priests; and, he is willing to accept me ad experimentum."

Brady said the letter became public as part of Alzugaray's libel suit against her.

The following month, Mahony told Alzugaray that he needed to stay in Los Angeles and "face the problems in your life and the difficulties they have caused for you and others."

Walsh said Friday that he first became acquainted with Alzugaray around 1993 and said the letter refers only to financial difficulties.

That was six months before Brady said she told the Los Angeles Archdiocese about her alleged abuse.

The following year, in 1994, Brady said she wrote "letter after letter" asking the archdiocese to help pay for her therapy, which cost $75 a week. She said she was working as a part-time teacher and didn't have medical insurance.

In 1995, Alzugaray was transferred to the Santa Rosa Diocese, which was then headed by Bishop Patrick Ziemann, who resigned in 1999 after he admitted having a sexual relationship with another priest.

Walsh became bishop of the Santa Rosa Diocese in 2000 and inherited Brady's allegations against Alzugaray. The allegations came before the sensitive issues committee of the Santa Rosa Diocese, the forerunner of the current review board.

Walsh responded to Brady in a letter dated Aug. 5, 2002, stating that the claims could not be substantiated: "Based upon the current and prior investigations, we consider this matter closed and there will be no further action taken."

But after the 2007 settlement of Brady's lawsuit against the Los Angeles Archdiocese, Sparacio presented Brady's case to the review board later that year.

Sparacio said it wasn't until the following year that Santa Rosa Diocese officials interviewed Brady face-to-face about the allegations.

Contact: martin.espinoza@pressdemocrat.com