Sister Tells of Abuse by Priest in Family Home

Fermanagh Herald
April 28, 2010

http://www.nwipp-newspapers.com/fh/free/332319271695356.php

A 75-YEAR-OLD priest has gone on trial charged with indecently assaulting three young sisters on dates unknown between August 1963 and September 1973 at their home in Fermanagh.

Father Eugene Lewis, a member of the White Fathers, with an address at Cypress Grove House, Templeogue in Dublin denies the 11 charges which the court heard were committed in the family home while the priest, who was based at the White Fathers College in Blacklion, was visiting.

The charges before the court relate to alleged incidents in both the family kitchen and in the bedroom the girls shared.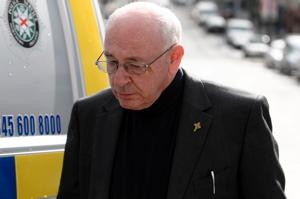 Father Eugene Lewis arrives at Omagh Court on Monday morning to continue the trial where he is accused of indecently assaulting three young sisters from County Fermanagh.



In her evidence, one of the sisters recalled how the priest used to be in their home visiting and, when it was time for the girls to go to bed, the defendant would come up to their room, tell them bedtime stories and abuse her.

The witness said while holding her, the priest would rub her 'up and down', and rub himself against the young girl, who was aged somewhere between six and 11 at the time.

The witness also alleged the priest lifted up her nightie and touched her breast while he was holding her. This witness told the jury she recalled two such incidents of abuse in the bedroom and six in the kitchen when she would have been sitting on the priest's knee.

As the trial continued this week, one of the alleged victims was cross-examined for three days.

The witness, who cannot be named, alleged in her evidence that, when she was 21, Father Eugene Lewis (75), raped her on two consecutive nights while she stayed at a Dublin religious institution, the White Fathers, at Templelogue.

The rape allegations, which are adamantly denied by the accused, are not among the 11 charges of abuse being levelled against the cleric.

The Crown Court in Omagh heard the defendant's barrister challenge the plaintiff on details of her claims – pointing out apparent contradictions between the statements she gave to the Gardai in relation to the alleged incidents and that which she said in her main evidence.

Under cross-examination, the witness admitted that she had confused the two nights and as to whether or not the light in her room was on or off.

The witness said that if there was a discrepancy it was because of the duress she was under in the witness box.

Defence counsel continued, "According to you, he raped you – had sexual intercourse with you against your will – why didn't you tell anybody?"

She said: "If you can imagine. I was a 21 year-old girl. I don't have the words to describe how I felt that night. This was a man whom my parents respected."

Counsel for the defence asked, regarding the possibility of a repeat occurrence on the second night, "Did it never cross your mind to put the bed against the door."

The witness replied, "I was devastated. I was broken-hearted. Eugene Lewis was the boss, he was above all else. He was a priest. I can't remember if he was a superior at the college at the time. I was only 21, I had no authority.

The defence put it to the witness that Father Lewis could not have raped her because on the nights in question he had visited his elderly parents in Dublin and stayed in their home.

Counsel for the defence put it to the plaintiff that she was motivated by the prospect of compensation and alluded to the fact that she had three applications pending with three bodies for compensation.

The witness denied that and, when it was suggested that the only reason that Father Lewis was in the dock was that she didn't know him, and therefore it didn't matter what happened to him, she replied, "That's a dreadful thing to say to me."

A second witness, a sister of the first, began her main evidence saying that priests were regular visitors to the family home when she was a child, and that her uncle was a priest in the same Order as that of the accused. She said that when the priests were travelling from other parts of Ireland to Blacklion in Fermanagh, they would sometimes stop off at her family home and were welcomed by her parents as well educated and well travelled people.

She said the defendant would have been in her home once or twice a year and she always felt uncomfortable in his presence.

She said that when she was seven or eight years of age, one night, after her mother had put her and her sisters to bed, she heard the front door opening and heard the accused and someone else being welcomed into the family home.

She said that a short time later the accused came into the bedroom where the three sisters were in beds. He offered to read them a story and came and sat on her bed, facing the other two sisters who were in an adjacent bed.

As he began telling the story, he put his hand under her bed clothes and began touching her body, first her stomach and then between her legs. She said his voice didn't change and he continued with the story as she lay completely immobile.

"I didn't know what it was he was doing. I had no sense of sex at the time, I couldn't wait for it to be over. I thought, this is happening to me and my sisters are listening, as if it's just a nice story. I didn't say anything to my sisters. I shut it out of my mind; I felt terrible."

"I always felt so awkward sitting on his knee. A child has an instinct as to whether an adult is an affectionate person – he was not an affectionate person. He was very strong, pulling you in close.

"This happened at various times; I tried to avoid him. He pulled you up against his body in a way that didn't feel right – against his crotch. Looking back, he was nursing us when he had an erection."

She went on to say he conducted himself in this way when there were others in the room, even her parents, but said that, "He was very good at hiding it."