Area Not Immune to Scandal

By Mary Nevans-pederson
The Telegraph-Herald
April 28, 2010

http://www.thonline.com/article.cfm?id=281017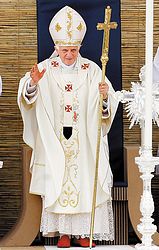 Pope Benedict XVI has granted two requests from Dubuque Archbishop Jerome Hanus to dismiss priests Tim DeVenney in 2008 and William Schwartz in 2005. However, Benedict declined to dismiss William Goltz in 2005, citing Goltz's age and ailing health. Goltz died in January 2006.



In the past, guilty priests in the Dubuque Archdiocese were shuffled between parishes or sent to treatment centers. An official says if these cases happened today, they would be treated differently.

The Roman Catholic clergy sexual abuse scandal swirling around the Vatican and the pope is prompting questions about who knew what when and why priests were allowed to continue to molest children after bishops were notified of their actions.

In the Archdiocese of Dubuque, earlier archbishops either shuffled guilty priests from one parish to another after they learned of the abuse or sent the priests to treatment centers for psychological rehabilitation. Seldom did the bishops ask the Vatican to strip them of their priesthood.

If a priest is accused of sexual abuse today, would he stay in parish ministry? Archdiocesan Vicar General Thomas Toale thinks not.

"Contemporary understanding of pedophilia is much more advanced since the 1950s and the archdiocese would not hold the same view that treatment could lead to a cure with return to ministry," he said. Armed with that knowledge, it is likely a contemporary pope would bar an offender like William Goltz from the priesthood if asked by a bishop, Toale said.

One abuse victim is certain the Vatican knew about most of the clergy abuse, but either dealt with the abusers in secret or ignored information from bishops.

"I know the Vatican knew, from all the research I've done and the books I've read," said Mel Loes, of East Dubuque, Ill., one of several victims of the Rev. Joseph Patnode in the 1930s and 1940s in Key West. "But Archbishop Hanus' hands are tied if he asked the pope to defrock a priest and he wouldn't."

Loes quit the archdiocese's clergy-abuse review board in 2003, angry with its confidentiality policies. Yet he said Hanus "has been more than fair with him and other victims."

Since becoming archbishop of the Archdiocese of Dubuque in 1995, the most Rev. Jerome Hanus has asked the Vatican to laicize or dismiss four priests because they were abusers. All except one request has been granted.

* In 1997, after two paid leaves of absence and a 30-year career of short assignments to a number of parishes, serial abuser Robert Reiss asked to be removed from the priesthood. Pope John Paul II granted his request. Reiss met a violent death in Mexico in 2005.

* Tim DeVenney also sought to be released from his priestly state in 2008, after serving time in prison for abusing several young males at St. Columbkille Parish in the mid-1990s and serving probation out of state. Pope Benedict XVI ended his priesthood.

* William Schwartz was accused by numerous men of sexual abuse, including at a nude "prayer vigil," from the 1960s into the 1980s. After a forced leave of absence, having restrictions placed on his activities and retirement, Pope Benedict dismissed him from the priesthood in 2005.

* William Goltz abused a number of young males in the 1950s and 1960s. In a brief stint at Sacred Heart Parish in Oelwein, he molested at least three boys. After that, he was charged with a violation of Canon Law and tried in the archdiocese's only formal church (canonical) trial in 1955. Found guilty, his activities were restricted and he spent the next decade in a treatment center or on sick leave. But in 1964, Archbishop James Byrne again assigned him to parishes across northeast Iowa, where he abused again. He retired in 1991 and his activities again were restricted.

"When new reports of abuse occurred in 2005, Archbishop Hanus requested the laicization of Father Goltz given the scandal prompted by the abuse," Toale said. However, Pope Benedict did not dismiss Goltz, who was aged and ill by that time, but allowed him to remain a priest until he died the next year.

One accused priest lives in Dubuque and works for the archdiocese. The Rev. Allen Schmitt has been accused of abusing several male minors in the 1970s.

When the accusations were made public in 2002, Hanus removed Schmitt from the parishes where he was working and restricted his priestly activities. Hanus forwarded the case on to the Vatican. Last year, the Congregation for the Doctrine of Faith imposed "perpetual penalties and disciplinary measures" on Schmitt, but he remains a priest.

Toale said Schmitt works at the Archdiocesan Pastoral Center and not in a parish, that he must report regularly to a monitor and keep a log of his whereabouts and that he cannot present himself as a priest.