Out of the Shadows

By Yonat Shimron
News and Obsever
April 29, 2010

http://www.newsobserver.com/2010/04/29/458083/out-of-the-shadows.html

For Charles L. Bailey Jr., the triggers serve as a constant reminder of the past.

There's the sight of the square white clerical collar, the "click" of the door closing, the words of the Lord's Prayer, and especially, "thy will be done."

From out of nowhere, these random sights, sounds and phrases take him back to two horrific years from 1961 to 1963 when Bailey was repeatedly raped by a Roman Catholic priest in the Diocese of Syracuse,

He was 10 years old when the Rev. Thomas Neary took an interest in him. In a scheme masterminded by a serial pedophile, Neary convinced Bailey's mother to "counsel" her son as a way of preparing him for the priesthood. Roughly once a week, the priest would visit Charles in his upstairs bedroom and sodomize him.

"I prayed and prayed that it would end, that God would intervene," Bailey said. "But my prayers went unanswered."

For more than 40 years, Bailey kept silent about his abuse, unable to confide even in his wife about the childhood trauma he suffered. But when the sexual abuse scandal broke into the open in Boston in 2002, Bailey could no longer contain his secret. One day while watching an evening news segment about the church scandal, he broke down and cried.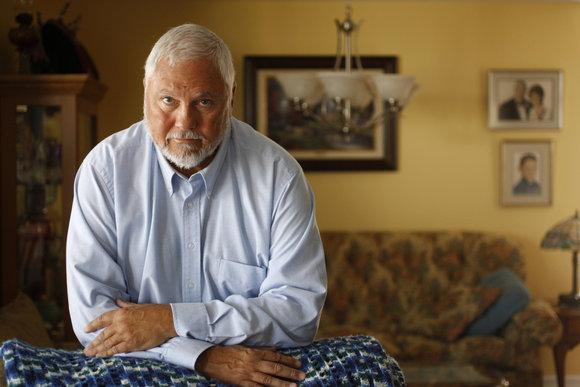 Charles Bailey Jr. was repeatedly raped by a priest starting when he was 10. Now 59, the father of four and grandfather of 10, he lives with his wife in Fuquay-Varina and every Wednesday volunteers on a national help line for those abused by priests.



In the years since then, Bailey and his wife, Sue, relocated to Fuquay-Varina to be closer to their children and grandchildren, and have become active in the network set up by survivors. In 2007, Bailey published a book about his experience - "In the Shadow of the Cross." Every Wednesday, he answers calls on a toll-free survivor's help line.

"He's a kind and generous man who's willing to help others feel like help is available and they're not alone," said Barbara Dorris of St. Louis, the national outreach director for Survivors of Network of those Abused by Priests, commonly known as SNAP.

Church in crisis

The Roman Catholic Church has come under increasing scrutiny over how it handles accusations of sexual abuse of minors by priests. What once appeared to be a U.S. scandal has morphed into an international crisis, with Ireland, Germany and now Chile the latest countries to see accusers step forward with accounts of clerical sexual abuse. Pope Benedict XVI is under fire for his handling of charges against priests as archbishop of Munich and later as head of a Vatican office that oversees doctrine.

At 7 p.m. Wednesday, members of St. Francis of Assisi Catholic Church in Raleigh gathered in their community center to try to comprehend the incomprehensible. Although the Diocese of Raleigh has removed only a half-dozen priests because of sex abuse allegations, the number of relocated survivors from other parts of the country is growing.

For Bailey, who retired in 1998 from a New York state utility company, healing from childhood abuse has become his life's goal. The SUV parked in his garage is emblazoned with the name of his book and the words: "A mother's dream becomes a son's worst nightmare."

In his home, Bailey sits at his computer keeping track of websites such as http://bishop accountability.org , a Massachusetts nonprofit that documents the crisis.

How he coped

After finally sharing his story with his wife and family, Bailey sought out Syracuse Bishop James Moynihan, now retired, who conceded that others had come forward with similar accusations against Neary. But by then, Neary was dead and there was little recourse.

The Syracuse diocese paid for Bailey's professional counseling, but he never received a monetary settlement, according to Bailey and reports in The (Syracuse) Post-Standard newspaper.

"Mr. Bailey has been very helpful as a source for people who have been harmed by priests and others," said Danielle Cummings, a spokeswoman for the Syracuse diocese who confirmed Bailey's account. "People have identified with him and turned to him for assistance."

Unlike some other survivors who have never been able to lead stable, responsible and productive lives, Bailey considers himself lucky. As a child, he coped with nightmares by secretly taping his family's dinner table conversations and playing them back whenever he awoke from a night terror. As an adult, he said the love, support and affection of his wife have been a guiding star.

But like other survivors, Bailey wants the church to be more open and accountable.

"Every accusation should be turned over to civil authorities," he said. "It shouldn't be handled in-house. You need bishops to be disciplined. They are concealing felony crimes."

Bailey would like to see the statute of limitations on child sexual abuse abolished. In North Carolina, sex offenses are felonies for which there is no statute of limitations. In New York, there are time limits on prosecuting and suing for sexual abuse.

Bailey points out that there's no statute of limitations on murder and says there shouldn't be one on child rape.

Trust lost

Sadly, he fears that despite the "Charter for the Protection of Children and Young People" adopted by the U.S. bishops in 2002, and greater public awareness of the problem, the sexual abuse of minors by priests is still possible.

"There's this innate trust," he said. "Priests are God's representatives on Earth. It's an honor to have them in your home."

But not in Bailey's home. As a young man, Bailey lost faith in God; he is now working to regain it. He and Sue reared their four children in the Methodist church. Since their move to Fuquay-Varina a year ago, the couple have visited a few congregations, but have not yet found a church home.

One church they will not visit is the Catholic Church. Bailey said he cannot imagine setting foot there.

"I can't," he said. "I know too much."