First Bishop Accused of Sexual Abuse in Germany

Spiegel
May 10, 2010

http://www.spiegel.de/international/germany/0,1518,694093,00.html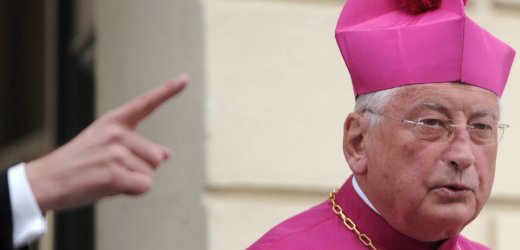 A bishop without a diocese: The pope has accepted Walter Mixa's resignation.



The pope has accepted the resignation of a bishop at the center of the abuse scandal in Germany. Walter Mixa, the former bishop of Augsburg, is accused of having committed violence against minors and financial irregularities. Now allegations of sexual abuse are surfacing.

To some the fact that Pope Benedict XVI accepted the resignation of German bishop Walter Mixa on Saturday is a "painful matter." Others are just relieved that the end of the matter, which had dragged on for months, is in sight.

For weeks Mixa, who tendered his resignation as the bishop of Augsburg last month, had remained silent. He spoke openly about his resignation for the first time over the weekend, telling the German tabloid Bild am Sonntag that the pope had accepted his resignation in a letter. "I took the news calmly," the priest said, adding that he felt the letter from the pope had been "cordial and friendly."

The bishop, 69, had checked into a Swiss hospital. Mixa told the newspaper that he would remain there for two more weeks so that a problem with fluid around a knee joint could be examined and operated on. Church sources, however, allege that Mixa was being treated for an alleged alcohol problem.

Allegations of Violence and Financial Irregularities

The former bishop of Augsburg and former bishop of the Bundeswehr, the German armed forces, has been under considerable pressure in recent days. He has admitted that allegations that he had beaten youth who lived at an orphanage in the Bavarian town of Schrobenhausen when he was priest there in the 1970s were true -- even though he had previously strenuously denied this. Later, allegations emerged of financial irregularities, and Mixa was accused of misappropriation of the orphanage foundation's funds. A special investigator appointed by the orphanage is expected to announce the findings of a probe into the financial issues on Friday.

On April 21, Mixa accepted the consequences of his actions and tendered his resignation to the Vatican. It was then accepted by the pope on May 8. Around Germany, leading Catholics greeted Mixa's swift departure. They included Robert Zollitsch, chairman of the German Bishop's Conference, the governing body of German Catholics, and Munich Archbishop Reinhard Marx, who explained that the move ended a time of uncertainty within the bishopric of Augsburg. Meanwhile, the Bishop of Mainz, Cardinal Karl Lehmann, lodged serious accusations against Mixa. Unfortunately, there were always people for whom the church was not enough, he said. "A significant breach of trust remains," he told Heute Journal, a prime time news show on German public broadcaster ZDF.

The Bad News Bishop

Additionally, on Friday public prosecutors in the Bavarian city of Ingolstadt announced they were launching investigations into allegations of sexual abuse by Bishop Mixa. Reports suggest that the allegations of abuse stem from Mixa's time as the bishop of Eichstatt between 1996 and 2005. This is the first time a bishop has been suspected of sexual abuse in Germany. Augsburg lawyer Gerhard Decker, who is representing Mixa, has visited the bishop in Basel and spoken to him about the new allegations. For his part, however, the bishop has refuted any accusations of sexual abuse and explained that he does not know what it that he is being accused of. His attorney said he would be prepared to cooperate with investigators.

After the allegations were made public, further details emerged. Mixa allegedly invited students at the Collegium Willibaldinum seminary in Eichstatt to his private quarters and he also apparently visited saunas with them.

Church insiders allege that Mixa had homosexual tendencies and his nickname -- Monsi, short for Monsignore -- was the subject of jokes. The alleged sexual misconduct appears to have been known about for some time within the Augsburg church. Insiders had been wondering how Mixa succeeded in enticing many young men to his seminary, including some who had been rejected by other bishoprics as unsuitable candidates for religious study.

Mixa had been known for his public appeals to young seminary students to "abstain from sexual contact with members of other sexes or the same." And he also repeatedly criticized the gay and lesbian community as well as the annual gay pride events held by them.

What Did the Pope Know?

It also seems likely that the pope knew about the new allegations of sexual abuse even before he made the widely expected move of accepting Mixa's resignation on Saturday. Mixa's alleged sexual misconduct most likely played a role in discussions that the pope had with three high-ranking German church leaders in Rome.

Ludwig Schick, the archbishop of Bamberg, told SPIEGEL that the new allegations against Mixa must be "clarified with brutal honesty." Speaking of the abuse scandal currently traumatizing the Catholic Church, Schick said that it was "correct that everything was now coming out." Anywhere, he said, "where things are still being swept under the carpet, it only makes things worse." Schick also called for a debate about ending the requirement of priestly celibacy. Lehmann, the current bishop of Mainz and former chairman of the German Bishop's Conference, said that this was a suggestion worthy of consideration, but that the current timing was wrong for such a discussion.

A Bishop without a Diocese

Mixa himself will remain a bishop for life -- although he is now one without a diocese. Auxiliary bishop Josef Grunwald will lead the Augsburg bishopric temporarily until a replacement can be named, a process that can take up to 12 months. Grunwald, 73, said he wants to start on "the path toward internal healing and new beginnings." The allegations made against the recently resigned bishop had burdened the diocese heavily and caused divisions, Grunwald wrote in an open letter to the staff of the Augsburg diocese.

In his acceptance of Mixa's resignation, Pope Benedict XVI referred to a paragraph in the Catholic Church's canon law that allows for a holy man to retire due to illness or for "other serious reasons." Ultimately, a bishop can only offer his resignation -- the pope must first accept it, however, before it can be valid. On April 29, the pope conferred with Zollitsch in the Vatican on the subject of Mixa. After this, he acted relatively quickly. It took him months to accept some of the resignations that arose out of the abuse scandal in Ireland.

Addressing the allegations made against Mixa, Bavarian Governor Horst Seehofer, who is also leader of the Christian Social Union, warned of "a general mistrust." In this instance the case revolved around "a very bitter issue," Seehofer said on Sunday in an interview with Bavaria's public television. Still, he added that one should not be questioning "all faith" or Germany's general Christian orientation.